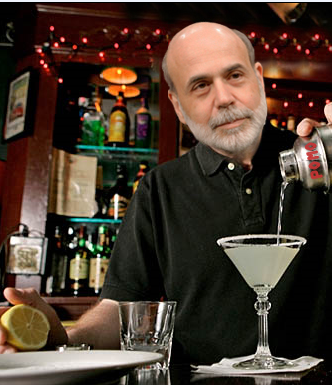 The economic news Friday was terrible but that's just leads to the cocktail libation bulls want. Remember: "bad news is good" so get with the program folks. The likely scenario is more bond buying and an extension of Operation Twist (OT as in moving to "overtime").
The Empire State Mfg Survey (2.28 vs 13.8 expected & prior 17.09) was an unmitigated disaster. It implies a sub-50 ISM number soon. But wait, there's more…as Consumer Sentiment (74.1 vs 77.5 expected & prior 79.3) also laid an egg. Industrial Production (-.1% vs 0% expected & prior revised lower to 1%) completes the downward trend in economic data. This gives Fed doves the opportunity to order you another round of QE in some form or another.
The Greek election Sunday may prove just another nonevent since the media has been beating recalcitrant Greeks over the head every minute with "you better not" headlines. So when voters enter the private voting booth they may vote their wallet vs their hearts.
The combination of Fed activity, a possible draw at Greek results and a uniform intervention threat from central banks has stock bulls pushing prices higher on this quadwitching day. Even the Greek ETF (NYSEARCA:GREK) is having a great week perhaps because opinion polls support a favorable outcome.
Another bullish story for financials (NYSEARCA:XLF) was released by the WSJ indicating that some bank restrictions from the previous Basel package would be removed for now.
The rally in stocks was impressive on this quadwitching Friday. Most sectors were in the rally mix. Bonds (NYSEARCA:IEF) even rallied as perhaps bulls hedged their weekend bets with them. Gold (NYSEARCA:GLD) was slightly higher as the dollar (NYSEARCA:UUP) took a beating on poor economic data. (Of course Europe is in recession so why would the euro be any better? Just sayin'). Commodities prices were mixed to higher (NYSEARCA:DBC) (NYSEARCA:USO) & (NYSEARCA:JJC) on the back of the weaker dollar.
Volume was surprisingly light for a quadwitching day with perhaps some action having already taken place toward the close Thursday. Breadth per the WSJ was positive. Believe it or not we're now short-term overbought!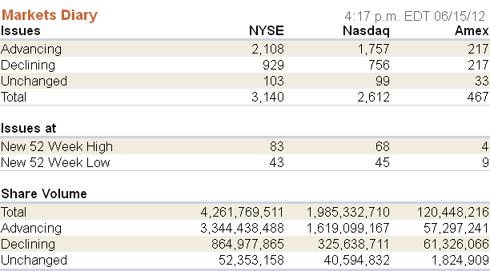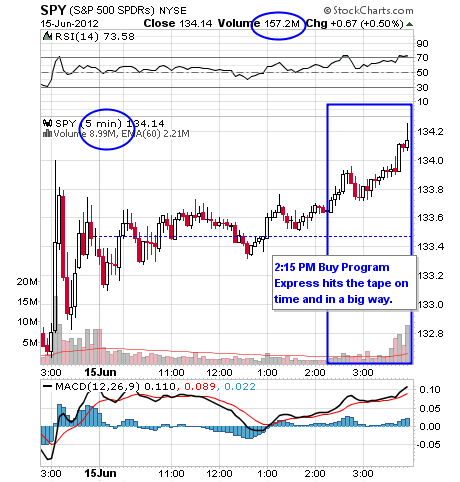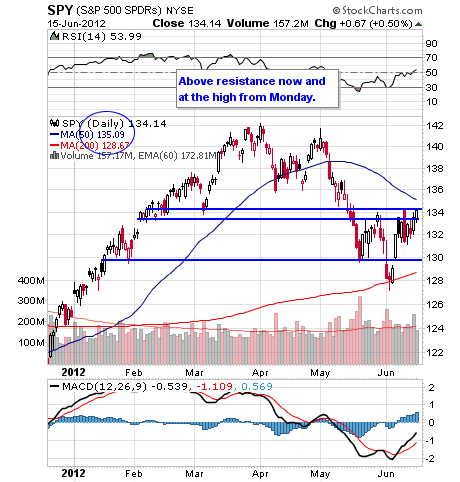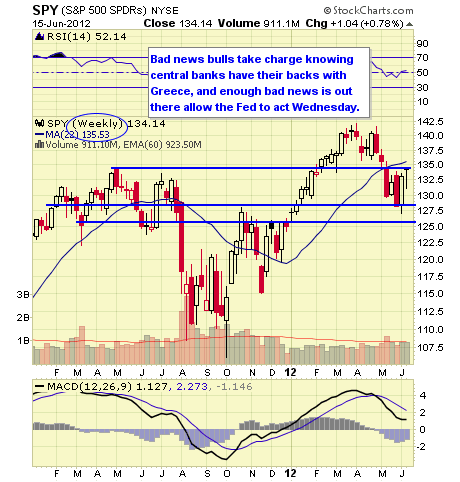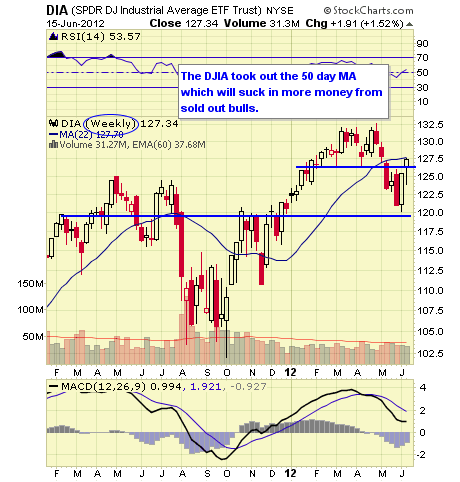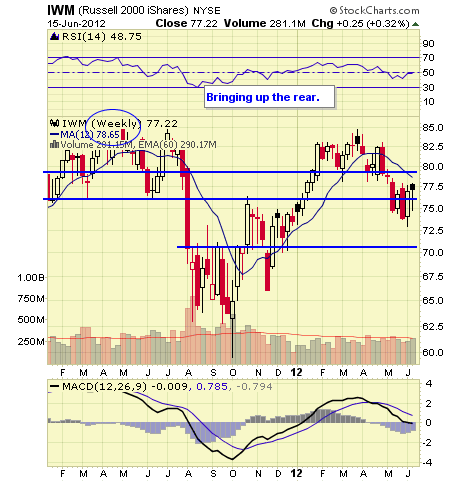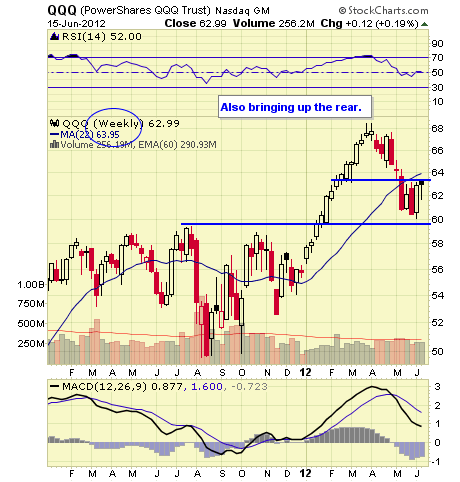 U.S. Sector, Stocks & Bond ETFs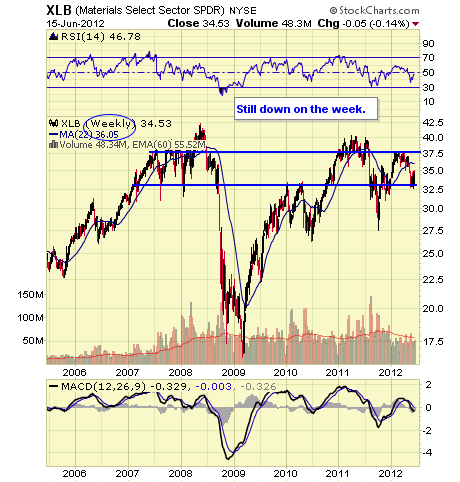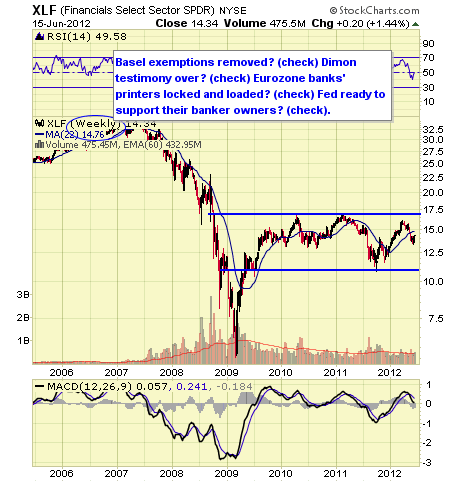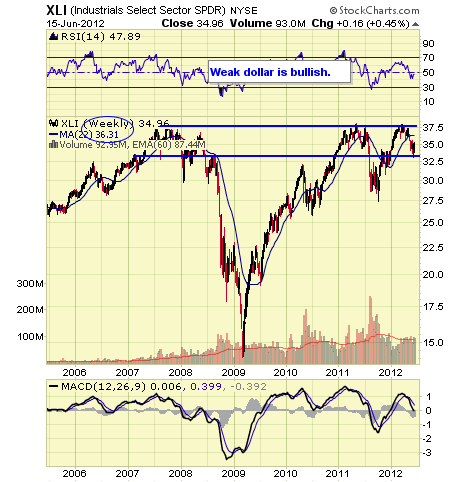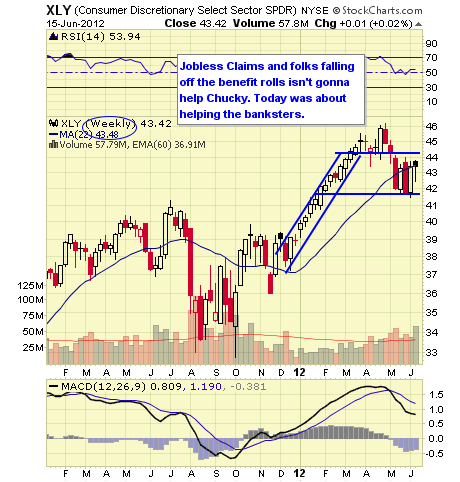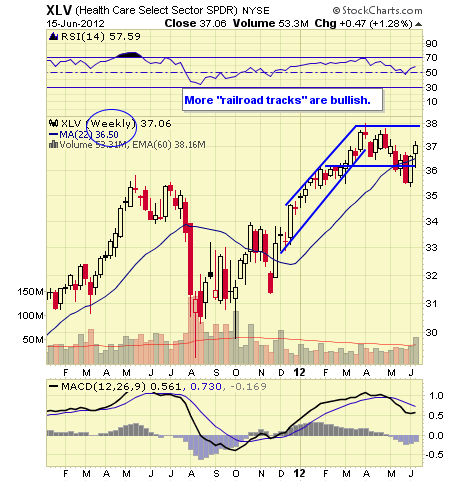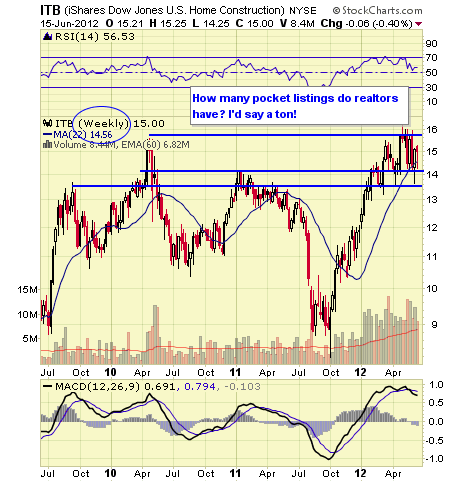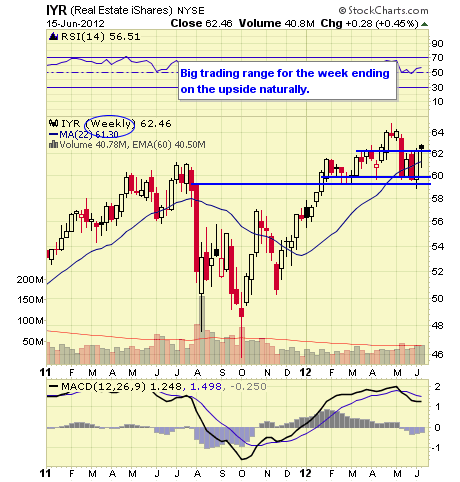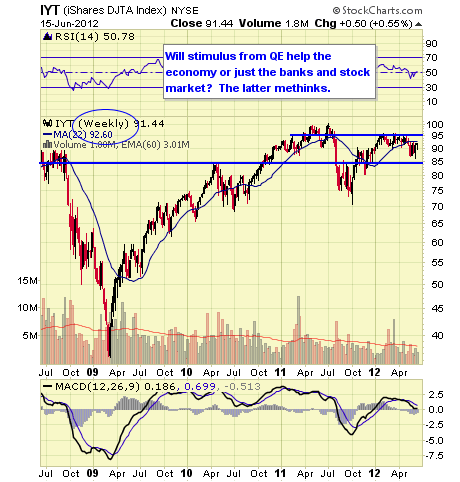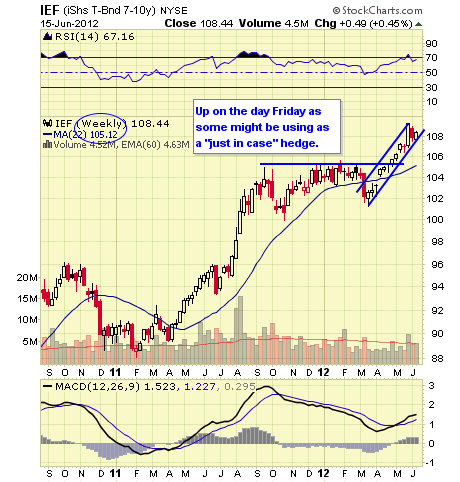 Currency & Commodity Market ETFs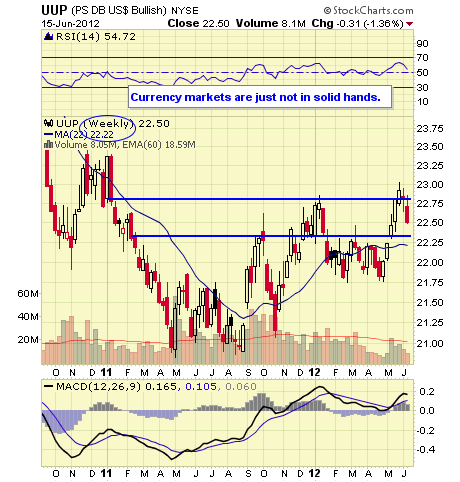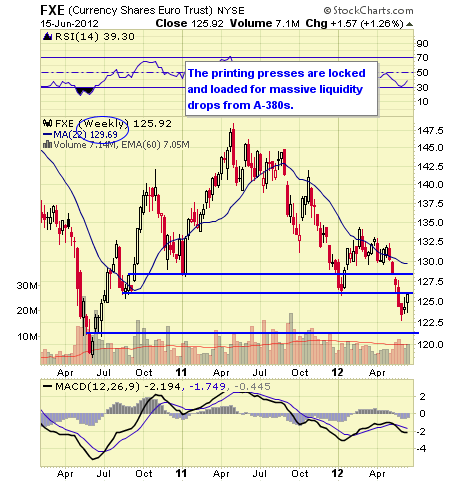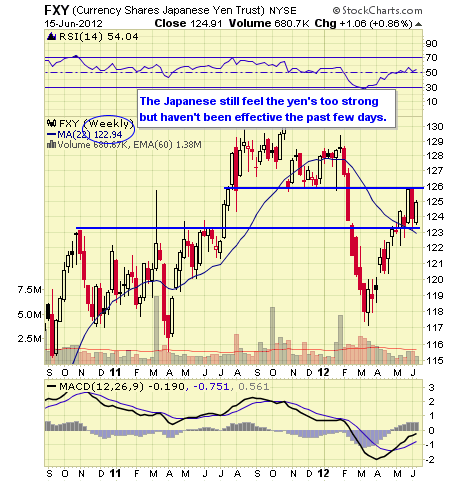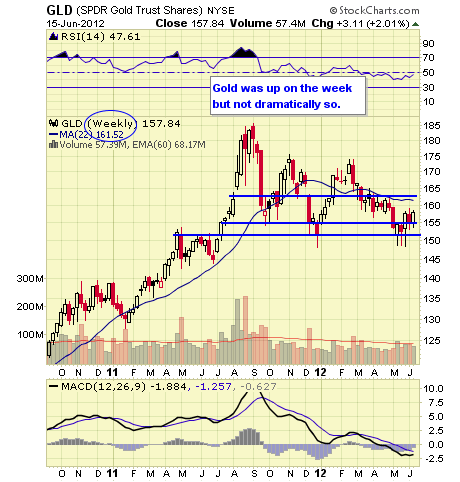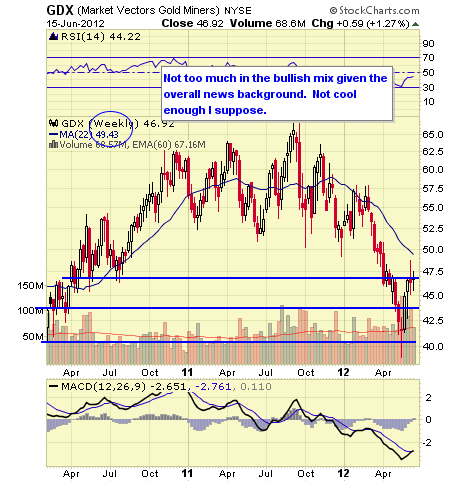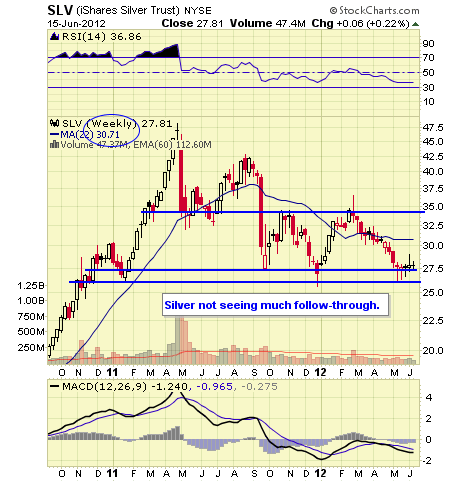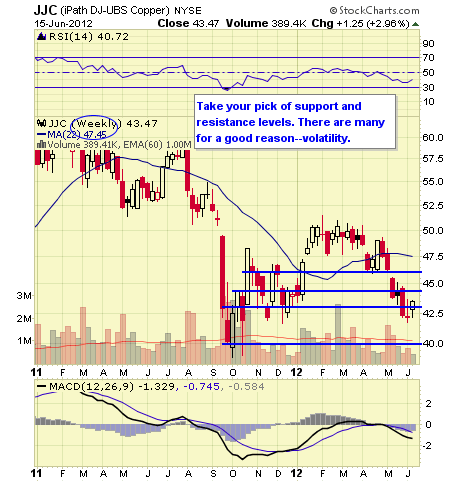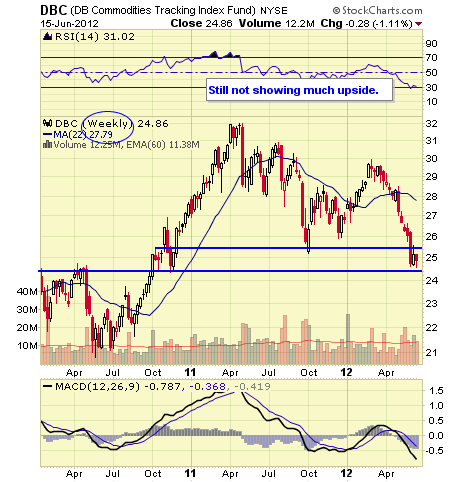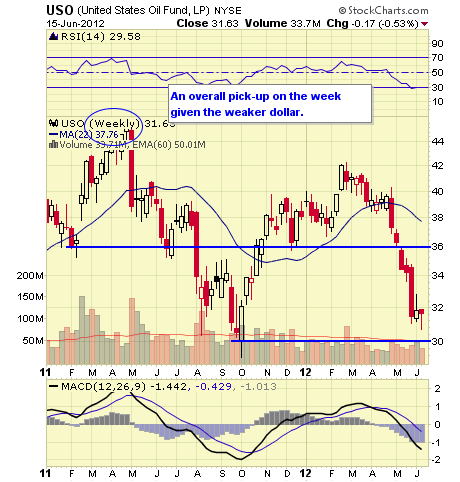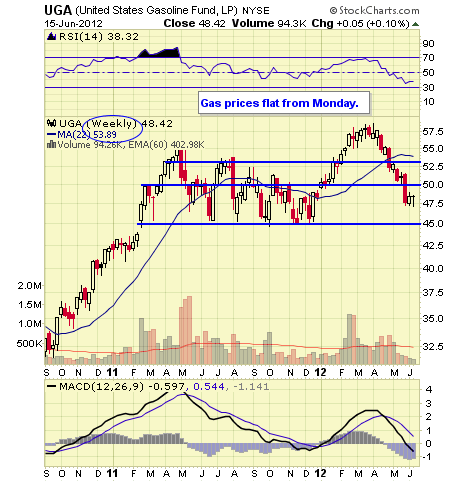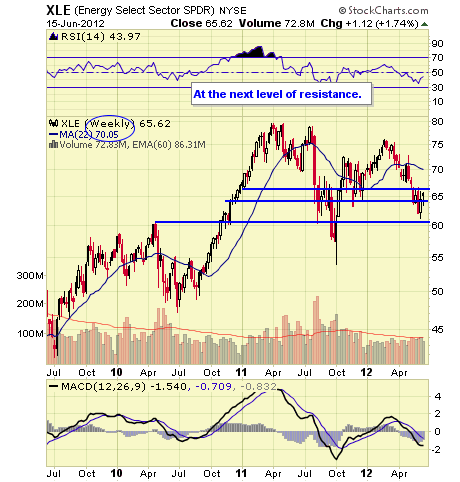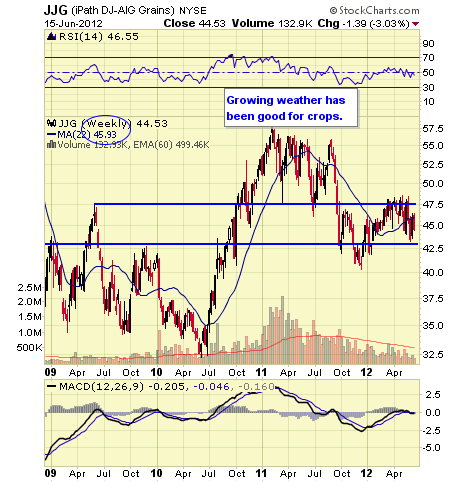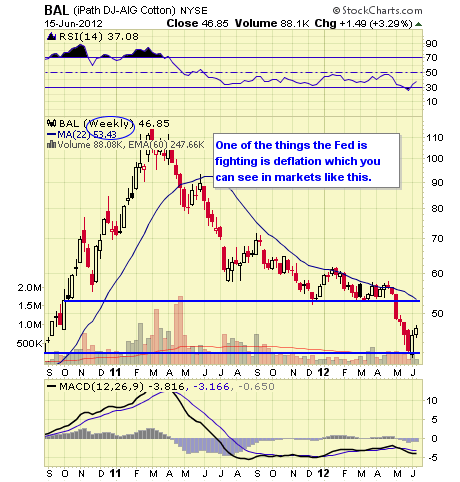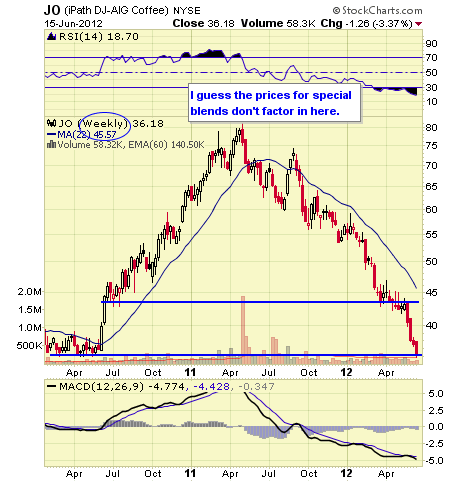 Overseas Sectors & ETFs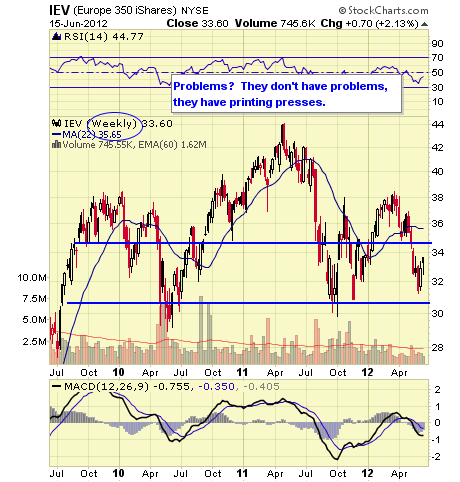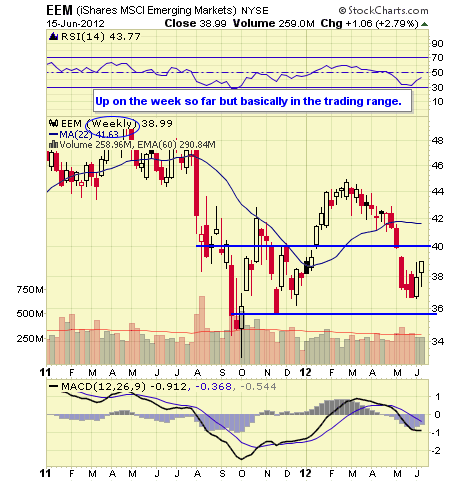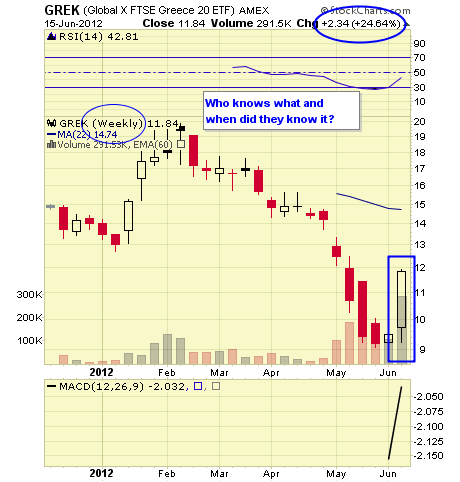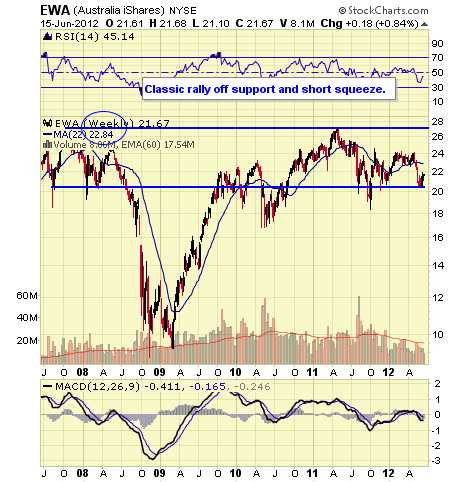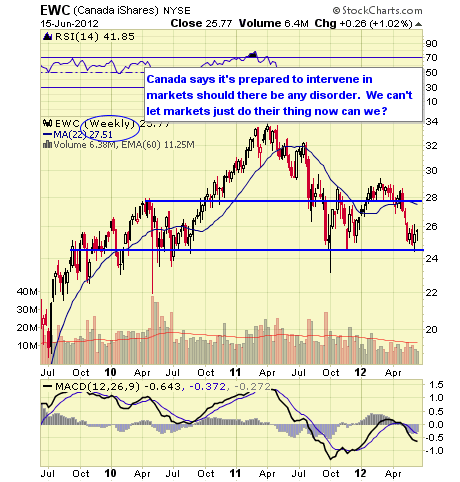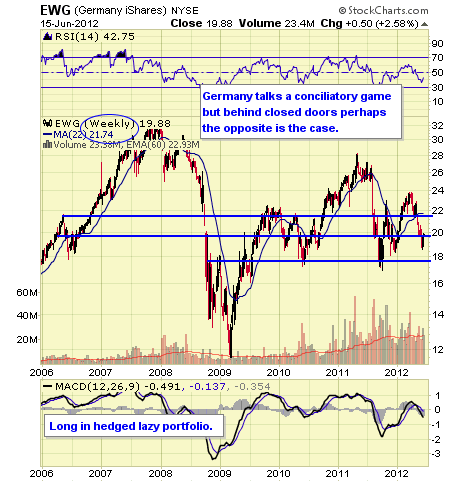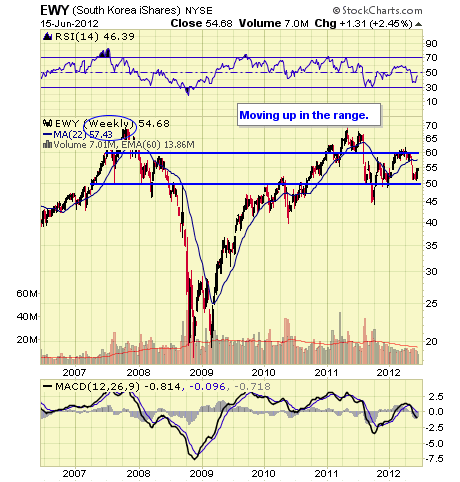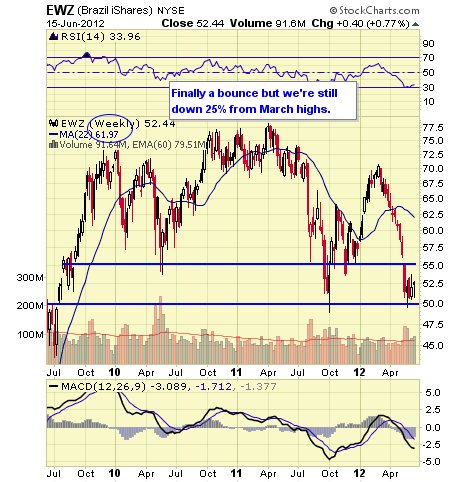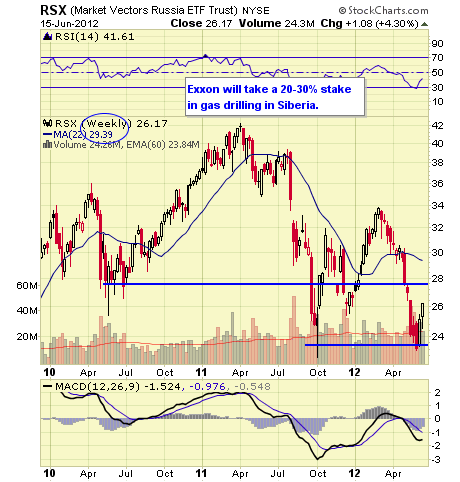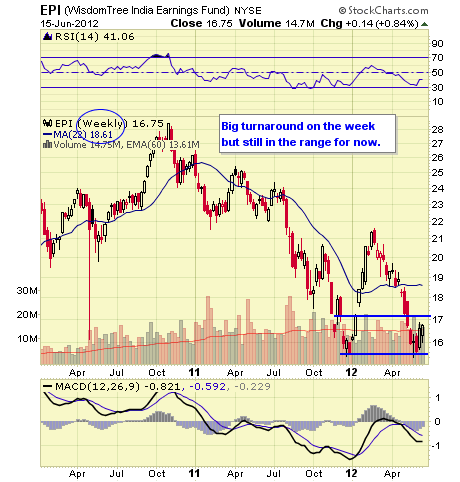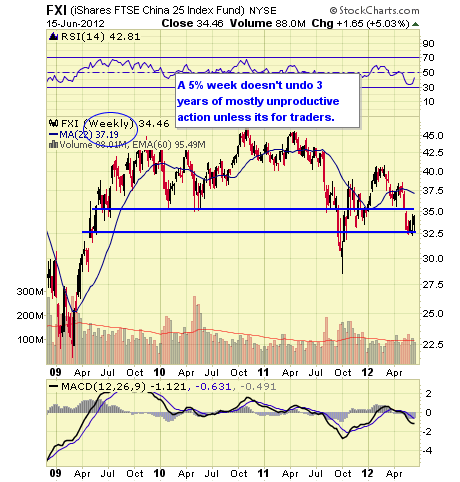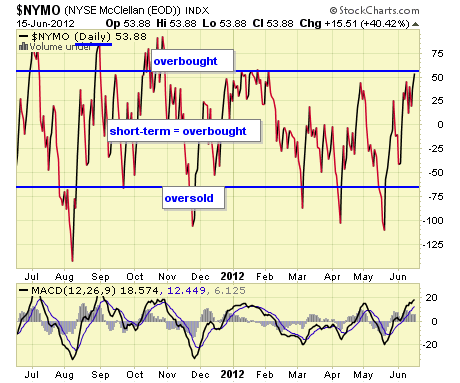 The NYMO is a market breadth indicator that is based on the difference between the number of advancing and declining issues on the NYSE. When readings are +60/-60 markets are extended short-term.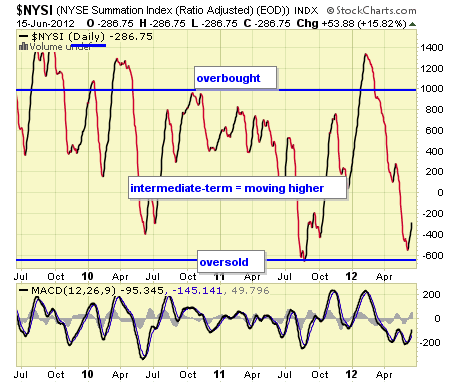 The McClellan Summation Index is a long-term version of the McClellan Oscillator. It is a market breadth indicator, and interpretation is similar to that of the McClellan Oscillator, except that it is more suited to major trends. I believe readings of +1000/-1000 reveal markets as much extended.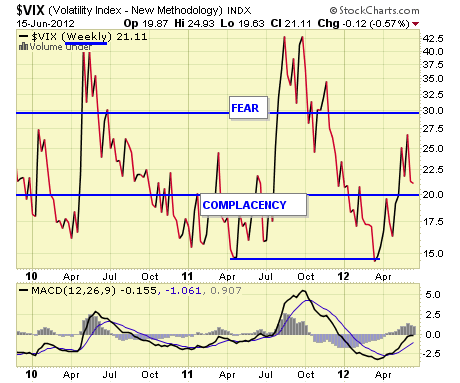 The VIX is a widely used measure of market risk and is often referred to as the "investor fear gauge". Our own interpretation is highlighted in the chart above. The VIX measures the level of put option activity over a 30-day period. Greater buying of put options (protection) causes the index to rise.
This is all about the next 3 trading days. It was unimaginable just a week ago but now possible that bulls could even close the month of June at fresh highs.
Just based on looking at the chart of GREK it appears a positive outcome is in the bag or at least some must think so. A positive outcome could also be like the last-with another election.
The economic news from the U.S. continues to be quite bad. The Empire State Mfg Survey suggests a sub-50 reading for the ISM. That's recession levels.
The Fed will do its think Wednesday. Their primary mission is to serve the large money center banks. They are owned by them as most people are unaware. The Fed has two primary missions: full employment (however that might be defined) and protecting the purchasing power of the dollar. On both counts they score an F. No question political leadership has been unhelpful with fiscal issues. So, what's the point of another round of QE then? It may, as it has in the past, stimulate risk-taking and pump-up equity markets. Will that help with their twin mission? Not at all. It will help their owners-money center bank trading operations.
As always, let's see what happens.
Disclosure: I am long EFZ, VT, MGV, BND, BSV, VGT, VWO, VNO, IAU, DJCI, DJP, VMBS, VIG, ILF, EWA, IEV, EWC, EWJ, EWG, EWU.
Disclaimer: The ETF Digest maintains active ETF trading portfolio and a wide selection of ETFs away from portfolios in an independent listing. Current "trading" positions in active portfolios if any are embedded within charts: Lazy & Hedged Lazy Portfolios maintain the follow positions: SH, EFZ, VT, MGV, BND, BSV, VGT, VWO, VNO, IAU, DJCI, DJP, VMBS, VIG, ILF, EWA, IEV, EWC, EWJ, EWG, & EWU.
The charts and comments are only the author's view of market activity and aren't recommendations to buy or sell any security. Market sectors and related ETFs are selected based on his opinion as to their importance in providing the viewer a comprehensive summary of market conditions for the featured period. Chart annotations aren't predictive of any future market action, rather they only demonstrate the author's opinion as to a range of possibilities going forward.