Molycorp (MCP) is one of the world's leading rare earths and rare metals companies, and combines a world-class rare earth resource at Mountain Pass, California, with world-leading ultra-high-purity rare earth and rare metal materials processing capabilities. With 26 locations across 11 countries, Molycorp is vertically integrated across the global rare earth mine-to-magnetics supply chain. It produces custom engineered materials from 15 different rare earths, with purity levels of up to 6N (99.9999%), and from six other metals (niobium, tantalum, gallium, indium, rhenium, and zirconium) at purity levels of up to 8N (99.999999%). Through its Molycorp Magnequench subsidiary, the company is a leading global producer of neodymium-iron-boron (NdFeB) magnet powders, used to manufacture bonded NdFeB permanent rare earth magnets. Through its joint venture with Daido Steel and Mitsubishi Corporation, Molycorp expects to begin manufacturing next-generation, sintered NdFeB permanent rare earth magnets in early 2013.
The rare earths and rare metals materials that Molycorp produces are critical inputs in wide variety of existing and emerging applications, including the following: advanced transportation technologies, such as hybrid electric, plug-in hybrid electric, and all-electric vehicles; clean energy technologies, such as solar and wind power systems; energy efficiency technologies, such as high efficiency motors and appliances, compact fluorescent lights, and color displays; computing and communications applications, including fiber optics, lasers, and hard disk drives; defense and aerospace applications, such as satellites, guidance and control systems, and global positioning systems; and advanced water treatment technologies for use in municipal wastewater, industrial wastewater, pool & spa, and outdoor recreation applications.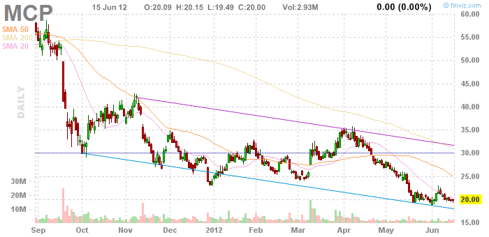 Click to enlarge
I see at least 5 reasons to buy the stock currently
1. There were three insider buys on June 13th
Mr. Brian T. Dolan is Director of Molycorp. Mr. Dolan purchased 12,153 shares on June 13th.
Mr. John F. Ashburn, Jr. is Executive Vice President, General Counsel and Secretary of Molycorp Minerals. Mr Ashburn purchased 5,000 shares on June 13th and currently holds a total of 179,252 shares.
Mr. Mark A. Smith is Chief Executive Officer, member of the Board of Directors and a shareholder of Molycorp Minerals. Mr. Smith purchased 1,000 Series A Mandatory Convertible Preferred Stock at $53.68 share price and currently holds 2,000 of them.
2. The company has positive cash flow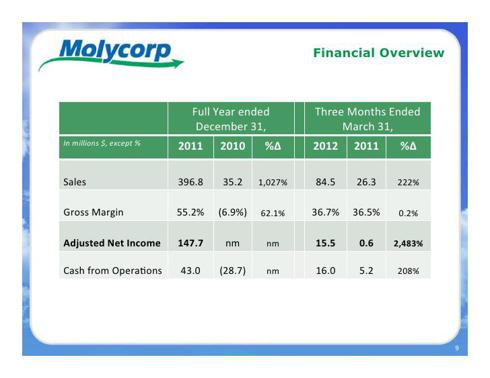 Click to enlarge
Quarterly net sales for first quarter were $84.5 million, significantly higher than $26.3 million in the first quarter of 2011. Molycorp Silmet (Sillamäe, Estonia) and Molycorp Metals & Alloys (Tolleson, Arizona) were acquired during the second quarter of 2011, which contributed revenue during Q1 2012.
Gross profit was $31.0 million during the quarter, compared to gross profit of $9.6 million during the prior year period. Gross margin of 36.7% increased 23 basis points from the prior year period.
Molycorp's first quarter GAAP earnings attributable to common stockholders was negative $6.3 million, or a loss of $0.07 per diluted share. Adjusted earnings of $0.18 per diluted share reflects certain non-cash, out-of-ordinary, and business expansion items as compared to U.S. GAAP earnings per share (e.g. a one-time non-cash expense of $6.6 million related to a foreign currency forward contract, $6.6 million in consolidated inventory write-downs, and $2.5 million related to bad debt expense).
The stock currently has a forward P/E of 6.6.
3. Positive outlook for 2012 and beyond
From the most recent 10-Q filing:
We anticipate China-based producers and suppliers will continue to limit the quantity of REOs available outside of China for the remainder of 2012, despite the challenge to the Chinese export policy by some of the members of the World Trade Organization in early 2012. While we anticipate the demand for our product to remain soft during the second quarter of 2012, we believe a recovery in demand will begin in the third quarter of 2012, although there can be no assurance of such recovery. We also anticipate prices for most of our products to remain stable or experience some slight and temporary declines for the remainder of 2012. Additionally, the volume of products we are able to produce will remain limited by the capability of our existing production facilities until the completion of the construction of Project Phoenix Phase 1 by the end of the third quarter of 2012, which, coupled with the anticipated soft demand for our products during the second quarter of 2012 and the potential for declining prices, could adversely impact our second quarter results of operations. We do, however, anticipate progressively expanding our products and markets through the remainder of 2012, including market penetrations of our XSORBX® technology into the water treatment industry. We will continue to supply Molycorp Silmet and MMA with rare earth feedstocks from our Molycorp Mountain Pass facility to utilize their production capabilities. We believe that our consolidated sales in 2012 will be sufficient to fund our operating activities throughout the year, including consolidated selling, general and administrative expenses. We expect our REOs production in 2012 to be between 8,000 mt and 10,000 mt. Additionally, we expect to produce between 315 mt and 325 mt of rare metals at our Molycorp Silmet facility in 2012.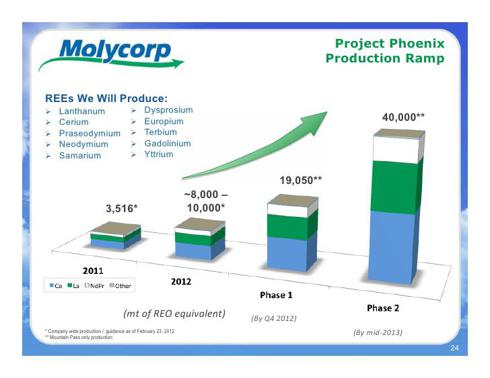 Click to enlarge
The company is expecting to reach an annual 40,000 mt REOs production starting by mid-2013.
4. XSORBX product is a main growth driver for the company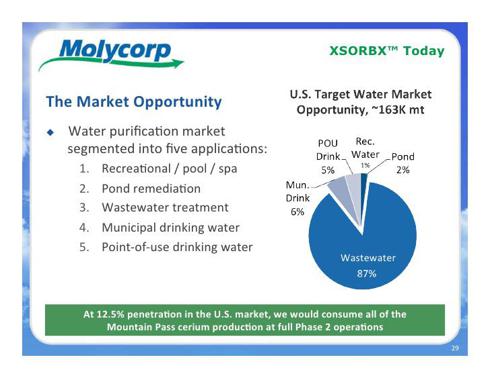 Click to enlarge
The company has stated that its second highest priority after the project Phoenix is its patented water purification technology called XSORBX. The company's 2012 goal is to sell approximately 1000 tons of XSORBX.
The company also continues its XSORBX product development and the commercialization efforts in other water application markets including, pond remediation, municipal waste water, industrial waste water, municipal drinking water and point of use drinking water solutions.
The CEO Mark Smith commented the product at the first quarter earnings call:
As I've mentioned on prior calls, and in meetings with many of you, the potential for XSORBX in these additional markets is substantial, both in United States and around the world. To put this in the perspective, the United States market alone represents approximately, 163,000 metric tons annually of XSORBX product on the cerium oxide basis. Assuming only a 12.5% market penetration for XSORBX into these markets, we would consume all of the cerium that we would produce at full Phase 2 production.

Given the current favorable reception from our customers, we believe that achieving the internal target penetration rates are very realistic. The net result is that, XSORBX is materializing into an excellent growth platform for Molycorp.
5. Neo Materials acquisition has been closed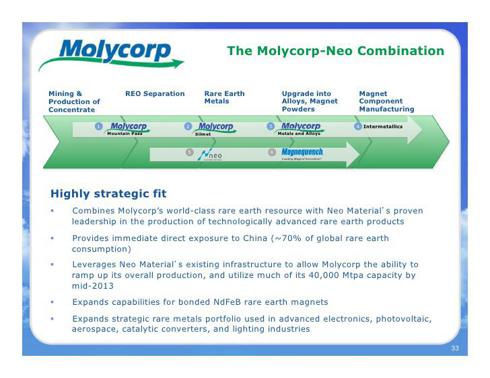 Click to enlarge
"Less than two years after becoming a publicly traded company, Molycorp has now grown into one of the world's leading, vertically integrated, global rare earths and rare metals companies, with what I believe to be an unmatched combination of employees, world-class resources, and ultra-high-purity processing and materials engineering capabilities,"
said Mark A. Smith, Molycorp's President and Chief Executive Officer on June 11th after closing of the transaction.
"We now have the broadest global coverage in the industry, and we can immediately access highly specialized niche markets that were not available to us prior to the Neo acquisition," Mr. Smith said. "Our expanded product line in rare earths, particularly in the 'heavies' category, and rare metals, along with our patented technology platform, and our ability to consistently meet demanding customer specifications, will make us a formidable player in these global markets for years to come."
The Neo acquisition is expected to be accretive to Molycorp's 2012 earnings and cash flow, and positions the company to deliver strong returns in the future. The significant synergies that have already been identified, and others expected to be implemented, will further strengthen Molycorp's financial performance beyond 2012, especially as the company ramps up and leverages its increased production from the Mountain Pass facility.
Conclusion
I have been an owner of Molycorp in the past and plan to re-enter the stock again in the near future. The stock has closely followed the Market Vectors Rare Earth/Strategic Metals (NYSEARCA:REMX) during the past two years but could start to lead the index in the near future based on the number of major catalysts.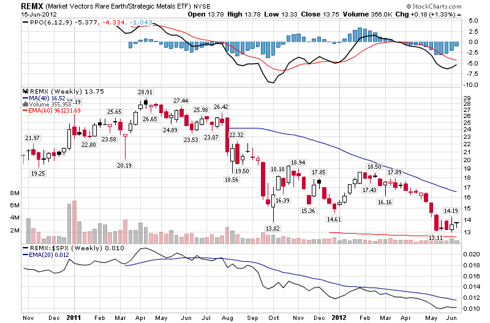 Click to enlarge
Disclosure: I have no positions in any stocks mentioned, but may initiate a long position in MCP over the next 72 hours.