Canadian Energy producer EnCana Corporation (NYSE:ECA) led by example for the second straight day as its chart climbed a hill with great determination Thursday and Friday.
(Source: Google Finance)

Click to enlarge
The surge in natural gas has been very good for income generating energy producers. Not only is The Little Energy Stock That Could up 10% in the last 2 days, it yields more than 3.5%. Mama would be proud, and it might be because EnCana hangs out with the right crowd of income-generating energy-producers: High-yielders CNOOC (NYSE:CEO), Penn West (NYSE:PWE), Talisman (NYSE:TLM), Statoil (NYSE:STO), Seadrill (NYSE:SDRL), and Murphy Oil (NYSE:MUR) all climbed their own hills of more than 2% Friday.
Unlike some other big movers the last couple of days, EnCana had a real business catalyst to move, with gas prices spiking so much. That's in sharp contrast to the pole-axing some stocks got lately, seemingly to manipulate big option price swings as options expired after Friday. Yep, the move was real, and for the June 16 $20 call option holders it was a little unreal for a second straight day: (Source: Etrade)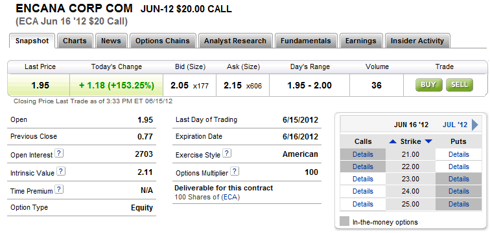 Click to enlarge
Conclusion
As most options expire after the third Friday each month, this a recurring pattern of wild swinging in options with strikes that go from in the money to out of the money or vice versa. The Little Energy Stock That Could had a nice payoff in this call option, but if the news was bad instead of good the pain could have been as bad as the pleasure was good.
Disclosure: I have no positions in any stocks mentioned, and no plans to initiate any positions within the next 72 hours.