Steven Madden (NASDAQ:SHOO) designs and distributes men's and women's footwear and accessories, and primarily focuses on North American markets. The stock has returned 10.32% YTD and currently trades at the mid-point of its 52-week range between $27.80 and $45.70, amounting to a market capitalization of $1,687M. At the current price of $38.06, the stock is trading at 14.19x the current fiscal year estimated EPS and 8.77x the LTM EBITDA. I believe SHOO should warrant a bullish consideration based on the following reasons:
Analysts expect top line to rise by 25.8% and 11.0% over the current and next fiscal years, and EPS to grow at 19.0% and 14.9% over the same horizons. Taking the growth prospects into consideration, the stock is trading at a reasonable 3-year expected PEG of 0.91x.
According to the comparable analysis below, SHOO outperforms its industry peers across all the profitability, growth, and free cash flow metrics. I believe the firm should merit a valuation premium of 10-20% to both the peer average P/E and EV/EBITDA multiples. Based on a 15% premium, the relative valuation model yields a fair stock value of $42, suggesting an 11% potential upside.

Click to enlarge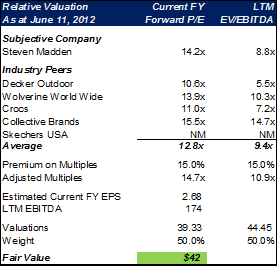 SHOO has a healthy balance sheet. As at Q1 2012, the firm is sitting on $67M cash and has no debt. Both the current and quick ratios are very solid at 2.4x and 1.8x, respectively.
Of the 9 analyst ratings for the stock, there are 3 strong buys, 2 buys, and 4 holds. The mean target price is $50.33, implying a solid 32% upside potential.
According to the table below, estimated EPS have multiple upward revisions over the past 90 days, suggesting analysts are increasingly optimistic about the firm.

Click to enlarge
SHOO has consistently beaten both revenue and EPS estimated over the past 8 consecutive quarters.
EPS tables are sourced from Yahoo Finance, Comparable Analysis and Valuation tables are created by author, and financial data is sourced from company 10-Q, 10-K, press release, Yahoo Finance, YCharts, Wall Street Journal, Thomson One, Bloomberg and Morningstar.
Disclosure: I have no positions in any stocks mentioned, but may initiate a long position in SHOO over the next 72 hours.