Dividend investors are half way through 2012. My star performer has been American Capital Agency Corp. (NASDAQ:AGNC). American Capital Agency has produced an annualized total return of 38.04%. I believe the Chief Executive Officer, Gary Kain, will continue to produce excellent returns over the next few years. I will highlight 3 reasons to buy American Capital Agency. The 14.90% dividend yield mortgage real estate investment trust (mREIT) should continue to be a core holding for high yield income investors.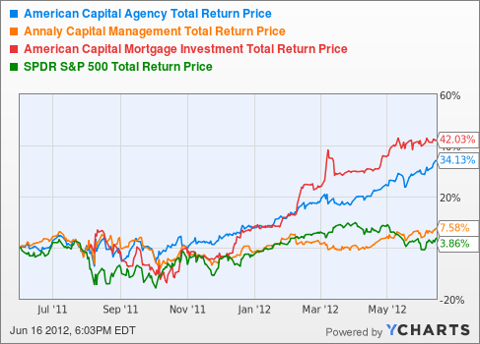 AGNC Total Return Price data by YCharts
The above table highlights the annualized performance between Annaly (NYSE:NLY), American Capital Mortgage (NASDAQ:MTGE), American Capital Agency, and the S&P 500. Annaly is the largest agency mREIT. American Capital Mortgage is a hybrid mREIT and a sister fund to American Capital Agency. Gary Kain is the key manager at American Capital Mortgage. A hybrid mREIT can purchase agency mortgage backed securities (MBS) and non agency mortgage backed securities.
American Capital Agency Dividend Reinvestment Plan
American Capital Agency has produced an incredible 38.04% annual return since its inception on May 15th, 2008. This assumes dividends have been reinvested into additional American Capital Agency shares.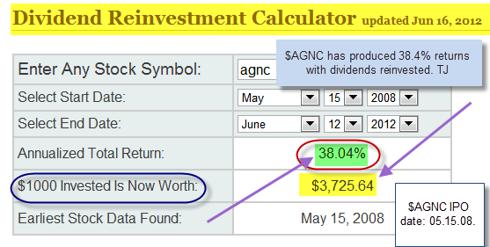 1. Current Economic Conditions
Europe has a number of countries with major revenue versus expenditure imbalances. Spain, this past week, received $125 million to rescue the country's banking system. The 5 Year Credit Default Swaps indicate the cost, in thousands of dollars, to insure $10 million in sovereign debt.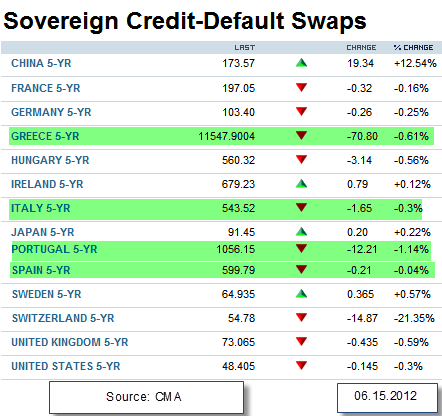 Greece has a key vote on June 17th. This is a major short term issue amongst the various austerity implications in Europe. Countries are experiencing a high rate of unemployment, which creates lower taxes and lower spending power. As Europe is receiving fewer and fewer revenue dollars, their expenditures remain the same unless imposition of budgetary cuts.
In the U.S., Ben Bernanke has stated Quantitative Easing 3 (QE3) is not off the table. If this is implemented, the Federal Reserve will attempt to decrease longer duration bond yields. QE3 will require the Federal Reserve to repurchase Treasury Bonds and Government Sponsored Entity (GSE) MBS. This will force down longer duration yields.
2. Proven Management Team
The management team is an open book. Gary Kain provides a refreshing air of disclosure on the conference calls. The investor presentations are clear and designed for most investors to understand the business model. The mREIT business model is viewed, by some, as an arcane niche with high risks and exaggerated returns. Mr. Kain has proven that impressive annualized total returns are available to the average dividend investor.
The ongoing shareholder information, Mr. Kain presentations, quarterly conference calls all highlight management's commitment to share the risks and rewards with investors. Management allows investors to recognize the risk and what the team is doing to address each risk. This is a distinct difference to some companies in the mREIT space.
3. Strong U.S. Dollar and Weak Euro
The U.S. dollar is strong due to the influx of foreign currency. Europeans want a safe haven for their currency. These funds are purchasing U.S. Treasury bills, U.S. Treasury bonds, and GSE MBS. The GSE MBS have an implicit U.S. Federal Government guarantee.
American Capital Agency borrows short term funding via repurchase agreements. Management uses these funds to purchase agency MBS. The gross yield spread has reduced as GSE MBS have decreased in conjunction with the Treasury Bond yields.

Management purchases hedges to offset an unexpected upward swing of interest rates. The hedging cost is subtracted from the gross yield spread. This provides the net yield spread available for leverage. The quarterly dividends are, therefore, likely to decrease in the upcoming year. Yield compression forces net income to decline.
On the positive side, American Capital Agency's book value per share will increase as their GSE MBS holdings increase in value due to plummeting interest rates.
Action
I am grateful to have an opportunity to invest in American Capital Agency. The 14.90% dividend yield is available due to the strong U.S. dollar and quantitative easing implications. Investors can benefit by the Federal Reserve's actions to reduce long term interest rates.
The 14.90% dividend yield significantly beats the 2.70% 30 Year Treasury Bond yield. American Capital Agency goes ex-dividend in the amount of $1.25 per share on June 19th. American Capital Mortgage goes ex-dividend in the amount of 90 cents per share on June 19th.
Management delivers on their commitments. The dividends, profits, book value per share continue to increase. If dividends decrease, the net effect will result in mREITs still remaining as one of the highest dividend yielding sectors. The book value per share, which directly corresponds to the price per share, will increase due to decreasing interest rates.
I recommend investors to hold their shares and reinvest the dividends. A 38.04 annualized return is difficult to beat.