by Carla Fried
Google (NASDAQ:GOOG) is a bit of the ignored middle child of late. Apple (NASDAQ:AAPL) gets plenty of love and attention as the favorite older child who can seemingly do no wrong. Facebook (NASDAQ:FB) is the new baby whose arrival was much anticipated and continues to garner much attention; albeit for its colicky behavior since the bungled IPO.
And then there's Google. The search/advertising/Android OS behemoth hasn't even managed to keep pace with the overall market the past two years.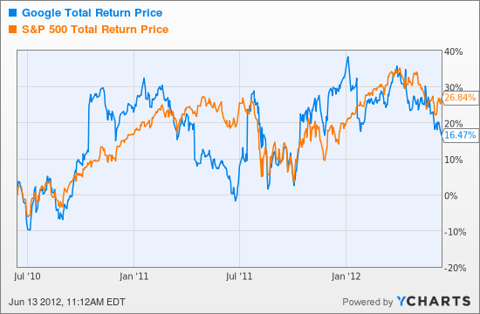 Click to enlarge
For deep value investors that's not disappointing; it's called opportunity. And Google is such a good one now that it's attracting major value fund managers even though there's still no dividend to be had.
Steve Romick, hands down one of the best value fund managers you may have never heard of (his $8.7 billion FPA Crescent mutual fund has an annualized 8% return the past 10 years, compared to 4.6% for the S&P 500 index), picked up some Google in the first quarter of this year. It's a small stake -- less than 1% of assets -- but for a deep contrarian investor like Romick to dip his conservative toes into Google is telling.
The management team at another top value house, Weitz Funds, has waded in with both feet. Google is the fourth biggest holding for the $1 billion Weitz Value fund (4.1% of assets) and the 7th largest holding in the $700 million Weitz Partners Value fund (3.2%). In both those funds, Berkshire Hathaway (NYSE:BRK.A) is a top-10 holding. Yep, Berkshire and Google in the same portfolio.
The $5.3 billion Sequoia mutual fund also has 1.8% of its assets invested in Google, and it too owns a bunch o' Berkshire. (Trivia time: when Buffett closed his investment partnership in 1969 to take over Berkshire Hathaway, he steered his partnership clients to Sequoia, which was co-managed by b-school buddy Bill Ruane.)
So what's catching value investors' interest at Google?
Well, it's not as if the company has lost its revenue mojo: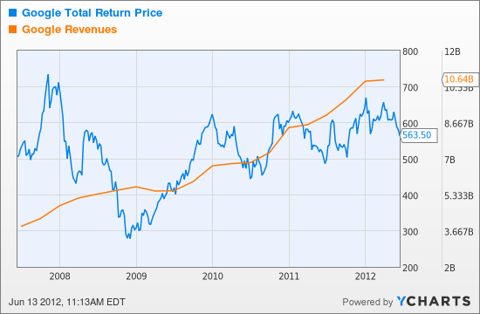 Click to enlarge
Yet Google's valuation remains steady; it's not being bid up.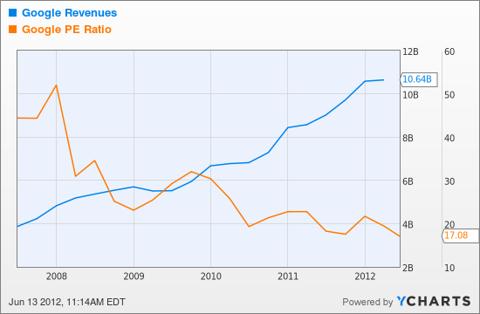 Click to enlarge
Moreover, according to Morningstar, Google's forward price earnings ratio for the next 12 months is 11.4. That's a sharp discount to the 13.4 forward p/e for the overall market.
And even after just closing on the $12 billion Motorola Mobility deal, Google isn't exactly tapped out.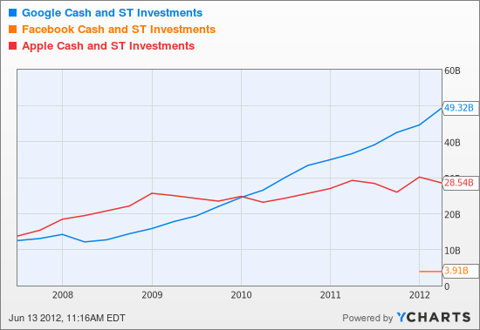 Click to enlarge
That cash hoard gives Google all sorts of options -- like maybe paying a real dividend in the near future. Some pretty smart investors are betting there's plenty of value to be had.
Disclosure: none