On the eve of a second round of Greek parliamentary elections, described by one headline as having the "world on red alert," investors face a high level of uncertainty about the road ahead. Generally considered to be a referendum on the struggling nation's continued membership in the European currency union, and seen by some commentators as the key to survival of the euro itself, the Greek election has taken on an outsized importance. Yet financial markets appear surprisingly sanguine about the entire affair.
Perspective
Stocks: U.S. equity markets followed up their strongest week of the year at the start of June with another solid weekly performance. Each of the major indexes recorded gains - fractional in the case of the small caps, better than 1% for the large caps. All nine major S&P sectors were in the black, led by the energy stocks with an advance of nearly 2.5%. Tech stocks, rather surprisingly, brought up the rear with a gain of 0.3% as a number of the big techs had trouble getting traction on weaker outlooks.
For a second week global markets participated broadly in the rally - once again eleven of the twelve major indexes we monitor recorded gains. The sole loser in the group was Australia, with a small fractional loss. The previous week's laggard, the Shanghai composite, found a bid above the March low and is trying to put in a bottom.
Bonds: Treasury yields, which had fallen off a cliff at the end of May and bounced back a little in the first week of June, slid back down last week. This represents a bit of a departure from the positive correlation between Treasury bond yields and stock prices which has generally held in recent years. The benchmark ten year yield approached 1.7% - the low of last September and the starting point of the recent collapse - and backed off. This looks like yet another example of a previous support level turned into resistance. Moving out to the long bond, resistance is at 2.8%. It may be some time before we see a 3 handle on the long bond again.
Bond strength extended to corporate and municipal issues, as well as TIPS, which saw a nice bounce on Friday. We have seen a variety of bond ETFs come off their 50 day moving averages: LQD, HYG, MUB. Across the Atlantic it was more of the same: yields on bunds, gilts and JGBs dropped, while Spanish and Italian yields rose. However indications of coordinated central bank actions brought Spanish ten year rates under 7%, and Italian rates to just over 6%, by the close. Overall the market is feeling the heavy hands of the central bankers.
Commodities: The relentless selling that has rocked commodities over the past few months appeared to taper off, as the broad CRB index came off what looks like short term support at 270. Oil successfully held above $80, and gold rose - albeit modestly - each day last week. The barbarous relic broke out of a down trend and closed above the stubborn resistance level of $1,625 as the dollar continued to correct from its recent rally. Copper also appeared to be building a base in the $3.30 - $3.40 range. The grains, livestock, and most of the softs, on the other hand, saw continuing weakness.
Currencies: The U.S. dollar index came back just under the January high as most of the majors gained ground against the greenback. The euro, ahead of its purported doom, managed to put together a run of four up days in a row, ending the week above $1.26. Sterling made a big move on Friday, after British officials indicated more monetary support for the struggling economy. Yen also saw a Friday pop.
Outlook
Last week's economic data generally added details to the portrait of a slowing economic recovery: industrial production, capacity utilization and retail sales ticking down, inventories and unemployment claims up, consumer confidence slipping. CPI and PPI were down thanks to falling energy prices, but core prices remained steady and in line with forecasts. Empire manufacturing, not a highly significant indicator, nevertheless missed by a long shot. Next week brings housing market data and durable goods orders, which are quite significant, but the attention will again be fixed on Europe.
Stocks: Against this troubling outlook, global equity markets, and the U.S. in particular, have kicked off summer trading on a note of strength. So is this a bounce in a down trend or the start of a new move up? Of course we can't predict, but in my last article I stated my expectation for a summer of choppy trading. This market is clearly event driven. If it were driven more by fundamentals we could get a better handle on it. This kind of environment means different things for traders and for longer term investors.
click to enlarge images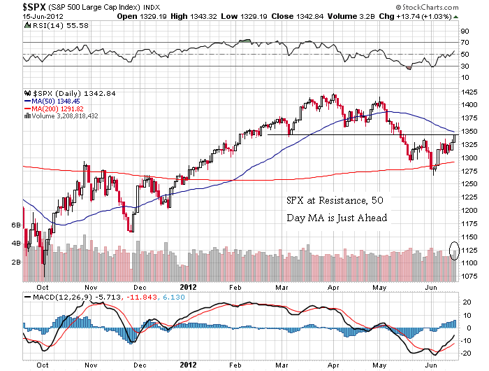 For trading positions, the market in the short term is on the overbought side. Friday was a nice day with a 1% move on increased volume, but the VIX has come off the bottom and this remains a tough market to trade. With all that is going on there is likely to be a lot of whipsaw action ahead. Technically, the SPX is just coming up to its 50 day moving average. A cross above that line, and ideally a move above the 1,360 support level of April that was violated in May, would be bullish.
For longer term investors there are some blue chips that are acting well in a difficult market, which is always something to look out for. Disney (NYSE:DIS), AT&T (NYSE:T) and Verizon (NYSE:VZ) all went to new highs, as did a number of utilities, and we saw buying in several energy names as well as continuing positive action in a number of consumer staples stocks. The common theme here is that investors are favoring stable earnings and dividends. On the other end of the spectrum, a number of large cap techs are looking weak, and in particular, shares of recent market bellwether Apple (NASDAQ:AAPL) are struggling and the stock looks like it might be rolling over. The financials also are having a tough time. For my part I am not quite comfortable with the market here, and remain on hold, but cannot deny that the recent action is quite positive. I just think there will be more opportunities ahead.
Bonds: Yields on high quality paper again have moved back down. This market, as noted above, is firmly in the grip of political players rather than market forces. In a recent interview, really more of a video chat, between John Mauldin and Stratfor's George Freidman, there was some discussion of this phenomenon. Whatever the political considerations may be, as investors we have to make the best of the situation. It looks like central banks will again flood the markets with liquidity and driven down yields across the globe. This is likely to be the case for some time to come (except where solvency is in question).
I continue to prefer corporate paper in all but the most speculative grades, and have positioned our income portfolio in a spectrum of corporates, munis (which I also like) and some foreign sovereigns, as well as an allocation to preferred equity. I feel comfortable buying the higher grade paper here, but will refrain from adding to lower grade until the macro picture clears a little. There is some probability that the mess in Europe will drive prices on riskier assets down, and we're holding onto short term liquid positions in anticipation of finding some high yield bargains down the road.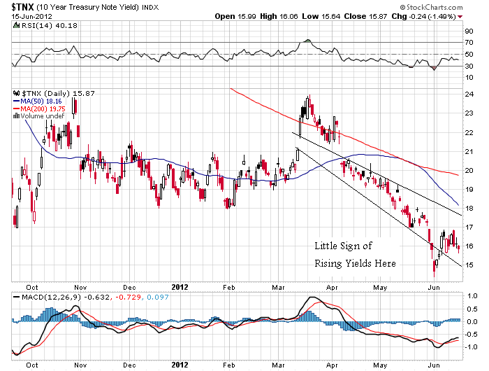 The ongoing suppression of short term rates continues to provide a friendly environment for leveraged CEFs. We hold a couple of muni funds and continue to see this as a good strategy for income oriented portfolios. Of course, as always, exercise due diligence and understand what the fund is doing. They aren't all created equal but in general, there is something for nearly everyone. Even Morningstar is providing coverage of CEFs now, so this is an area of the markets that is attracting attention, and there are good resources available; we have some outstanding authors in this area right here at Seeking Alpha.
Commodities: With the dollar correcting and another torrent of liquidity apparently on the way, commodities have - at least for the time being - broken their spring slide. There could be opportunity here for some risk positions at the margins of a more aggressive portfolio. We have been holding a small allocation to gold, and could look at adding to it in the near future. The macro environment seems favorable, but then it also seemed favorable when we opened the position in January, and it has not made much progress since. However gold has broken out of a short term down trend, and recently crossed a couple of key resistance levels, so there is some cause for optimism. The last time we saw significant QE, strong commodity rallies ensued. There is good reason to expect something similar going forward.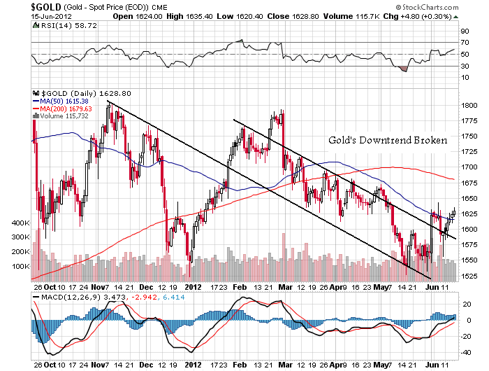 Currencies: This is the real wild card. The U.S. dollar index went on a run in May that coincided with the market correction and deep slide in the euro. It has pulled back to a near term support level. If the dollar gets back into a range between 78 and 81, it could spell smoother sailing for the markets. Again, much depends on what happens across the Atlantic, as well as the Fed here at home. There is a great deal of uncertainty in all of this, but it is certainly an event and news driven market, so we need to stay very alert. This is not a summer for going on holiday and putting everything on autopilot. There is likely to be trouble ahead, but with trouble comes opportunity for the intrepid.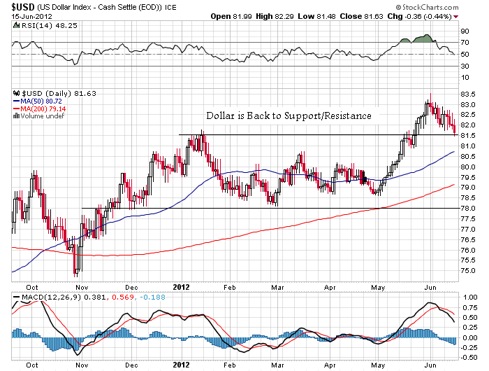 Disclosure: I have no positions in any stocks mentioned, and no plans to initiate any positions within the next 72 hours.