by Sumit Roy
We examine the latest developments in the copper market.
Like most other commodities, copper prices fared poorly in the month of May, as the industrial metal wiped out all of the year's gains amid escalating global economic concerns. Since the start of June, however, price action in copper has been much more muted, with prices trading in a narrow range between $3.25/lb and $3.40.
COPPER
The $3.25 mark is a technical support level, but copper is vulnerable to another leg lower to the key $3 area, depending on the evolution of the global economic outlook.

Currently, three major concerns are weighing on copper (and essentially all risk assets): the sovereign debt crisis in the eurozone, U.S. recession fears and Chinese growth concerns. The escalating eurozone sovereign debt crisis has the potential to drag down growth in every country, and thus holds great importance. Copper traders will be closely watching Greece's parliamentary elections this weekend and yields on Spanish bonds, which peaked at a record 7 percent for the 10-year bond earlier today.
SPANISH 10-YEAR BOND YIELD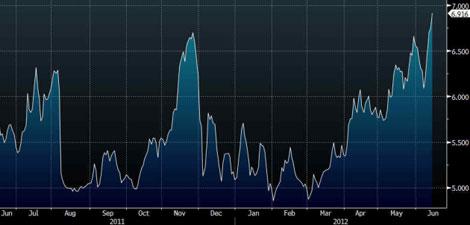 While data in the U.S. have been soft recently, the world's largest economy is widely regarded as being on much firmer footing than its trading partners in Europe, and the Federal Reserve has expressed willingness to provide stimulus should the need arise.
That leaves China, which remains the most significant economy for copper, given that the country accounts for close to 40 percent of global demand.

The People's Bank of China cut it benchmark lending rate by 25 basis points in a surprise move last week in order to stimulate growth, which has been slowing significantly. China's economy grew at the slowest pace in three years in the first quarter, and recent economic indicators have suggested that the slowing trend continued in the second quarter. Thus, many analysts anticipate that the central bank will continue to ease monetary policy to reinvigorate the economy.
Cooling inflation gives the PBoC ample room to maneuver. The consumer price index rose by 3 percent year-over-year in May, the slowest rate since mid-2010.
CHINA CONSUMER PRICE INDEX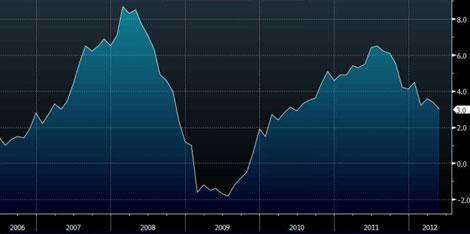 Meanwhile, a good indicator of overall growth in China—industrial production—grew at a slightly better-than-expected rate in May.
CHINA INDUSTRIAL PRODUCTION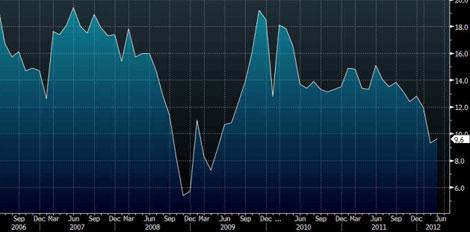 While far from robust (at least by Chinese standards), copper bulls breathed a sigh of relief after growth ticked up to 9.6 percent from 9.3 percent.

Also encouraging were China's imports of copper, which jumped by 10 percent in May.
COPPER IMPORTS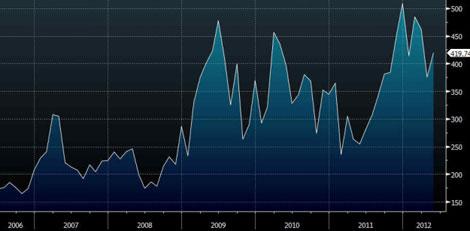 But that hasn't stopped the country's copper stocks from continuing to decline. Inventories in warehouses monitored by the Shanghai Futures Exchange are down significantly from recent peaks.
SHANGHAI COPPER STOCKS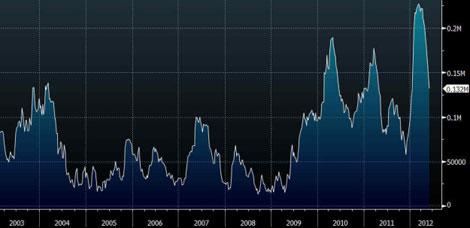 At the same time, stocks monitored by the London Metal Exchange remain near the lowest levels since 2008.
LME COPPER STOCKS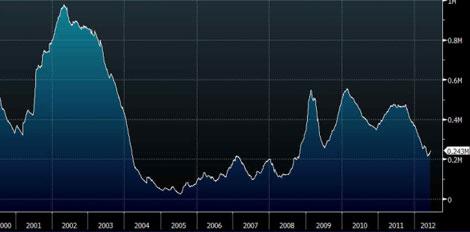 In our view, the data indicate that authorities in China have done a reasonably good job of orchestrating a soft landing for the economy. While external threats remain, particularly from Europe, China should remain a significant positive driver of copper demand and prices.

Nevertheless, the risks to the global economy from the eurozone's sovereign debt crisis cannot be understated. Thus, we suggest traders position themselves cautiously in the short term. If copper prices break $3.25, a swift move to $3 or below is likely. However, an upside break of $3.45 may be a signal to buy.