China Agritech (OTCPK:CAGC) manufactures and sells organic liquid compound fertilizers and agriculture products throughout China. China is the largest consumer of fertilizers in the world, and for good reason; they have approximately 22% of the world's population, but only 7.5% of arable land. Producing high crop yields is extremely important and has become one of the Chinese Government's most immediate concerns. Bottom line, if China does not begin producing crops through more efficient means, such as organic fertilizers, they will be facing a windfall of inflation and food shortages. China Agritech's liquid fertilizer can increase crop yields by 15%-40%, compared to chemical fertilizers who yield between 10 and 11%.
Valuation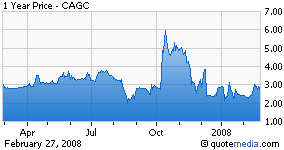 For fiscal year 08 China Agritech is expected to increase revenue 43% coming in at approximately $53mm. Net income is estimated to be $9.7mm or .40 cents per share. This puts CAGC at a forward P/E of 7 based on yesterday's closing price, which is not too shabby given its strong revenue growth and robust outlook moving forward. Similar fertilizer companies in this space have fetched and maintained P/E multiples as highs as 25x to 30x.
Concerns
My number one concern surrounding China Agritech has to do with its DSO (Days Sales Outstanding) which sticks out at 234 days as of Sept 30th 2007. It appears that the company likes to function as a financing entity to help draw in new business and will extend customers' credit. I view this as a similar business model deployed by Best Buy (NYSE:BBY) and Circuit City (NYSE:CC) to insure consumers pick up the latest and greatest flat screen. There is nothing wrong with this, but at first glance it can cause concerns for receivable hawks. The DSO is even less of a concern when one considers that the current CEO Yu Chang was the former regional head of China's Agriculture Bank.
In summation, demand for fertilizer has been extremely robust. Just pull up some of charts on United States fertilizer companies (Terra Nitrogen (NYSE:TNH), Mosaic (NYSE:MOS), Agrium (NYSE:AGU) etc). Moving forward, I believe it is just a matter of time before China Agritech's valuation catches up with its peers and its potential.
Disclosure: Author holds a long position in CAGC.OB