Annaly Capital Management (NYSE:NLY) is a mortgage REIT that buys mortgages backed by federal agencies, and is the largest such agency mREIT. Several competing mortgage REITs reported their dividend for the second quarter of 2012 last week, and maintained their dividend rate from the first quarter of 2012. This indicates a high probability that Annaly's prior quarterly dividend rate of $0.55 is reasonably secure, though that would still be ten cents below what it paid out for the same quarter last year.
See a recent performance chart for NLY: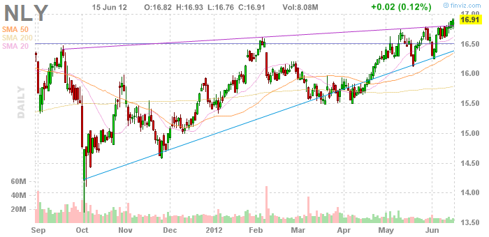 Last week, Annaly's largest agency mREIT peer, American Capital Agency Corp (NASDAQ:AGNC), reported that its quarterly dividend would be maintained at $1.25. Additionally, Invesco Mortgage Capital (NYSE:IVR), which also purchases non-agency RMBSs, maintained its $0.65 quarterly dividend. Similarly Two Harbors Investment (NYSE:TWO) maintained its prior $0.40 quarterly dividend.
One agency mREIT did cut its dividend though. Last week, Capstead Mortgage (NYSE:CMO) reported that its quarterly dividend was reduced from $0.43 to $0.40. One difference between CMO and NLY is that NLY cut its dividend last quarter, from $0.57 to $0.55, while CMO had maintained its Q4 2011 payout into Q1 of 2012.
On May 2, 2012, Annaly Financial reported Q1 GAAP net income of $901.8 million, or $0.92 per share, compared to $445.6 million, or $0.46 per share during Q4 of 2011. Annaly had also earned $0.92 during Q1 of 2011. Excluding unrealized gains, Q1 net income was $529.3 million, or $0.54 per share, which is identical to Annaly's performance during Q4 of 2011 if unrealized losses were excluded. Therefore, the quarter preceding both this and the previous quarter are relatively identical. Given the strong performance of U.S. Treasuries so far into Q2, Annaly's portfolio is likely to have appreciated.
Annaly last reported its annualized yield on average interest-earning assets was 3.23% during Q1, while its cost of funds was 1.52%. As a result, Annaly had an average interest rate spread of 1.71%, which is the same spread it had during Q4 of 2011 and a 46 basis point decrease from the 2.17% spread it had during Q1 of 2011. Annaly also noted that at the end of Q1, its average yield on investment securities was 3.21% and the average cost of funds on borrowings was 1.51%, for a spread of 1.70%.
Fixed-rate securities comprised 91% of Annaly's portfolio at the end of Q1, with 8% in adjustable-rate securities and 1% in LIBOR floating-rate collateralized mortgage obligations. The company also noted that after taking into account the effect of interest rate swaps, the portfolio was comprised 51% fixed-rate assets, 41% floating-rate and 8% adjustable-rate.
Annaly also reported that its leverage rate at the end of Q1 was 5.8x, a slight increase from the 5.4x leverage it had in place at the end of Q4 2011, but below the 6.3x leverage it had in Q1 of 2011. Annaly's management became more conservative since issuing its last secondary offering during the start of the summer of 2011, or about one year ago, in advance of the debt ceiling crisis and subsequent downgrade of U.S. debt. Annaly also reported that its book value at the end of Q1 was $16.18, a twelve-cent increase from the end of 2011.
Annaly apparently opted to put a little more leverage into its portfolio, possibly after the Federal Reserve announced its intention to keep interest rates low through late 2014. At the time of the reporting, Michael A.J. Farrell, Chairman, Chief Executive Officer and President of Annaly, then commented that:
Risks continue to evolve in the market, with an emphasis on sovereign weakness, slow economic growth, central bank activism and the implications of proposed regulatory reforms. Against this background of potential challenges to global financial stability, we continue to see the benefits of being conservative in our business.
Additionally, Annaly's presentation at NAREIT's REITweek 2012, last week, given by Jeremy Diamond, Managing Director, Head of Research and Corporate Communications for Annaly, may be seen here.
Annaly reduced its dividend in each of the last three quarters, but this trend should now come to an end, or at least to a pause. Given Annaly's decision to recently slightly increase its leverage, coupled with the strength of agency RMBSs over the last few months, Annaly appears likely to at least maintain the prior dividend. The company will also likely subsequently report some book value appreciation.
Disclosure: I am long NLY.
Disclaimer: This article is intended to be informative and should not be construed as personalized advice as it does not take into account your specific situation or objectives.