If a guy tells you he's going to take your money and jump into the frigid North Sea with it, would you hand over your cash?
Yet, that's what investors did when they bought Nokia (NYSE:NOK) stock during the last year and a half.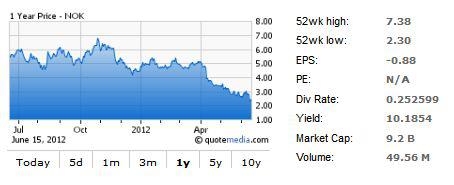 You can't say CEO Stephen Elop didn't give fair warning. In his famous February 2011 memo, he compared Nokia to a man standing on a burning platform deciding to jump into the treacherous frigid North Sea.
He could stand on the platform, and inevitably be consumed by the burning flames. Or, he could plunge 30 meters in to the freezing waters.
Elop's assessment turned out to be correct: The company was and remains in dire straits. Great white Apple (NASDAQ:AAPL) and Samsung (OTC:SSNLF) sharks are circling. Nokia's discouraging business update sent this sub $3 stock plunging even deeper into market hell.
I've always been amazed by how candid management can be and astounded by investor loyalty to drowning companies. Elop didn't pull any punches back in early 2011. He cried "fire". Despite his warnings, shareholders believed in a turnaround. At any point in time, they could have bought Apple or Samsung or Qualcomm (NASDAQ:QCOM), companies that weren't being engulfed by flames. You simply had to sell Nokia and swim over to Apple.
The takeaway: When the CEO tells you the place is burning down and the only chance is dive into the icy seas, invest somewhere else.
Disclosure: I am long AAPL.
Disclaimer: The opinions in this document are for informational and educational purposes only and should not be construed as a recommendation to buy or sell the stocks mentioned. Past performance of the companies discussed may not continue and the companies may not achieve the earnings growth as predicted. The information in this document is believed to be accurate, but under no circumstances should a person act upon the information contained within. We do not recommend that anyone act upon any investment information without first consulting an investment advisor as to the suitability of such investments for his specific situation.