Chipotle Mexican Grill (NYSE:CMG) has been "overvalued" for a very long time, but anyone brave (or until recently, foolish) enough to short it has lost money. Over the past three years, the stock has quintupled. (Charts are courtesy StockCharts.com)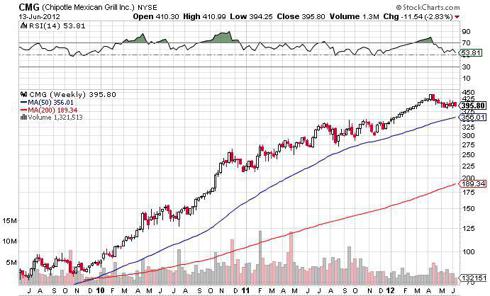 Click to enlarge
Recently, shares have taken a breather, and are now about 10% off of all-time highs set in April 2012. They are now trading below the 50 day moving average, and the 50 and 200 day moving averages are moving closer together.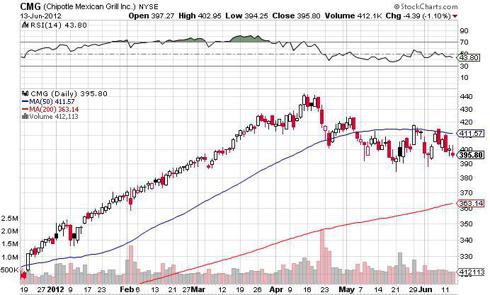 Click to enlarge
But more importantly, there is a timely reason why now may be the time to place a bearish bet on CMG shares. That reason is the Mexican-American War of 2012.
Days ago, Chipotle's main competitor, Qdoba, began distributing coupons, initially to customers that are signed up for their loyalty program. The email sent to those customers contained a potentially-valuable invitation that directed readers to click through, and also to spread the word to all of their friends, family, colleagues, and random strangers about a very valuable offer. (Proprietary image)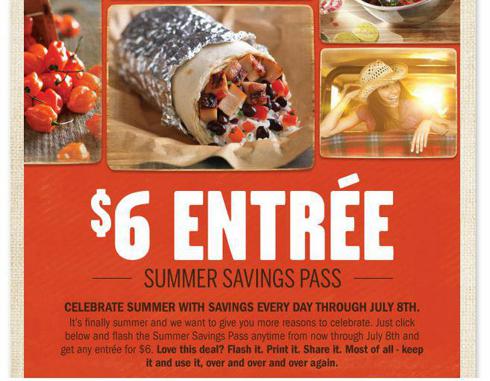 Click to enlarge
The email directs the user to a webpage where they will find the money-saving coupon. (Proprietary image)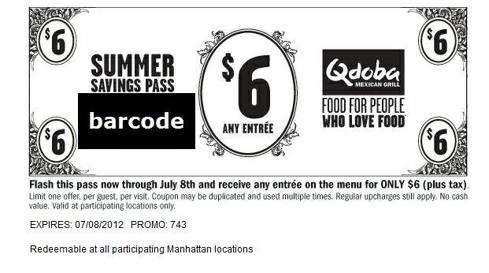 Click to enlarge
The coupon again encourages users to use the offer as much as possible - in my entire life, I haven't seen another coupon that says "coupons may be duplicated and used multiple times." And that's exactly what people are doing. I found out about this offer through participation in an internet community, Reddit. I then emailed the offer to my co-workers. A day later, I found coupons printed out in the pantry at work - I'm not sure whether that was related to my email or someone else's discovery. I've seen strangers holding them in the elevator at lunchtime. At Qdoba on June 13th, the lunch rush seemed to be about twice as busy as normal (with many people flashing coupons at the register) - there were no tables available to eat at, and the lines were much longer than normal at both stations. Clearly, this is what Qdoba wants, and what may give Chipotle problems.
Perhaps most importantly, the offer is valid for a very long time. This promotion seems like it should be more typical of a day- or week-long event, but Qdoba is running it for about a month. It also appears to be nationwide, or at least very widespread - while my coupon says "redeemable in Manhattan," a quick Google search indicates that these coupons are popping up for metro areas across the country. The duration and extent of this offer, combined with the high expectations of Chipotle investors, means trouble may be ahead for shareholders.
The value of this coupon is very significant in larger cities. With this coupon, an entree at Qdoba in midtown Manhattan is now $6 (or about $6.50 after tax), while an entree at the Chipotle one block away is $8.27 (or about $9 after tax - or about $8.50 including tax for chicken or vegetable items). Normally, someone that prefers Chipotle may rarely or never eat at Qdoba, but this promotion will surely have Chipotle regulars wandering away - it's just too hard to resist a 30% discount. (If someone had a burrito for lunch every workday for a week, the cost at Chipotle would be almost $45, while the cost at Qdoba would be less than $35.) The price differences will not be as large in smaller urban or suburban areas - entrees for both Qdoba and Chipotle cost around $7, and are usually comparably priced. However, the coupon is still exciting, and the billions of coupons that get clipped and redeemed each year attest to the fact that people enjoy taking advantage of discounts. Additionally, there is the possibility that this promotion may permanently steal some customers from Chipotle who realize that they may actually prefer Qdoba's food.
A high-flying stock like Chipotle must constantly meet or exceed lofty expectations to maintain a premium valuation, and I do not foresee a robust June (or July) for Chipotle; I believe that very weak comps (i.e. same-store sales) will be likely for Chipotle in June and July. Even more significant, I think there is real potential for earnings to come in below expectations for the quarter ending in June. Conservatively estimating the start of the promotion as June 15th, as it takes a while for word to spread, Chipotle will have faced very adverse market conditions for one-sixth - almost 20% - of the quarter.
If one is already feeling bearish about CMG, I believe that now is the time to make a move. If this promotion actually does affect Chipotle significantly, there may even be a small chance that Chipotle may alter guidance before the earnings release (which is expected in mid-July). Additionally, it may make sense to put on any trades (especially options) before trading volatility and premiums increase as the earnings report nears. I do not currently have a position in Chipotle, but may be making a bearish bet in the coming days depending on stock market and CMG performance.
I always enjoy playing devil's advocate, so here's the other side of this story - if Chipotle manages to beat comps and earnings expectations this month and quarter even with this major competitive headwind, then it's time to become a believer.
In my next article on Chipotle, I will discuss another competitive threat that has the potential to significantly affect it's Q3 earnings: The Taco Bell Cantina menu.
Disclosure: I have no positions in any stocks mentioned, but may initiate a short position in CMG over the next 72 hours.