As the market continues to muddle on through the spring, it feels like the right time to look at the recent performance of some of last year's successful hedge ideas. Below is a table summarizing their performance in 2012, 2011, and during the most tumultuous time periods of the past two years along with their correlation to the market this year:
Time Period
Ticker
2012
2011
Apr - Sept 2011
Apr - Current 2012
2012 Correl w/ S&P 500
S&P 500
4.55%
0.00%
-14.66%
-6.64%
1.00
TLT
5.03%
33.99%
34.02%
12.97%
(0.70)
EUO
4.28%
0.20%
8.01%
11.86%
(0.76)
DUG
10.46%
-31.51%
49.38%
23.25%
(0.59)
SDS
-12.60%
-18.81%
21.85%
11.73%
(0.98)
MCD
-11.02%
34.67%
17.05%
-9.63%
0.28
WMT
13.76%
13.84%
1.09%
10.33%
(0.33)
GLD
3.38%
9.57%
13.01%
-3.08%
0.26
Below is how $100 invested in each of the above at the end of March would have done:
(click to enlarge charts)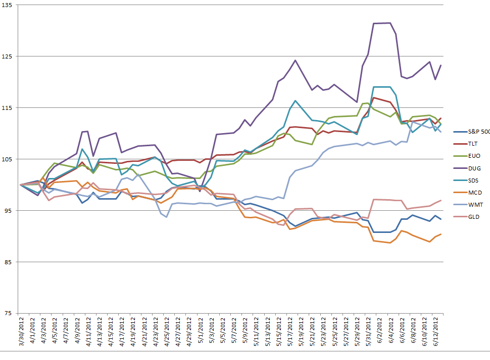 Below is how $100 would have done since the start of 2011. As seen by the long-term view it is clear which of these are investable, and which can only be used for a trade: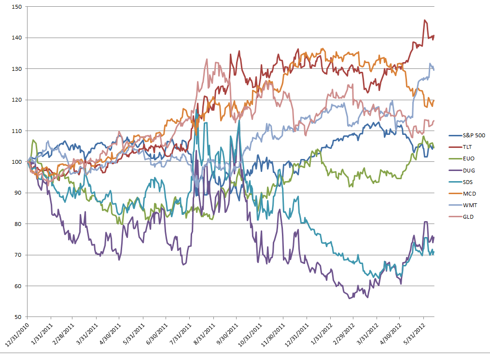 TLT
This ETF seeks investment results that correspond to the price and yield performance before fees and expenses of the Barclays Capital U.S. 20+ Year Treasury Bond Index. The ultimate search for safety has been treasuries as rampant debt crisis around the world has left the US as the deepest pool remaining. As well as this has performed in both 2011 and 2012 when a relief rally does occur this trade can go south in a hurry. From 12/19/11 to 3/20/12 there was a 200 point S&P rally which resulted in a 10% decrease in TLT. Current yields are very near record lows which normally would tip the risks to a level greater than the reward. However, as long as the risk off trade is on and the Fed maintains its ultra low interest rates treasuries can continue to yield under 2%.
EUO
This ETF seeks to provide daily investment results before fees and expenses that correspond to 2x the daily performance of the U.S. Dollar price of the Euro. With any leveraged ETF, the long-term results will underperform the results of the index due to the costs of continually trying to track on a daily basis, along with fees and expenses. For this reason EUO automatically becomes a short-term play that works well when European headlines are continually hitting the daily news. As long as Germany and the IMF are committed to providing funding for Greece, Spain, and other countries that can no longer afford the public cost of their debt the Euro should sink. The threat of flooding the world with more of the currency will keep it under pressure. The EU is in such flux that it is very difficult to predict with great certainty how things are going to shake out. It is a good bet that if the EU does blow apart it will take a major short-term chunk out of stocks, and a small position in EUO could be a good offset as seen by the -.76 correlation with the S&P 500 in 2012.
DUG
ProShares UltraShort Oil & Gas seeks to results that correspond to twice the inverse of the index. Since the start of 2011 this has been the worst performing investment of those being reviewed, but packs the most punch when the market is pulling back. Energy prices have been extremely volatile over the last five years. It seems that anytime the market has gotten a bit overstretched energy prices have followed suit. The headwind of higher commodity costs tends to slow the economy a bit which has lead to an overdone selloff. When things are looking the worst, the lower energy prices have given consumers a little more leeway to spend, and then have given energy prices support. With WTI currently in the $82s and natural gas around $2.20 we may be closer to the end of the cycle than the beginning. Last summer WTI was unable to stay below $80 despite significant weakness, and this year most likely won't be any different. OPEC has talked of potential supply cuts, and Goldman is predicting a 29% increase in commodity prices over the next year. This is likely a good time to take some off the table in DUG, but keep it in the playbook for the next time an energy spike leads to slowness in the economy.
SDS
ProShares UltraShort S&P 500 seeks daily investment results before fees and expenses that correspond to twice the inverse of the daily performance of the index. This has always been my least favorite of the ETF's to choose as a hedge. If you are remaining net long in the market there is no reason to simply buy a position that is betting against the aggregate market; just moving to cash is easier and less costly. When there is a clear sign of a correction and the goal is to get the portfolio net short, this can be an easy trade that requires little work. In 2011 from April - September this returned 21%. Volatility increases the slippage of the leveraged ETF's, and as a result this was down 18% in 2011 even though the market was flat for the year.
GLD
SPDR Gold Shares simply seeks to replicate the price of gold bullion. Gold has tended to outperform stocks when things have been at their most bleak recently. In the table near the top it gets positive checkmarks everywhere except for this April - current period. On some levels the market has been hoping for more easing, and when it hasn't gotten it that has gone against gold. Struggling funds also have to raise cash, and if they have outsized gold positions this can create a little pressure on gold. The .26 correlation with the S&P 500 does add a bit of diversification. One of the benefits to GLD is it has weekly calls, and these can be used as a nice supplement to buy and hold to increase yield. The downside is this strategy will eliminate taking part in a quick spike in Gold.
MCD
McDonald's now has a market cap of $89B and is as close to recession enhanced as any company out there. The current 3.2% dividend yield is double that of the 10-year, and gives a nice cushion to wait for the fast food giant to find its footing. The re-tooling of the MCD stores has been nothing short of remarkable over the past few years. I recently watched "Super Size Me" and the look of McDonald's is almost unrecognizable now. With the creation of McCafe, and the enhancement of healthy options they have moved ahead of the health craze. Commodity costs have pulled back in the middle of this year which should alleviate a lot of the margin pressures that had begun to hurt their outlook for the year. These have not totally subsided, judging by Goldman Sach's downgrade to neutral today along with a $92 target. This year has been met by some challenges in the stock due to so much of the success of last year. It is difficult for any company over $50B to continue to grow earnings at a clip to justify a 34% rise in the stock price. After the pullback they are trading at a healthy but not outrageous 16.43 PE along with a 14.3 forward PE. MCD is far too complicated to be given justice by a quick synopsis, and I will write about it in much more depth in the future.
WMT
Wal-Mart Stores is currently trading at a PE of 14.45 along with a 2.4% dividend yield. It is currently within 2% of a 52-week high which makes now a tough time for a value buyer to justify a new position. It's .39 beta along with a -.33 correlation to the S&P 500 has made it a very safe holding. In 2011 and 2012 it has been up over 13%. It even managed to be up during the extremely volatile April - September period in 2011. Having gone from below $58 at one point in April to over $67 now, this is most likely not the best buying point. A slow moving behemoth like Wal-Mart doesn't tend to make 15% moves in 6 weeks, and will likely have a difficult time sustaining the momentum.
Summary
Looking at any of the above investments in a bubble can be misleading to how well they have served their purposes. Each of these should be looked at in terms of how they would help out an existing portfolio. While WMT, MCD, TLT, and GLD could be looked at as long-term investment ideas over the past few years, EUO, SDS and DUG should only be used over a short period of time. As always invest in each of these with caution, and only look at past results as a potential guide for future possibilities. Even though TLT returned a whopping 33% in 2011, bond yields would have to continue to drop to new record lows to keep returning such a large amount. MCD and WMT were included in the above analysis to contrast the short vs. long-term return profiles of actual companies vs. ETF's. By increasing background information on potential hedge plays and their past histories it gets easier to pull the trigger when the time is right.
Disclosure: I have no positions in any stocks mentioned, and no plans to initiate any positions within the next 72 hours.