Deckers Outdoor (NASDAQ:DECK) designs, manufactures, and distributes athletic and casual footwear. Its brand portfolio includes UGG, Teva, Simple, TSUBO, and Ahnu. The products are distributed primarily through company-owned retail stores and on-line websites.
Click to enlarge: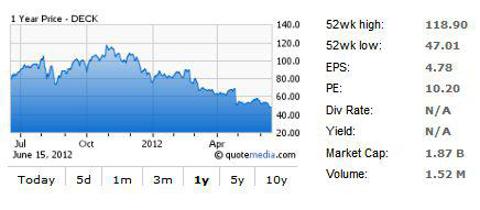 The stock has declined 35.68% YTD primarily due to overall equity market weakness and management's downbeat expectations for the current fiscal year performance. The stock price is currently very close to its 52-week low of $47.01, amounting to a market capitalization of $1.9B. At $48.61 per share, DECK is trading at 5.5x the LTM EBITDA and 10.6x the FY2012 estimated EPS. I think the cheap valuations should warrant investors' attentions based on the following reasons:
Analysts predict top line to grow steadily at 13.3% and 12.5% over FY2012 and FY2013, and EPS to decline by 10.7% in FY2012 and then recover by 20.8% in FY2013. Taking the growth prospects into consideration, DECK is trading at a 3-year expected PEG of only 0.56x, suggesting a discount to the future growth.

According to the comparable analysis below, DECK underperforms in terms of EPS growth potential and free cash flow margin, but has superior profitability relative to its peers. To measure the investment's margin of safety, I performed a relative valuation below with a 20% valuation discount by accounting for DECK's lackluster EPS growth and negative FCF margin but ignoring its solid brand equity and profitability. The model yields a stock value of $59, which is still 21% above the current price.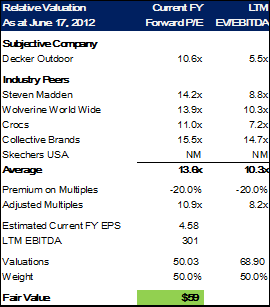 DECK has a very solid balance sheet. As at Q1 2012, the firm is sitting on $229M cash and has no debt. Both the current and quick ratios are extremely healthy at 6.8x and 3.5x, respectively.

Analysts are still bullish on the stock. Of the 16 ratings, there are four strong buys, five buys, six holds, and one underperform. Their mean target price is $73.13, implying a solid 50% upside potential. Standpoint Research upgraded its rating for the stock to buy from hold with a target price of $70 in May 2012.

Insiders have also demonstrated their confidence in the firm. From March to May, there are three buy transactions by the board of directors valuing approximately $163,845 in total and at an average cost of $51-$76.

DECK has a proven track record of beating revenue and EPS estimates. Over the past eight consecutive quarters, the firm only misses the estimates once in Q1 2012.

The elevated short to float ratio of 23.9% suggests potential price support from short coverage once there is a clear sign that the firm's growth story remains on track, especially for international markets.
Tables are created by author and financial data is sourced from company 10-Q, 10-K, press release, Yahoo Finance, YCharts, Wall Street Journal, Thomson One, Bloomberg and Morningstar.
Disclosure: I have no positions in any stocks mentioned, but may initiate a long position in DECK over the next 72 hours.