The Swiss National Bank (SNB) recently announced that Credit Suisse's (NYSE:CS) capital reserve was not up to par with standard the Central Bank had set. The SNB told Credit Suisse that it must raise its capital in order to meet requirements. The requirements set forth by the SNB are meant to structure bank's balance sheets, thus helping them better prepare for a potential European financial collapse.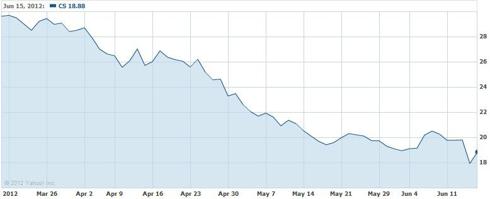 Credit Suisse's stock fell around 10% after the news was announced. Investors panicked as the SNB recommended cutting the dividend or issuing more shares in order to raise capital.
However, Credit Suisse's CEO just announced that company plans to use profit from the coming quarters to raise capital. This is a good move by Credit Suisse for shareholders and shows management's commitment to increasing shareholder value.
Credit Suisse currently pays a solid 4.2% dividend and after recent events, it seems management has no intention to cut it. Its a good sign for Credit Suisse shareholders. Since the stock has fallen quite a bit, I believe the recent news presents a nice buying opportunity. Credit Suisse is expected to earn $2.66 per share, which is sufficient enough to cover the dividend and raise adequate capital to meet the SNB's requirements.
Disclosure: I have no positions in any stocks mentioned, and no plans to initiate any positions within the next 72 hours.