Information technology is the last sector that many to most investors would think of as the backbone of S&P 500 dividends. The sector is the lowest yielding of the 10 sectors (1.63%), yet it generates 13.63% of the total dividends for the S&P 500, second only to consumer staples which generates 14.56% of total S&P 500 dividends (3.03% yield).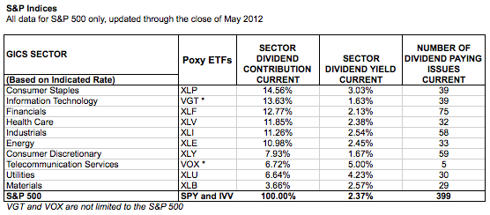 Click to enlarge
Sector Symbols:
| | |
| --- | --- |
| Consumer Staples | XLP |
| Information Technology | VGT * |
| Financials | XLF |
| Health Care | XLV |
| Industrials | XLI |
| Energy | XLE |
| Consumer Discretionary | XLY |
| Telecommunication Services | VOX * |
| Utilities | XLU |
| Materials | XLB |
* VGT and VOX are not limited to the S&P 500, but the SPDR series does not break them out, and instead combines them in XLK.
The highest yielding sector is telecommunications, but it generates only 6.72% of total S&P 500 dividends -- 1/2 as much as info tech.
Second highest yield sector, utilities, generates a bit less at 6.64% of total index dividends.
The sectors ranked by dividend contribution and yield are shown in this table for Standard and Poor's.
The reason info tech is so important to the yield of the S&P 500 and therefore ETFs such as SPY and IVV is their size. They don't pay as high a yield, but they have a lot more market-cap and therefore a much larger impact on total index yield.
Also, the sector has matured a lot since the go-go days leading to 2000.
Today, 39 of 73 tech companies pay dividends -- a lot more than in the 1990s. Big tech companies such as Microsoft (NASDAQ:MSFT), Intel (NASDAQ:INTC), IBM (NYSE:IBM) and Cisco (NASDAQ:CSCO) pay dividends which they did not back then.
Apple (NASDAQ:AAPL), which will shortly pay its first dividend, will have an annualized gross dividend of about $2.5 billion, making it the 4th largest gross dividend payer (and that is probably only just the beginning for a strong dividend growth pattern for them).
Some tech companies may even become important above average yield securities for dividend portfolios.
An important implication of this sector data is that the financial strength and growth of tech has a lot to do with the future growth of dividends from the S&P 500. Given that the S&P 500 is a large core holding for many investors, tech is a major factor in dividend growth for many portfolios.
While we don't advocate holding the index for income, the fact is that many investors have large allocations to the index at the core of their portfolios.
The nice thing about tech in this context is that it tends to be low leverage, high cash, above average growth, and recently with an increasing tendency to pay and increase dividends, and maybe an increasing number of tech companies likely to pay dividends for the first time.
Other sectors have higher yield, but due to the smaller market-cap of the individual companies and of the sectors in total, changes in their dividend policies may have less impact on the S&P 500 index than might generally be assumed.
The top 10 companies in the information technology sector in terms of the gross amount of dividends paid in the past 4 fiscal quarters from greatest to least gross dividends are (yield % provided after name):
MSFT (Microsoft 2.8%)
INTC(Intel 3.3%)
IBM (IBM 1.7%)
QCOM(Qualcom 1.7%)
CSCO (Cisco 2.0%)
ORCL (Oracle 0.9%)
EMR (Emerson Electric 3.4%)
HON (Honeywell 2.6%)
HPQ (HP 2.4%)
TXN (Texas Instruments 2.3%)
You can see from companies like Oracle, that even though they have a yield less than the index, their shear size makes their dividend contribution to the whole of the index very important.
Before the crash of 2008, financials were the most important contributors to S&P 500 gross dividend income, but these days its consumer staples and technology.
Disclosure: QVM has positions in SPY, XLU, MSFT, and INTC as of the creation date of this article (June 18, 2012).
General Disclaimer: This article provides opinions and information, but does not contain recommendations or personal investment advice to any specific person for any particular purpose. Do your own research or obtain suitable personal advice. You are responsible for your own investment decisions. This article is presented subject to our full disclaimer found on the QVM site available here.