SoundBite Communications (SDBT) reported its fiscal 4th quarter and full year 2007 earnings on Wednesday, February 27th.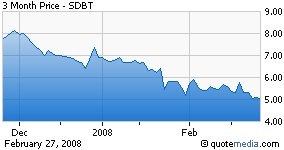 Not only did SoundBite post record profits and revenue and handily beat estimates, but they also raised guidance for Q1/2008, AND full-year 2008, while also announcing an acquisition that will be immediately beneficial to their platform and future product offerings to their customers.
What follows is a brief summary of their earnings announcement and conference call.
Look for a full report on their latest quarter, and their full 2007 results, and analyst conference call highlights in a few weeks after they release their latest 10-K filings and I have a chance to parse the data fully.
Hit Me With Some Numbers
In the mean time, here are some highlights (growth from previous year's 4Q or full-year/analyst's estimates where applicable):
Record 4th Quarter sales of $11.3 million (up 24.3% from prior year/vs. $10.75 million projected by analysts)
4th Quarter income from continuing operations (Non-(Generally Accepted Accounting Practices) (GAAP)) of $559,000 (up 64% from $340,000 in 2006)
4th Quarter Gross margin of 66.6% (down from 68.2% from prior year)
4th Quarter earnings per share (EPS) (Non-GAAP) of $0.04 (up 33% from prior year/ vs. $.00 projected by analysts)
Full-year 2007 Revenue of $39.5 million (up 35.9% from $29.1 million in 2006/ vs. $38.93 million projected by analysts)
Full-year 2007 gross margin of 63.9% (down from 67.3% from prior year)
Full-year 2007 operating expenses of $24.6 million, or 62.3% of sales (compared to $19.4 million, or 66.9% of sales in 2006)
Full-year 2007 (Non-GAAP) net income was $1.2 million (up 2,100 % from $54,000 in 2006)
Full-year 2007 (Non-GAAP) diluted EPS of $0.10 (flat from $0.10 in 2006 before the IPO and additional shares, up substantially on a relative basis/vs. $.05 projected by analysts)
These are fantastic numbers across the board with revenue, earnings, and margins coming in ahead of guidance and expectations.
The only negative that you will find is the decline in gross margin on a year-over-year basis.
This discrepancy is explained by the fact that SoundBite is expanding their operations and leveraging their business model, and therefore incurring higher costs as they grow and expand.
Future projections by the company are for long term gross margins between 62-65%, which is in-line with their current structure.
The important point to note here is that while their gross margins will stabilize going forward, their OPERATING leverage is increasing as evidenced by their operating expenses and margins.
As a percentage of sales, operating expenses are becoming less and less of total revenue, thus dropping more to the bottom line as profits.
Look for this trend to continue, as SoundBite leverages their infrastructure, current customer base, and excellent sales and marketing team to produce better and better operating results going forward.
Some Other Points of Note
For the 1st quarter of 2008, SoundBite is projecting sales of between $10.7-11 million vs. analysts estimates of $10.45 million.
For the full year of 2008, SoundBite expects revenue to range between $53.3 million and $55.3 million, up from $39.5 million in the previous year vs. $52.3 that analysts are projecting.
Acquisition of Mobile Collect
It's time to add text messaging to the list of ways that SoundBite can contact customers on their client's behalf.
SoundBite acquired Mobile Collect in an all-cash transaction for $500,000 plus additional contingent consideration of up to $2 million based upon a certain percent of text messaging revenue.
On paper this looks like a small deal, but the potential is very significant for SoundBite.
Just like SoundBite, Mobile Collect is a Software as a Service provider of customer contact solutions, but dealing strictly with SMS or text messaging.
The most important part of this acquisition is the fact that Mobile Collect is a pioneer in Free-to-End User [FTEU] text messaging.
Now before you think that this is a small deal, consider that Mobile Collect provides text messaging solutions for collections applications and was the first company to request and implement FTEU text messaging with major U.S. mobile carriers.
Why is this important?
Because text messages aren't free and most of us are charged per text message, anywhere from $.01-.05 or more, unless we subscribe to various plans that can bring this cost lower for more frenetic text messagers.
Imagine if you are getting charged, even if it is a small amount, by someone contacting you to collect money on a past-due bill, or to welcome you as a new customer.
This eliminates that potential nastiness by making all received text messages free to the end user.
This is also potentially a huge market, as more than 240 billion text messages were delivered in the U.S. during the 12-month period ending July 2006.
On top of that, this solution allows SoundBite to now deploy multiple customer contact solutions.
A campaign can be set up to first send you a text message letting you know your phone bill is overdue, then SoundBite's system can follow that up with an email, followed by a voice mail, finally followed by a phone call where you actually speak with an agent.
But before it ever gets to that point, SoundBite's customers can save a ton of money and get you to pay your phone bill quickly and easily without being harassed and before they have to spend more money trying to track you down.
It's a win-win for both parties, and especially a win for SoundBite.
The best part is that SoundBite will retain the founder and CEO of Mobile Collect, as well as their other employee. Hey, I said it was a small deal, but hugely significant for SoundBite going forward.
Quick Conference Call Notes
URS Litigation Update: As explained in my original research report, SoundBite is suing Universal Recovery Systems, URS, for tortious interference, and unfair and deceptive practices for interfering with their IPO, and bringing false patent claims against SoundBite.
Since that time, depositions have been taken, and documents filed and recently, URS sought to dismiss the lawsuit, and SoundBite expects to vigorously oppose the motion and believes the court will rule in their favor.
If the suit is not dismissed, a trial has been set for May of 2008.
Given the facts and circumstances presented thus far, SoundBite believes that pursuing legal action against URS will prove to be a "good investment" for them.
Legal expenses: SoundBite expects legal expenses of $1.2 million in first 2 quarters of the year related to their claims against URS.
Cash Flow: Cash flow was $1.1 million in the quarter, while CAPEX was $1 million, representing the first free cash flow quarter for SoundBite as a public company.
Bottom Line
From everything that I read, and heard from SoundBite last night, they are firing on all cylinders.
Their business model is proving to be very lucrative, and their current customers are utilizing SoundBite's solutions for more and more of their customer-centric campaigns, whether that be collections, customer service, or basic customer contact, SoundBite is proving that their value-added services and SaaS business model allows for rapid deployment, and immediate returns.
In addition, the acquisition of Mobile Collect adds one more layer to the SoundBite story, and further positions them to offer a full suite of services to current and potential clients.
While I can't predict how the market will react to SoundBite's earnings, beating top and bottom line estimates and raising future sales and profit estimates above analysts projections is always a good thing, and further validates my belief in SoundBite's management, execution and prospects.
Along with their first free cash flow positive quarter as a public company, and expanding operating margins, SoundBite is in no uncertain terms, humming along and deserves a place in your portfolio.
Disclosure: Author has a long position in SDBT