Well, whaddya know…. two back-to-back winning weeks. It's the first time we've seen it since late April. So can the market make it three in a row? After all, with last week's move, stocks also fought their way back above some key moving average lines. We'll have to wait and see, but frankly, the lack of volume behind the bullish move doesn't bode well.
We'll weigh the odds in a moment, right after we work through some of the key economic numbers.
Economic Calendar
We've got a ton of numbers to explore, so let's just dig right in, starting with the first major data point from last week - May's retail sales. Simply put, even weak expectations (forecast for flat retail sales without autos, and a 0.2% decline counting autos) wasn't pessimistic enough. Retail sales fell 00.2% overall, and dropped 0.4% when not counting cars in the mix.
Jobs-wise, initial unemployment claims moved a little higher, from 380K to 386K. Continuing claims edged a little lower, from 3.331 million to 3.287 million. But remember, the continuing claims data is a week behind the initial claims number. Either way, it's been a long time - several weeks - since we've seen meaningful progress from either of these numbers.
On the inflation front, we're seeing a mixed - and weird -message. Producer (input) inflation actually fell 1.0%, though on a core bases (without food and energy) producers paid 0.2 more for goods in May. Consumer inflation fell 0.3% overall, though gained 0.2% on a core basis… meaning food and gas prices fell last month, though the cost of everything else ramped up a bit. Though we want inflation to be tame, we still want to see some inflation, as it's an indication of decent consumer (and producer) demand . 'The' annual inflation rate now stands at 1.7%, which is as low as we've seen it since January of 2011.
Annual Inflation (CPI) Rate, with S&P 500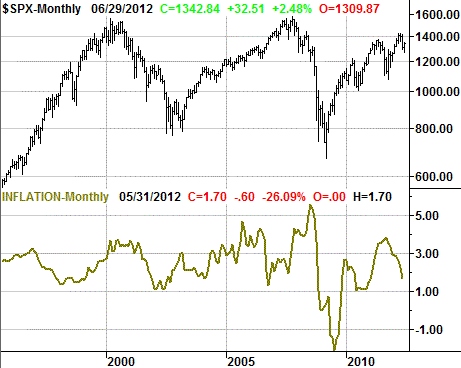 With all that being said, you've yet to hear about the most alarming economic data of all…. last month's industrial productivity and capacity utilization. The former was 0.1%, and the latter fell from 79.2% to 70%. The changes are small numbers, but they're significant changes for the data in question - the economic growth engine is slowing. That's not to say we're in a recession again yet (the trend lines are still broadly pointed upward), but all big trends start out as small ones.
Industrial Productivity Index & Capacity Utilization, with S&P 500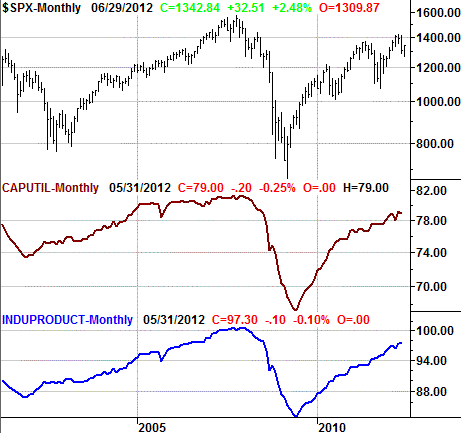 Economic Calendar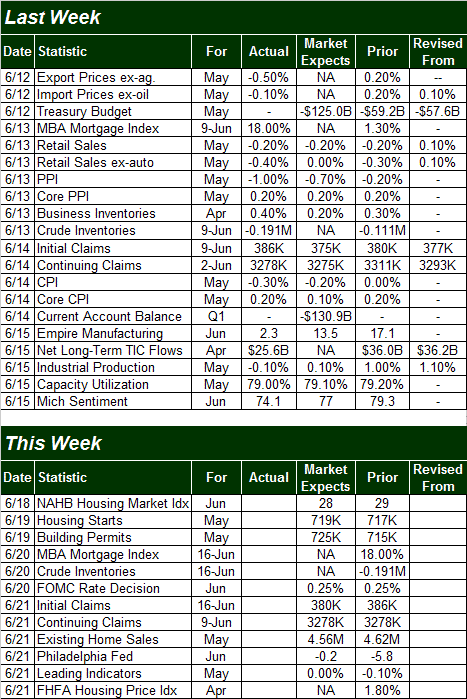 This week isn't going to be nearly as busy, but it's going to be a huge week for the real estate and construction market.
Monday kicks things off with the NAHB's Housing Market Index, which is expected to fall slightly for June. The fireworks don't begun until Tuesday though, with May's housing starts and building permits being posted then. Starts should roll in about even at 719K, though issued permits are expected to move from 715K to 725K. Both numbers are better than year-ago levels, but still miles away from the 2006 heyday levels. On Thursday we'll hear the existing home sales rate; look for 4.56 million, which is a tad down from April's figure. We'll also hear the FHFA Housing Price Index on Thursday. Last month's was higher by 1.8%, but there's no forecast for this month's change.
Overall, real estate isn't nearly as impressive as some of the recovery-touting experts are acting like it is.
Stock Markets
The S&P 500 Index (SPX) (NYSEARCA:SPY) gained another 17.18 points (+1.3%) to close at 1342.84, with nearly all of that gain coming on Friday. Then again, if there was one day you'd want to see a bullish move on, Friday's the day. It shows a strong degree of confidence, as traders tend to not want to hold their exposure through a two-day stretch where they can't sell their stocks If need be. The fact that they saw more risk in not owning stocks against the backdrop of a still-murky picture in Europe really speaks volumes about their optimism (NYSEARCA:DIA) (NASDAQ:QQQ) (NYSEARCA:IWM).
On the flipside, the buying volume last week was never all that strong, and especially low behind Friday's bullish move . If the rally is to last, it's going to need more buyers than we've seen so far.
We're going to do something a little different this week, so we can make a point with clarity. Rather than plot the SPX with all the key indicators we which (several moving average lines and a couple of sets of Bollinger bands), we're going to split our look into two charts…. focusing on moving average lines with one chart, and the Bollinger bands with the other chart.
On the moving average-focused chart, we can see the 200-day moving average line (green) was - for the most part - the rebound point. The S&P 500 made its way back above the 20-day moving average line (blue) a couple of weeks ago, but is really breaking away from is as of the last two days of last week. Yet, hurdles lie ahead. The 50-day average line (purple) at 1348.4 and the 100-day average line (gray) 1358.5 could both be resistance levels, ending this rally before it gets started in earnest.
S&P 500, with Key Moving Average Lines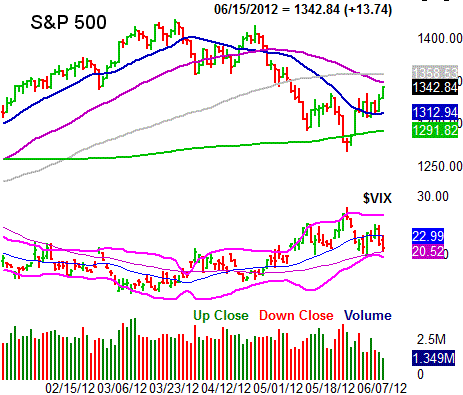 As for the Bollinger bands, it's pretty clear the lower 20-day Bollinger band (blue) has been the key support level for the SPX, even as it was getting crushed in May. The 50-day Bollinger bands (orange), however, haven't been much of a factor of late. So what? Assuming the 20-day band lines are still in 'containment' mode, the fact that Friday's rally was stopped cold right as it tested the upper 20-day band line at 1346.0 should have the bulls at least a little concerned.
S&P 500, with Key Bollinger Bands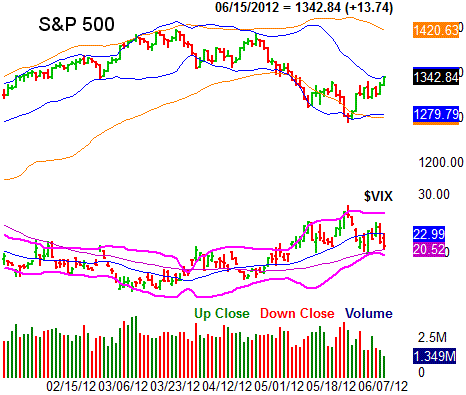 The point is, though the momentum is solidly bullish, the S&P 500 is just now starting to face real tests; it's going to face them all the way between 1346 and 1358. Let's not start celebrating until that zone is hurdled, which will also require the CBOE Volatility Index (VIX) (NYSEARCA:VXX) to move under its floor around 20.50/21.0… another not-so-easy task. A little more volume behind the rally effort would go a long way in convincing us too.
Trade Well.
Disclosure: I have no positions in any stocks mentioned, and no plans to initiate any positions within the next 72 hours.