Warren Buffett has said that you should "never invest in a business you can't understand" and his philosophy of building a "circle of competence" has been a significant part of his success. I suppose my circle of competence can described in two simple words - REITs and kids - both time consuming and valuable investments that I enjoy.
It is unusual that my two worlds (REITs and kids) enter the same circle (of competence); however, this article provides me with a unique occasion to merge my two prized investments into one. Simply said, this article is focused on a REIT that my kids would buy.
Entertainment Properties Trust (NYSE:EPR), founded in 1997 and based in Kansas City, is a specialty REIT that invests in properties that are mainly used for entertainment and education. EPR operates 175 properties in 36 states and because of the REIT's unique specialty positioning, the company provides investors with a differentiated value proposition that is specific to its core competency - utilizing industry knowledge and insight to provide stable and attractive returns.
The highly specialized investment strategy is centered around core fundamentals including premium locations, sustainable business models, triple-net lease structures, and attractive economics (accretive investment returns with growth). The well-balanced $3.0 billion portfolio generates around $288 million in annualized EBITDA with over 200 tenants. This diverse income model is made up of three operational sub-categories:
· Entertainment (Theaters, Retail (adjacent to theaters), and Family Entertainment
· Education (Public Charter Schools)
· Recreation (Metro Ski Parks, Waterparks, and Golf Entertainment Complexes)
The Entertainment category is 98 percent occupied and is comprised of 113 properties, representing 75 percent of the REIT's total income. The Education category is 100 percent occupied and is comprised of 37 properties, representing 12 percent of the REIT's total income. The Recreation category is 100 percent occupied and is comprised of 16 properties, representing 11 percent of the REIT's total income. (There is two percent in other income).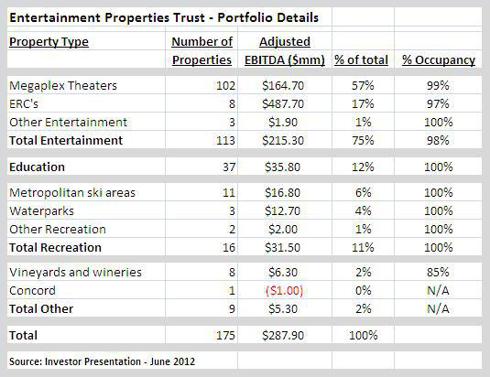 Entertainment: A Repeatable Investment Proposition
Signature theaters represent a majority of EPR's revenues and the REIT's focused income strategy provides investors with considerable growth opportunities. As a landlord for AMC Entertainment, Cinemark Holdings (NYSE:CNK), and Rave Cinemas, EPR has targeted its core income strategy around leasing facilities to specialized sector specific chains.
As evidence of EPR's income strength, 2012 box office receipts were up by around 11 percent. The growth in this evolutionary sector is distinguished by adaption to customer experiences, technology, and content transformation. In addition, new food and beverage concepts enable operators to capture a diverse customer segment.
EPR operates around 112 megaplex theatres and 99 percent of EPR's theatres are digital and have 3-D projectors. With enhanced content presentation in virtually every EPR facility, customers are attracted to alternative content that increases ticket sales, including utilization of sports, concerts and special events revenue. EPR's entertainment category represents around sixty-seven percent of the REIT's investment value.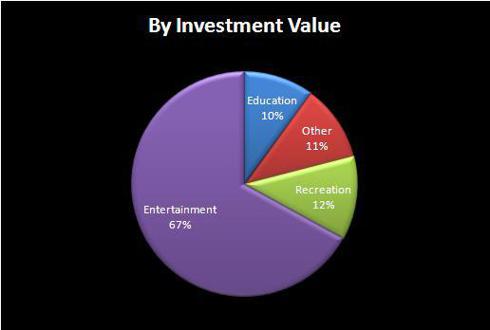 Education: Surge in Enrollment
With an increase of around 13 percent (2011-2012), the public charter school sector is experiencing a surge in growth. New and innovative learning models provide students with alternative sources of education that has resulted in a national waiting list of over 400,000. Furthermore, this wave of alternative educational choices has resulted in a surge in addressable built-to-suit (BTS) transactions - estimated to hold a market share of around $2 billion (the average investment in a school is between $5 and $7 million).
Currently, EPR's educational sector income consists of around 12 percent of total EBITDA. The educational sector is the largest at 75 percent and the recreational sector represents around 11 percent.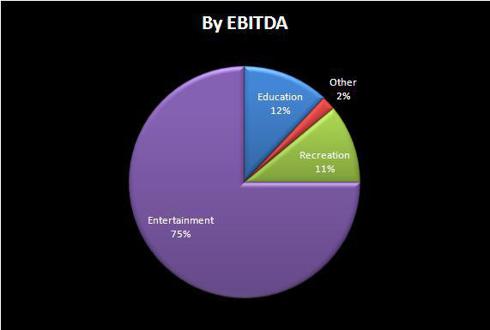 Recreation: Time for Recess
As noted, part of EPR's value proposition is to provide a well-balanced income model distinguished by repeatable sources of revenue. This specialty investment stool is supported by entertainment (75 percent of income), education (12 percent of income) and recreation (11 percent of income).
The recreational category consists of eleven properties (100 percent leased) including substantial land assets (over 6,000 acres). EPR owns three waterparks (New Braunfels, TX; South Padre Island, TX; and Kansas City, KS) and the water-based properties had increased revenue (in 2011) of 10 percent and annual (2011) attendance was up 11 percent.
The ski properties have enjoyed strong multi-year performance; however, after several record setting years, the current year's performance has faced historical weather challenges. With around eleven ski properties (including snow making abilities), EPR maintains a diversified platform that minimizes weather-related risks.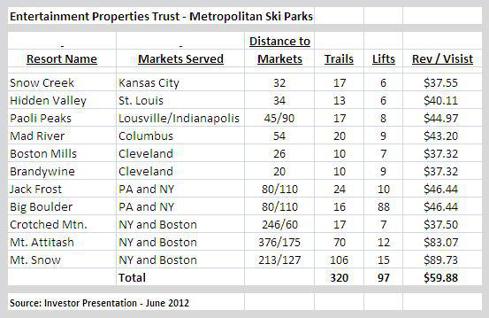 A Repeatable Entertainment, Education, and Recreational Platform
As detailed above, EPR has three primary revenue categories and the consolidated income for 2011 was up 4 percent to $302 million. Funds From Operations (FFO) per share was $3.20, above $2.81 in 2010. FFO as adjusted was $3.43 per diluted share, above $3.34 in 2010 (FFO is an industry standard for earnings used for set the dividend).
EPR has around $2.79 billion in assets that is comprised of 88 percent fee-owned properties and 12 percent of mortgage-owned assets. The company's balance sheet remains strong with a debt to gross assets ratio (defined as total long-term debt to total assets plus accumulated depreciation) of 39% at March 31, 2012. EPR recently entered into a new $240 million unsecured five year term loan facility that includes a $110 million accordion feature subject to certain conditions.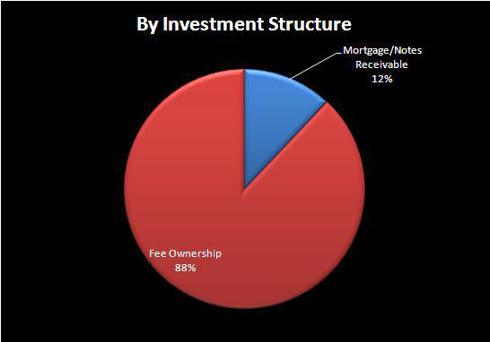 Similar to the company's $400 million unsecured revolving credit facility, pricing is based on a grid related to the company's senior unsecured credit ratings, which at closing was LIBOR plus 175 basis points (the outstanding balance of the unsecured revolving credit facility, which at March 31, 2012 had $58.0 million outstanding).
EPR's first quarter (March 31, 2012) revenue was $77.9 million, representing a 6% increase from $73.6 million for the same quarter in 2011. Net income available to common shareholders was $15.4 million, or $0.33 per diluted common share, compared to $34.2 million, or $0.73 per diluted common share, for the same quarter in 2011.
Funds From Operations for the first quarter of 2012 was $40.3 million, or $0.86 per diluted common share, compared to $31.4 million, or $0.67 per diluted common share, for the same period in 2011. FFO as adjusted for the first quarter of 2012 was $40.4 million, or $0.86 per diluted common share, compared to $39.1 million, or $0.84 per diluted common share, for the same period in 2011.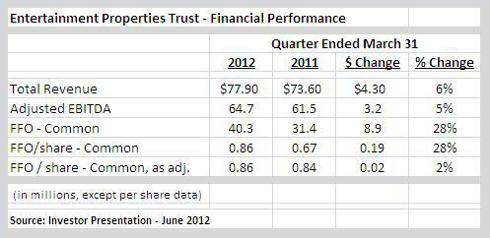 EPR has well laddered debt maturities and the company enjoys investment grade ratings with Moody's (Baa3), Fitch (BBB-), and S&P (BB). Guidance for 2012 includes new spending of between $250 million and $300 million and FFO (as adjusted per share) of $3.50 - $3.70. These numbers support management's confidence in the industry and in the ability to provide value to investors. EPR's CEO, David Brain, said in a release:
These investments are consistent with our desired profiles and with our strategy to strengthen, expand and further diversify our primary portfolio of properties.
A Rising Dividend Star That Could Become a Best Seller
EPR recently (June 15, 2012) announced that it had declared a quarterly cash dividend of $0.75 per share for its common shares for the second quarter of 2012 (the dividend is payable July 16, 2012 to shareholders of record on June 29, 2012). This quarterly dividend represents an annualized dividend of $3.00 per common share - up seven percent so far this year.
The company also declared dividends on its three outstanding issues of preferred stock:
5.75% Series C Cumulative Convertible Preferred (EPR-PC) dividend of $0.359375 per share payable July 16, 2012 to shareholders of record on June 29, 2012
7.375% Series D Cumulative Redeemable Preferred (EPR-PD) dividend of $0.4609375 per share payable July 16, 2012 to shareholders of record on June 29, 2012
9.00% Series E Cumulative Convertible Preferred Shares (EPR-PE) dividend of $0.5625 per share payable July 16, 2012 to shareholders of record on June 29, 2012
EPR's dividend has consistently increased between 1998 and 2008 by a total of 75% before a tough 2009 forced the specialty REIT to cut its dividend. Since then the dividend increased but has not yet reached its 2008 level of 84 cents per share.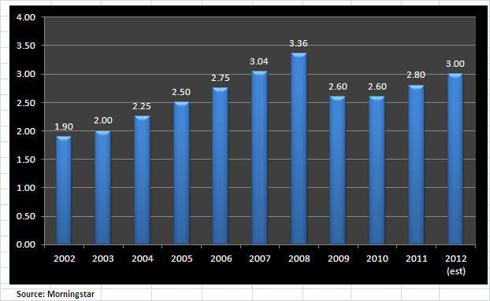 Compared with its peer group, EPR's dividend is becoming an interesting choice and its enhanced growth (acquisitions) could explain why this entertainment-targeted REIT may become a best-seller. EPR has a market cap of $1.94 billion and the current dividend yield is 7.2 percent.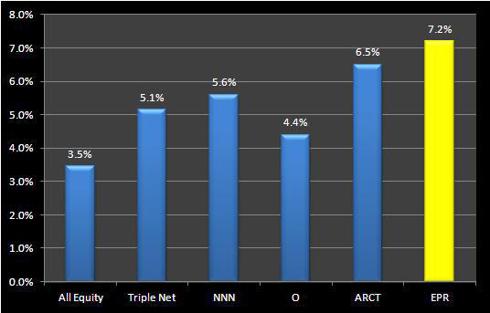 From 2001 through 2011 EPR has produced a total return of 351.7 percent vs. the MSCI US REIT (RMS) Index of 163.2 percent and the Russell 2000 of 72.8 percent. EPR has a current price of $41.42 (52 week high was $50.44) and the well-balanced REIT has attractive valuation fundamentals (price/2012 AFFO):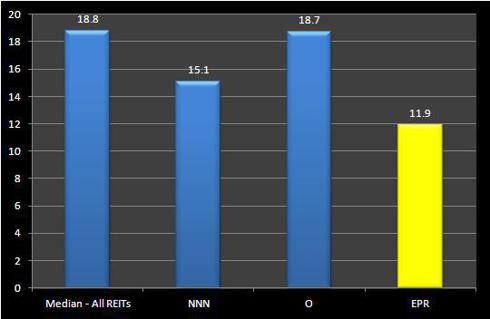 Make a Splash While You're Making Some Cash
Entertainment Properties Trust has built a diverse income platform around several repeatable sources of differentiation. By investing in facilities leased to entertainment, educational, and recreational tenants, EPR formed a well-defined value proposition supported by core triple-net sector income and growth. The specialty REIT's competitive advantage is driven by the company's strong relationships and sustainable nature of the tenant lease contracts.
I expect to see EPR grow its dividend yield (FFO guidance $3.50 - $3.70) and move closer to a proposed year-end target price range of $48 - $50 per share. This combined (dividend and capital appreciation) strategy could result in total returns of 20 to 25 percent - and a specialty REIT that becomes a hot selling smash with dividends that make a splash.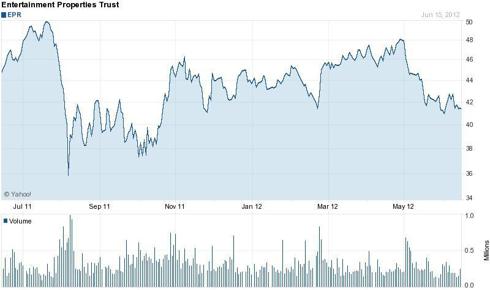 Disclosure: I have no positions in any stocks mentioned, and no plans to initiate any positions within the next 72 hours.