Texas Roadhouse (NASDAQ:TXRH) stock isn't very attractive these days. The first, and perhaps most important, reason to dislike the stock is the fact that it's a casual dining chain.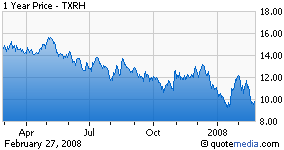 Negative consumer sentiment, struggling homeowners, and the overall down market all make for a gloomy economic environment that'll make even the most ardent of steak lovers close up their wallets.
That observation aside, a few things came out of the company's recent conference call that should worry current and prospective shareholders alike.
Sales decreased sharply in short order. Year-over-year sales at company-owned restaurants decreased .8%. The slump continued into the new year as same store sales dropped another 1.5% during the first six weeks of 2008.
High commodity prices are hurting TXRH. While the company has stated that they expect their favorable beef contracts to help in the short-term, they acknowledged that produce, dairy, and grain costs have negatively affected them. As long as higher commodity prices remain the trend, TXRH's margins should suffer.
TXRH management seems to be inflexible in terms of cost-cutting and pricing. The company's CEO, G.J. Hart, stated that the company is not asking its operators to cut back on staffing. Furthermore, he expressed a preference to avoid near-term price hikes to increase the company's performance.
The biggest concern coming out of the conference call was the talk about the impairment charge. During the last quarter, TXRH took a -$0.014 hit to earnings. This charge stems from an unprofitable restaurant that will likely be closed.
While the closing of a single unprofitable restaurant may not be such bad news, the possible closure or relocation of other underperforming restaurants is. During the conference call, CFO Scott Colosi mentioned that the company anticipates more impairment costs in the future. Such costs forecast poor planning on choices of site location, general mismanagement, and the acceptance (or lack thereof) of the TXRH concept. If these impairment costs come to light, earnings should be negatively affected.
Taking all of the presented facts into consideration, TXRH stock should languish for the foreseeable future.
Disclosure: Author has a long position in TXRH