eBay Corporate Development Comments
In an interview with Reuters yesterday, Lorraine McDonough, of eBay's (NASDAQ:EBAY) corporate development team comments on eBay's M&A plans in 2008. She states that while the company has recently passed on a lot of potential deals that, despite being good strategic fits, were considered expensive, those opportunities may return in 2008 as a weak U.S. economy takes a toll on valuations.
"We've kept our powder dry and been disciplined in our approach over the last couple years, not to overpay," she said. "We're extremely well positioned to capitalize on any bargains that might be available."
Kijiji US in Hot Pursuit of Craigslist
It was only this past January that I wrote about eBay Classifieds overtaking Craigslist in global traffic thanks to eBay's vibrant international classified businesses. But if we take the U.S. market only, Craigslist (in which eBay owns 25%) continues to be the market leader. But that is quickly changing.
Jacob Aqraou, Kijiji vice president and general manager, states that winning in the U.S. is their objective. In an interview with TechCrunch, he states: "We play to win. We will win in the U.S. Six months in, the U.S. is the best launch we have had and we have not put any money into it. This year we will make significant inroads. And we will be No. 1 in the U.S."
Week 8 Listings Update Shows Acceleration
click to enlarge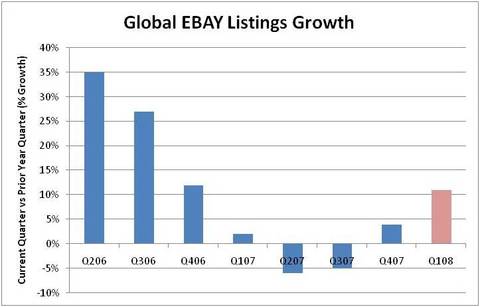 According to JPMorgan analyst Imran Khan, week 8 listings data and YTD listings data to 25 February 2008 continue to exceed estimates. "On a reported basis, we have tracked 402.5M listings on eBay's sites, up 11.0% Y/Y, ahead of our estimate of 5% growth for the quarter. Excluding China, listings are tracking up 11.9% Y/Y."
Well past the halfway mark for Q108, I think it is safe to say we will see a third consecutive quarter of accelerating listings growth. While 11% Y/Y growth is still far from the 35% Y/Y peak eBay reached in Q206 (prior to a prolonged growth deceleration), it is nevertheless an early indication that changes made to the buyer and seller experience are starting to show results.
Update: At the request of our "resident eBay critic" (in the most positive sense of the title), I include the same chart but only including U.S. listings (which currently account for about 44% of the global eBay total). The result is the same, albeit with lower growth rates. I have kept the scale the same for easier comparison.