"A positive attitude causes a chain reaction of positive thoughts, events and outcomes. It is a catalyst and it sparks extraordinary results." - Wade Boggs
With the mini-correction I first believed was likely in early April now over, I've been stressing in my various writings online that reflation is likely to take hold once again in global markets. To be clear, when I am referring to the term "reflation," I am addressing the swing of the pendulum away from deflation expectations and back to rising inflation expectations. And while many are skeptical of the sustainability of the most recent "melt-up," the reality is that markets entirely BEHAVED based on various intermarket trends and price ratio levels as if a Lehman-like event already occurred. I addressed this numerous times on Bloomberg two weeks ago and on BNN in a segment, which can be seen here.
Central bank paranoia means that in an effort to prevent another 2008 event (which markets have acted as if it already passed), SuperBen and the League of Extraordinary Bankers will do whatever it takes to prevent deflation expectations from taking hold. Several emerging market central banks have cut rates aggressively, with China (NYSEARCA:FXI) in particular having much more room to stimulate. The end result of this is that the fear over Europe and a deflationary spiral, at least for now, likely transforms into a fear of being wrong about the future.
Commodities (NYSEARCA:DBC) certainly are sensitive to the direction of inflation expectations, as can be seen by the utter collapse that occurred in May, particularly in Oil (NYSEARCA:USO). May was essentially characterized by significant deflation fear given renewed concerns over Greece leaving the Euro, and Spain's banking crisis. However, much like the beginning of the year, markets are acting as if inflation is back once again. This may be just enough to cause the Energy sector to rally hard.
Take a look below at the price ratio of the Energy Select Sector SPDR ETF (NYSEARCA:XLE) relative to the S&P 500 (NYSEARCA:IVV). As a reminder, a rising price ratio means the numerator/XLE is outperforming (up more/down less) the denominator/IVV.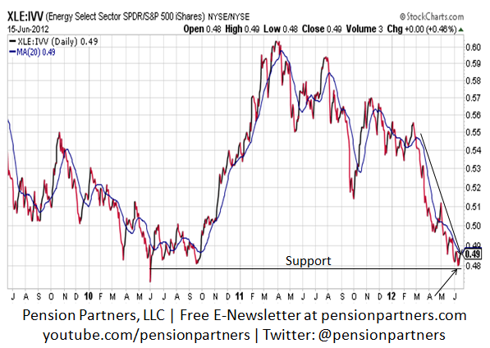 Click to enlarge
Energy has been a poor performer since the ratio peak in late March of 2011, and broke down heavily in the midst of last year's Summer Crash, and in March of this year. The ratio is now around three year support, and while the downtrend still appears to be in place, a turning point may be at hand. If reflation returns as my company's own ATAC (Accelerated Time And Capital) models are sensing, positioning back into equities for our clients last week, then likely 1) the dollar declines, 2) cyclical growth plays recover, 3) Financials outperform, and 4) Energy/Materials stocks rally strongly. With Energy price ratio at these levels now, there could be a period of leadership ahead.
Disclosure: I have no positions in any stocks mentioned, and no plans to initiate any positions within the next 72 hours. Pension Partners, LLC, and/or its clients may hold positions in securities mentioned in this article at time of writing.