Weekly Outlook: The market continued to show signs of a potential short-term bottom as it rallied to end the week on a very volatile note. The market made large moves into a key Greek vote on June 17th to determine what party will take the helm in that country. The market rallied on speculation of potential QE announcements from the Fed this week as well as a report that central banks would work together to help the Greece problem. The coming week is all about Greece and the Fed, and that will really be what moves this market. Things have been heating up for the market here in June, and we will see a pretty solid follow with the New Democracy Party election.
We will definitely have another exciting week that may start out on a positive note with the Greece election but will quickly shift to the important FOMC meeting this week that may bring about an extension of some form of QE for the markets, potentially QE3 or an extension of Operation Twist. If the Fed denies more QE, however, we could see the market suffer to end the week.
We have a lighter week of data ahead but with some key reports that will definitely help push the market along and/or give it some resistance. We mostly will be getting a healthy dose of housing data, which will take a backseat to the major headlines but could provide a small catalyst/resistance point. We start out on Monday with the NAHB Housing Market Index, moving into Housing Starts/Building Permits on Tuesday, and Existing Home Sales on Thursday. We also get the FOMC Rate Decision on Wednesday along with crude inventories. Thursday will be weekly initial jobless claims, which continue to be very flat, as well as Philly Fed Index and Leading Indicators. All of those reports can move the market to a point and should be watched this week.
Europe will be the show stealer to start the week. The New Democracy Party won in Greece and should be able to bring new bailouts to Greece as well as keep company in the EU and form a new government. We would expect the market to like this news somewhat. We rallied to end the week, so we may get some "sell the news," but the election does take Greece out of the spotlight to a degree, which will only benefit the market over the next couple months.
It will be interesting to see how the situation unfolds this week, however. Asia has been quieter in the headlines with such major issues in Europe, but we do get some interesting data this week. The Bank of Japan will be busy this week with a monthly economic report on Monday and meeting minutes on Wednesday from a meeting they will have. China is pretty quiet but has a manufacturing index report on Friday that will be important.
Earnings are interesting this week with some bellwethers reporting that may give us a slight insight into what we can expect for Q2 and will be something to consider as a preview of what we will be getting in July. We have FedEx (NYSE:FDX), Discover (NYSE:DFS), and Adobe (NASDAQ:ADBE) on Tuesday. Sonic (NASDAQ:SONC), Redhat (NYSE:RHT), and Bed Bath and Beyond (NASDAQ:BBBY) go on Wednesday, and Thursday brings us Anheuser-Busch (NYSE:BUD), Conagra (NYSE:CAG), CarMax (NYSE:KMX), and Oracle (NYSE:ORCL). Friday finishes up with Carnival (NYSE:CCL). As you can see, a lot of big names that definitely are archetypes of their various industry. These will be interesting to see this week.
The Fed probably plays the biggest role this week. What will they say on Wednesday? More QE. More Operation Twist. More nothing. We will have to see. It will be a very important report that could be crucial to the market over the coming weeks. Our expectations are that we do not see more "free money" but continued dialogue that keeps it in play for the future. That dialogue puts a bottom on weakness as traders know that the Fed will come to the rescue if things get too bad. At the same time, we cannot see much upside without some type of QE action.
So where are we headed this week?
We would expect a solid market into the Fed announcement. The Fed will be crucial to the rest of the market's upside. If they are not bringing QE, look for downside to finish the week. Japan could also play a role in the market with its BOJ meeting this week. They may try to weaken the yen somewhat as well, which could be interesting. There is also a good amount of housing data on the table that could help to push or pull the market within the larger context of what's going on each day. Finally, we have a key manufacturing report from China to finish the week that should definitely be watched.
Stocks To Trade:
Two stocks we are watching this week are Teva Pharmaceuticals (NYSE:TEVA) and Chevron (NYSE:CVX). Both stocks are going in opposite directions right now and could be great bear/bull plays this week. TEVA has continued to weaken despite recent strength in the market and is actually losing a key trendline. The stock has been very weak since its last earnings report and is looking at a death cross soon. We believe a bear call spread on it on any strength would be a good way to play them. Chevron, on the other hand, has reversed its recent weakness and is testing the top of a short-term downtrend range. If it can break that trendline, we would see CVX being in a nice position for a bull put spread.
Position #1: TEVA, Jul21, 40/42.50 Bear Call Spread
Position #2: CVX, Jul21 100/95 Bull Put Spread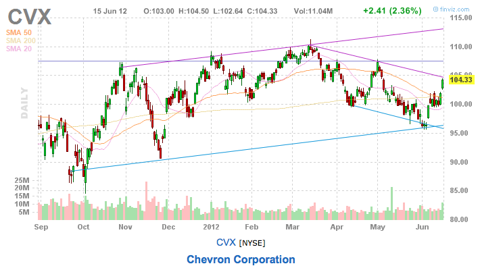 Click to enlarge
Oxen Group Holdings:
We had an amazing Friday as our portfolios did great on expiration day. If you added our gains for the day (adding % + % + % etc), our portfolios added up to 240% in gains. We closed out a significant number of positions. In our Options Portfolio, we closed our Priceline.com (NASDAQ:PCLN) bear call spread for an 11% gain, Garmin (GMRN) puts for a 19% gain, Comcast (NASDAQ:CMCSA) bull put spread for a 14% gain, Monster (NASDAQ:MNST) bull put spread for a 11% gain, General Dynamics (NYSE:GD) bear call spread for a 20% gain, and Sina (NASDAQ:SINA) bear call spread for a 14% gain. In our Extended Value Portfolio, we closed a long in Gildan (NYSE:GIL) for a 38% gain. In our Short-Term Equity Portfolio, we closed trades in Charter Communications (NASDAQ:CHTR) for a 3.3% gain and pair trade long AIG (NYSE:AIG), short Apollo (NASDAQ:APOL) for a 4.2% gain. In our Earnings Alpha Portfolio, we booked a loss in Western Digital (NASDAQ:WDC) bull put spread for a 41% loss. We took gains in Joy Global (NYSE:JOY) reverse iron butterfly for a 14% gain, Adobe bear call spread for a 12% gain, Dollar General (NYSE:DG) bull put spread for a 22% gain, Verifone (NYSE:PAY) reverse iron condor for a 22% gain, and Discover sold puts for a 11% gain. We took gains in several other portfolios as well.
We have the following positions: In our Short-Term Equity Portfolio we are long Apple (NASDAQ:AAPL) and Bed Bath & Beyond. We are short SPDR S&P (NYSEARCA:SPY), and Molson Coors (NYSE:TAP). In our Options Portfolio, we are long Dollar Tree (NASDAQ:DLTR), Monster Beverage and AutoZone (NYSE:AZO). We are short Garmin (NASDAQ:GRMN) and Aflac (NYSE:AFL). We have a reverse iron condor on Apple. In our Earnings Alpha portfolio, we are long Marriott (NASDAQ:MAR) and Bed Bath and Beyond. We are short CarMax, Schlumberger (NYSE:SLB) and Walgreen (WAG). We have a reverse iron butterfly in Decker's Outdoor (NYSE:DECK).
Disclosure: I am long BBBY.