This upcoming week will be a busy one on the earnings front. After the elections over the weekend, the markets look to be headed for a higher opening Monday morning, but I am looking past that to some big earnings out this week.
Starting on Tuesday, the 19th, we will hear from Barnes & Noble Inc (NYSE:BKS), Adobe Systems Inc (NASDAQ:ADBE), Discover Financial Services (NYSE:DFS), FedEx Corp (NYSE:FDX), Jefferies Group Inc (JEF), and La Z Boy Inc (NYSE:LZB), among others.
Barnes & Noble maybe one of the interesting earnings out this week, analysts are looking for a loss of $0.93 on revenue of $1.48 billion. However, Barnes & Noble has missed earnings for eight straight quarters and I see no reason why this quarter would be any different. The bigger story on Barnes & Noble might be related to some kind of a deal with Microsoft and its Nook tablet, and it is because of this that I would stay away from shorting Barnes & Noble.
Analysts will be $0.59 per share when Adobe reports after the market closes - an increase of 4 cents over last a year ago results. The company has met or beat estimates for several years now, and I am not expecting this to change, however I would not look for a large beat from Adobe.
Discover Financial reports before the market opens on Tuesday, and should provide some insight into the strength of consumer spending. Analysts are looking for the company to earn $0.99 per share, and Discover as had the opposite trend of Barnes & Noble, beating earnings estimates in each of the last 8 quarters. Discovers earnings estimates have been revised higher several times in the past 90 days, increasing estimates 12.5% over that time. With heavy money call volume last week, investors are anticipating another earnings beat from Discover.
FedEx will also be reporting Tuesday morning, with analysts looking for $1.94 per share on revenue of $11.13 billion a 5.5% increase year-over-year. The company has beat earnings over the past 4 quarters; however estimates this quarter have been taken down over the past 90 days and the company is highly sensitive to the global economy. This will be an important earnings announcement to gauge global economic activity; however, it seems unlikely the company will report stellar earnings, given the challenges this quarter.
On Tuesday, Jefferies will also report in the morning and La Z Boy will report after the bell. Analysts are looking for Jefferies to earn $0.28 and this will give insight into the strength of the investment banking industry after it faced a tough time over the past several weeks, starting with the JPM trading loss. La Z Boy is expected to earn $0.26 per share, and the company has had mixed results over the last few quarters.
On Wednesday June 20th, I will be watching earnings from Bed Bath & Beyond Inc (NASDAQ:BBBY), Goodrich Corp (NYSE:GR), and Sonic Corp (NASDAQ:SONC).
Bed Bath & Beyond is expected to earn $0.84 per share, with revenue expected to be up 6.4% to $2.25 billion. The company has a strong history of beating earnings, delivering strong earnings for more than three years; however, Bed Bath & Beyond has been sighted has one of the next possible candidates to be hurt by Amazon.com (NASDAQ:AMZN).
Goodrich is forecasted to earn $1.71 per share, and Sonic has earnings estimates of $0.22 per share. Goodrich missed estimates by 19 cents last quarter, after beating by 28 cents the quarter before. Sonic could be affected by high gas prices over the quarter, and has not beat earnings in a year.
Thursday will bring earnings from Carmax Inc (NYSE:KMX), REIT Chimera Investment Corp (NYSE:CIM), ConAgra Foods Inc (NYSE:CAG), Rite Aid Corp (NYSE:RAD), and tech giant Oracle Corp (NASDAQ:ORCL).
Analysts are looking for 54 cents per share from Carmax and the company has beaten earnings as many times as they have missed over the past year. Chimera Investment is expected to earn $0.11 per share, and this will be an important earnings announcement for the mortgage REIT after missing the past two quarters.
ConAgra Foods is estimated to earn $0.50 in the quarter, a small gain of 3 cents over the past years earnings. The company has beat earnings slightly the past 2 quarters, however I think ConAgra is fully valued here trading at 13 times forward earnings, and carrying at PEG ratio of about 2. Rite Aid is expected to lose 3 cents per share, and I am not expecting any positive surprises from the troubled drugstore.
The biggest announcement of the week will be after the bell Thursday from Oracle. Analysts are looking for $0.78 per share, and revenue of $10.89 billion. Oracle could be one the better investments of companies reporting this week. Trading at 15 times trailing earnings and 10.5 times forward earnings; the chart also shows strong support at around $25 per share right below current levels.
Click to enlarge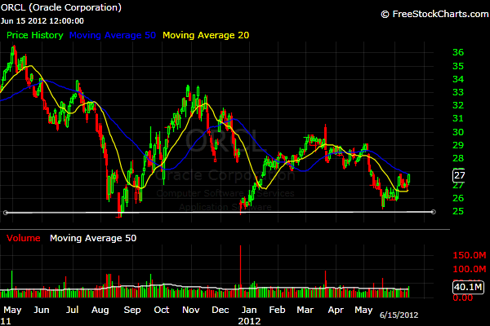 Finally Friday will bring reports from Darden Restaurants Inc (NYSE:DRI) and Carnival Corp (NYSE:CCL). Darden is always closely watched, and the Street is looking for a gain of 16% year-over-year to $1.16 per share. The company has been right in line with estimates for some time now and I am not expecting this quarter to be any different. Carnival is expected to earn $0.07 per share; the company beat estimates last quarter by 10 cents and has a long history of beating or meeting expectations.
Data sourced from: Company filings, Finviz.com, and Yahoo!Finance. Chart from: Freestockcharts.com
Disclosure: I have no positions in any stocks mentioned, and no plans to initiate any positions within the next 72 hours.