What does a small oil producer do when local selling prices are temporarily low and inventories are growing? Well if the company is Continental Resources (CLR), it will scavenge around to find storage facilities and sit on the oil until prices come back in line. This is exactly the situation that Continental faced in the fourth quarter as the local Rocky Mountain markets experienced seasonal price differential from the standard WTI crude contract. The company simply refused to sell at such discounted levels and stored roughly 125,000 barrels until the price came back into equilibrium. The strategy paid off well as the company realized much better prices in the first 2 months of 2008 and the inventory was distributed bringing in significantly higher profits.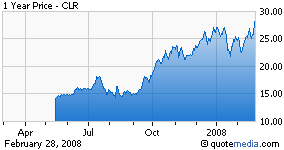 Contenental Resources is a US based oil and natural gas producer that operates primarily in the US western states. The company issued its IPO mid-year last year at $15 but has impressed investors enough to nearly double the stock since then. One of the primary drivers of growth has been a project in North Dakota that had many skeptics. Despite some negative feedback during the company's road show leading up to the IPO, management continued to pursue the promising development and has begun to see very positive results. Production in this area is ramping up and should be a strong addition to 2008.
Successful exploration and production (E&P) companies know that their success is largely a function of the difference between the sales price of their oil, and the cost to the company of bringing that oil out of the ground. While most have very little control over the end selling price, efficiency is extremely important to building a sustainable franchise. Continental has been able to successfully acquire properties and set up rigs to drill the wells while maintaining a very attractive cost per barrel. When asked about cost issues this week, management stated that with the exception of some moderate steel price increases, the rest of their cost structure appears to be very stable. With rising prices being fetched for the production, this equates to growing margins and more value for shareholders.
On the sales price side of the equation, Continental is looking forward to the upcoming expiration of a fixed price arrangement. A portion of their production (10,000 barrels per day) had been fixed at $72.90 and when this contract expires the company will be able to recognize even larger margins with this additional production being sold at market rates. Management gave no indication as to whether additional production would be hedged in a similar manner, but it would make sense for them to lock in at least some of their future production at these attractive long-term rates.
Financial leverage can be a dangerous thing in any business and the oil industry is no stranger to the game. Analysts consider Continental's balance sheet to be conservative with a 20% debt to cap rate. Since the industry is very capital intensive, it often takes significant financing to be able to fund a drilling project as wide as CLR's. The debt should be able to be serviced through cash flow and the company continues to keep spending in check so as not to incur larger debt levels. Still, this is something to keep a close eye on as large debt levels can have a tendency to come back to cause trouble.
The stock is breaking to new highs after the positive earnings announcement this week. With earnings expected to grow quickly in 2008 and 2009, the multiple still looks attractive and the supply/demand dynamics are interesting as the newly public company is attracting the attention of large institutional buyers for the first time. The company does not pay a dividend at this time, choosing instead to plow cash flow back into its business, but the growing value for shareholders appears very promising.
Disclosure: Author has a long position in CLR
Additional Reading: