Late Sunday, election results from Greece showed that the pro-bailout New Democracy party had won the election by a narrow margin. So far, the global markets have responded very well to the news. As I write this, Japan's Nikkei is higher by more than 2%, the euro (CurrencyShares Euro Trust ETF: FXE) is higher by nearly 1%, and U.S. equity futures are sharply higher. While this news will certainly have an impact on almost all markets, the impact will be felt most in the names mentioned in this article.
Global X FTSE Greece 20 ETF (NYSEARCA:GREK)
This ETF should move sharply higher as the election news is likely to send Greek stocks surging. GREK is a good way to play the election for investors who want broad exposure to Greece. However, investors should be aware that GREK is a small fund with a market cap of just $4.7 million and a 10-day average trading volume of 39.5 thousand shares. Only limit orders should be used.
Click to enlarge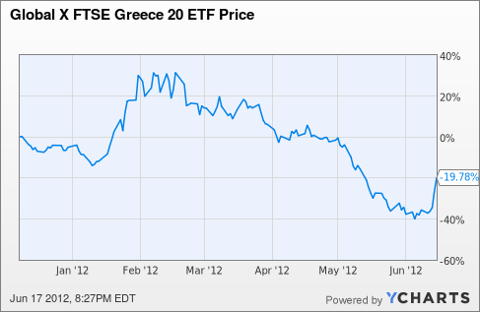 National Bank of Greece SA (NBG)
NBG is the largest bank in Greece, and has already received bailout funds. NBG is probably the most single most leveraged play on Greece itself. So goes Greece, so goes its biggest bank. While NBG does depend on Greece for most of its business, the company also has significant operations in Turkey (iShares MSCI Turkey Investable Market Index ETF: TUR) and Southeastern Europe. NBG shares should receive a major boost from the election results.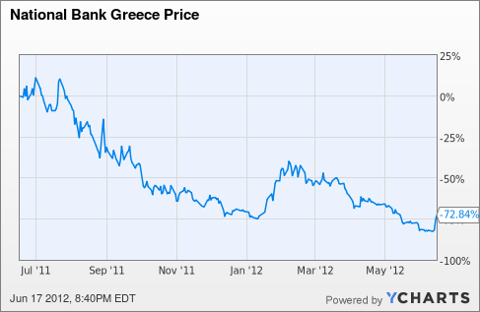 Coca-Cola Hellenic Bottling Co SA (CCH)
Based in Greece, CCH is the world's second largest Coca-Cola (NYSE:KO) bottling company. CCH is more a European play than a Greece play in specific, as the company has operations in 27 countries. However, as shown by the chart below, CCH shares have been under pressure due to situation in Greece. CCH should benefit from the election results.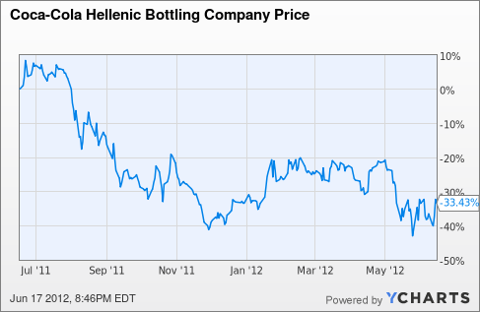 My Take
In my opinion, short-term traders should use the lift on election news to sell the rally. As shown below, it is important to realize that all of the Greek plays rallied significantly last week. It should be noted that a similar strategy worked well with the Spanish plays following the Spanish banking bailout.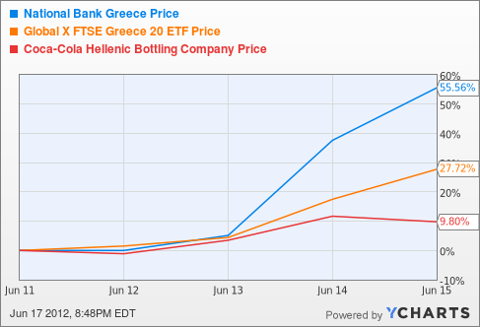 Last week's rally was a very typical "buy the rumor" type of move as expectations of a New Democracy victory grew. However, we are now probably entering the "sell the news" part of this trade. While it is nice that Greece is staying in the EU for now, the weakness in the economy remains. Additionally, concerns over Italy and Spain are likely to keep pressure on European markets over the short term.
I believe long-term investors should consider holding onto these beaten down Greek plays as the election may prove to be a turning point for Greece. While NBG, GREK, and CCH may pull back as some of the euphoria wears off, the positive impact of the elections should not be overlooked.
Disclosure: I have no positions in any stocks mentioned, and no plans to initiate any positions within the next 72 hours.