We're amazed that Nokia (NYSE:NOK) is struggling because we remember it to be a market leader in the mobile handset business. Our first cellphone was a Nokia POS phone in 2002 and we even considered investing in the company at the time. We considered investing in Nokia in 2002 because Nokia was the most recognized cell phone vendor and Nokia's stock had declined 75% from its 2000 peak, in spite of the fact that it did not see the declines in revenue that other technology companies had faced during the tech bubble and bust.
We had again considered investing in Nokia earlier this year when it was trading at $6 per share in February. We had considered investing in it because we believed that its agreement with Microsoft (NASDAQ:MSFT) to replace Nokia's old Symbian operating system with Windows Phone 7 would serve as a positive catalyst to enable the company to turnaround its fortunes. We're thinking that agreement probably had something to do with the fact that Nokia's CEO Stephen Elop had worked with Microsoft from 2008 to 2010.
We had some concerns about Nokia hiring Elop, since he had worked at Boston Chicken from 1992 to 1998, before it went bankrupt. We were concerned because it's not common for a job-hopping executive (4 jobs in a 3 year period) who served for six years as an executive with a bankrupt and overextended chicken chain winds up as the CEO of a major global telecom equipment company. Elop was hired away from Microsoft, where he served as the head of Microsoft's Business Division, which generated stagnant revenue and profit growth under his leadership. Elop was given a $6M signing bonus by Nokia "to compensate him from lost income from his former employer Microsoft". We gave him credit for his "Burning Platform" memo, which lamented missed opportunities and identifies multiple strategic threats to Nokia.
Click to enlarge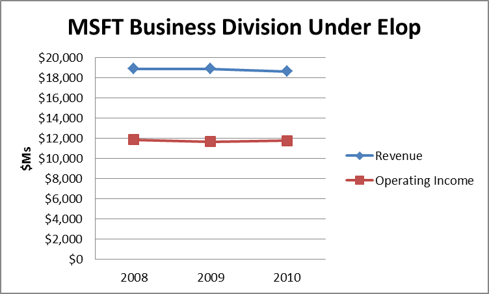 Click to enlarge
Source: Microsoft 2010 Annual Report
After analyzing Nokia's performance during the first year of Elop's leadership we took a pass on Nokia. We have already allocated about 3% of our portfolio to Apple (NASDAQ:AAPL) and we felt that Nokia would not be adding value to the portfolio, as we already had a mobile phone handset vendor in Apple and adding Nokia would simply result in additional exposure to the sector. We figured that if we were going to be exposed to the mobile handset sector, we would be investing in Apple, which based on our analysis was the best of breed in the industry.
In Elop's first year as CEO of Nokia, we can sum up what went wrong for Nokia in one word: Everything! Here's a brief recap of Nokia's Schlimazel in 2011:
Nokia's other expenses increased by €631M, primarily due to €590M restructuring charges, impairments to tangible assets and a €251M payment to Accenture when Nokia agreed to outsource Symbian software development to Accenture.
Nokia incurred a €1.04B goodwill impairment on its Navteq acquisition
Mobile Device Units Sold declined by 8% in 2011 versus 2010
High Margin Smart Device Units Sold declined by 25%
Average Selling Price for NOK's Mobile Devices declined by 11% year-over-year
Nokia Group revenue declined by 9%
Nokia Siemens had an operating loss of €300M, which at least was a better performance than the €686M loss incurred in 2010.
These seven factors helped contribute to Nokia's 2011 loss to equity holders of €1.16B. Furthermore, the company saw a sharp 76% decline in operating cash flows year-over-year and a free cash flow deficit due to its €706M acquisition of Motorola Solutions' infrastructure business. These factors helped us decide against taking a long position in Nokia. In 2012, Nokia has seen troubles come not as single spies, but as battalions.
In April, it preannounced that it would see a sharp decline in revenue, mobile device units sold and an operating loss. On June 14th, it announced that it was lowering its devices and services outlook for Q2 2012, taking €1B in restructuring charges, cutting 10,000 jobs and changes to its management team.
In a conference call to discuss this press release, CEO Elop fessed up that Windows Phone sales aren't selling that well and like a good leader; he blamed the people selling Nokia handsets, not Microsoft's software. He's right; AT&T (NYSE:T) should have spent way more than $150M promoting Lumia.
We think that AT&T offering the Lumia for free during its first two weeks was not sufficient to get customers to buy the Nokia Lumia 900. That would have translated to a $450 per unit subsidy from AT&T to get people to buy that buggy, impotent phone. We feel that AT&T offering the same subsidy for the Lumia as it offers for Apple's cutting-edge iPhone device puts the Nokia Lumia at an unfair disadvantage, we feel that AT&T should have offered a $550 subsidy, which would have resulted in AT&T paying customers to get a Lumia. And finally, we believe that AT&T should have forced its sales people to refuse to sell iPhones to customers unless the customers also bought a Nokia Lumia 900.
Nokia's key business performance indicators have shown that Nokia is rapidly regressing as a company. Nokia's mobile device volumes peaked in 2008 then saw a steady downward drift from 2009 to 2011 and collapsed in Q1 2012. Furthermore, Nokia's volumes for its relatively lucrative smartphone devices have sunk like a stone since 2010, suffering a 25% decline in 2011 and a 51% decline in Q1 2012 for good measure.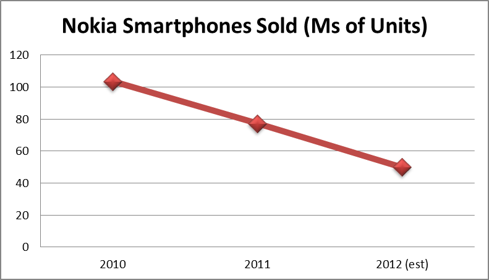 Click to enlarge
Source: Nokia's 2011 Annual Report, Q1 2012 Earnings Release and Saibus Research Estimates
In conclusion, we believe that things will get a whole lot worse for Nokia before it ever gets better. We recommend that conservative investors avoid getting tempted by the siren song of its 10.75% gross dividend yield (9.1375% net dividend yield if the investor is a US resident).
We recommend that ultra conservative investors sell their shares of Nokia and aggressive investors short Nokia. We think Nokia made a big mistake years ago by overlooking phones for the CDMA platform. Verizon (NYSE:VZ) and Sprint (NYSE:S), as well as the prepaid companies, are on CDMA and that represents about half of the highly lucrative US market.
Disclosure: I am long S, AAPL.
Additional disclosure: Saibus Research has not received compensation directly or indirectly for expressing the recommendation in this report. Under no circumstances must this report be considered an offer to buy, sell, subscribe for or trade securities or other instruments.