We recently wrote an article providing bears with a strategy to leverage their positions for almost free. Today we are going to look at a similar strategy for the bulls. You need to be bullish on Nokia's long-term prospects before you even consider implementing this strategy. If you are not convinced that the outlook is going to improve going forward, do not implement this strategy simply because it appears to look good. You need to be bullish prior to even considering this strategy, otherwise you would be better off looking for alternative plays.
Investors should have a decent level of understanding in terms of how options work. If you do not have a good understanding of how options work or cannot follow this strategy, etc., it would be best to take time to educate yourselves, as jumping into something you do not comprehend is asking for trouble. If you are looking for other ideas you might find this article to be of interest Armour Residential REIT: Is Time To Jump Into This Play?.
Some reasons to be bullish on Nokia (NYSE:NOK)
It has a good long-term debt to equity ratio of 0.36.
Projected year over year growth rate for 2013 is 146%
Though sales have dropped they have not dropped that much on a percentage basis. In 2009 sales stood at $57.6 billion compared to $50 billion in 2011.
It has a decent current and quick ratio of 1.46 and 1.33 respectively.
It has a yield of 7.10%
It is trading over $1.21 below book.
It earns over 500 million euros a year in patent royalties and if it licenses out more of its patents it could generate an additional several hundred million euros each year. If it sold these patents it could generate several billion in revenues.
It is aggressively going after companies that infringe on its patents. It sued HTC and Viewsonic for infringing on its mobile technology and software patents. There is a very good chance that it will target other companies using the Android platform. Amazon.com (NASDAQ:AMZN), the maker of the Kindle, could be the next target as well as top Chinese and Indian vendors in the mobile sector. Going after patent infringers could prove to be lucrative. After its battle with Apple (NASDAQ:AAPL) (2009-2011), it now receives royalties from each iPhone sold.
It has lost over 80% of its value so most of the negative news could be priced in.
It has a very strong levered free cash flow of $2.27 billion.
(click to enlarge images)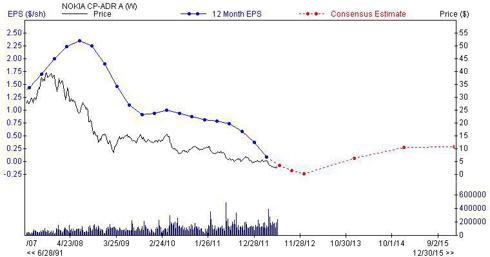 Click to enlarge
Bullish strategy for Nokia
Part I

Click to enlarge
Sell the Jan 2014 2.50 puts for 90 cents or better. For each put sold $90 will be deposited into your account. The proceeds from this transaction will be used in finance the second transaction.
Part II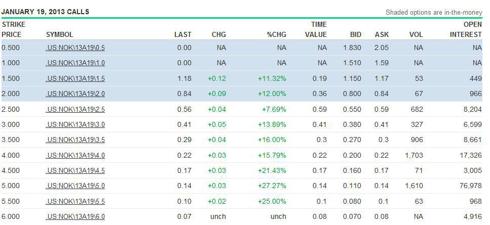 Click to enlarge
For the second part we are going to purchase calls with less time on them, simply because investors will get a real idea of how the lumina 900 is doing by the end of the second quarter. If the figures are good, the stock will most likely take off and vice versa. The stock is extremely oversold, and attempting to put in a bottom. It is essentially looking for any reason to mount a rally.
Use the proceeds from step 1 ($90) to purchase up to three Jan 2013, 3.50 calls. These calls are currently trading in the $0.27-$0.30 ranges. If you purchase three calls, you will have used up the entire $90 you received per put you sold. If you purchase fewer calls, the leftover credit could be applied towards the purchase of the shares, in case they are assigned to you.
Risks associated with this strategy
If the shares trade below the strike price you sold the puts at, the shares could be assigned to your account. Depending on the number of calls you purchased your final price will range from $1.90 if you purchased one call only to $2.50 if you purchased three calls.
Advantage
You have the opportunity to leverage your position for free. If the stock takes off, you could end up with some handsome gains. Furthermore, even if the shares are assigned to your account, you will get in at much lower price than if you decide to purchase them right now.
Conclusion
The first real indication of how well the Lumina 900 is doing should be out by the end of the second quarter. If the numbers are great or even better than expectations, the stock could take off. If the numbers are terrible, then the stock will most likely take a beating. Therefore, it is essential that you do your due diligence. Your outlook on Nokia should be bullish already and do not simply implement this strategy because it looks like it might reward you. If that's the case it would be best to sit this trade out.
A major portion of the historical data used in this article was obtained from zacks.com. Options tables sourced from money.msn.com. Growth and earning estimates sourced from dailyfiance.com.
Disclosure: I have no positions in any stocks mentioned, and no plans to initiate any positions within the next 72 hours.