Red Hat, Inc. (NYSE:RHT) provides open source software solutions to enterprises worldwide. It also offers enterprise-ready open source operating system platforms. The company provides Red Hat Enterprise Linux, an operating system designed for enterprise computing; JBoss Enterprise Middleware that offers a suite of products for developing, deploying, integrating and managing distributed, composite and Web-based applications and services; and Red Hat Enterprise Virtualization for Servers, including Red Hat Enterprise Virtualization Hypervisor, a hypervisor based on KVM technology that converts the Red Hat Enterprise Linux kernel into a virtualization platform; and Red Hat Enterprise Virtualization Manager, a server virtualization management system, which provide capabilities for host and guest operating systems, such as availability, live migration, power manager, storage manager and system scheduler.
Red Hat is scheduled to report its Q1 2013 results on June 20, 2012, after the market closes.
Technical Overview
Key Metrics
Market Cap: 10.44B
52-week trading range: 31.77 - 62.75
Trailing P/E: 72.20
Forward P/E: 37.60
Price/Sales: 9.22
Price/Book: 7.46
PEG Ratio: 2.43
Total Debt: 0.00
Annual dividend yield: N/A
Return on Equity: 10.90%
Return on Assets: 5.34%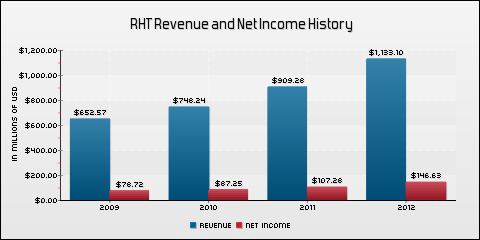 Recent EPS Actuals vs. Estimates
The company has met or beaten analysts' estimates the last four quarters. In the last quarter, it reported $0.29 EPS, beating analyst estimates of $0.27.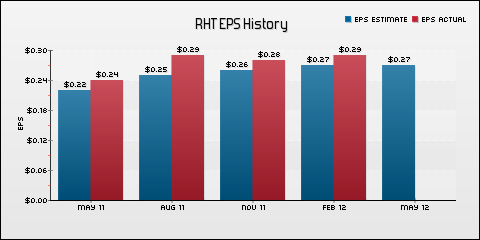 The consensus EPS is $0.27 based on 26 analysts' estimates, up from $0.24 a year ago. Revenue estimates are $310.84M, up from $264.75M a year ago. The median target price by analysts for the stock is $63.00.
Average recommendation: Overweight
Source: Marketwatch
Analyst Upgrades and Downgrades
On May 31, 2012, Mizuho initiated Buy rating for the company.
On May 4, 2012, Stifel Nicolaus initiated Buy rating for the company.
On April 9, 2012, MKM Partners initiated Neutral rating for the company.
On March 29, 2012, Oppenheimer reiterated Outperform rating for the company.
On March 27, 2012, UBS reiterated Neutral rating for the company.
Latest Developments
Competitors
Red Hat, Inc. operates in Application Software industry. The company could be compared to Citrix Systems, Inc. (NASDAQ:CTXS), Riverbed Technology, Inc. (NASDAQ:RVBD), Symantec Corporation (NASDAQ:SYMC), and TIBCO Software Inc. (NASDAQ:TIBX). Below is the table comparison of the most important ratios between these companies and the industry.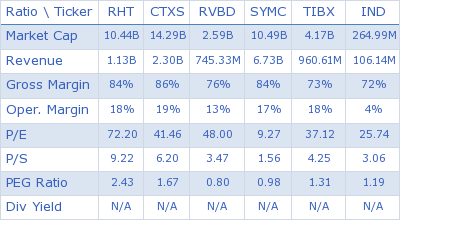 Below is the chart comparison with the stock price changes as a percentage for the selected companies and S&P 500 index for the last one year period.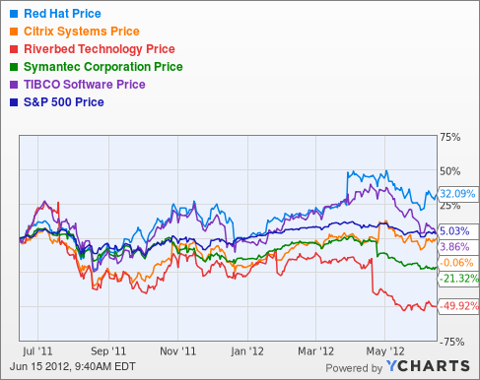 Competitors' Latest Development
Sources: Yahoo Finance, Google Finance, Marketwatch, Finviz, Reuters.
Disclosure: I have no positions in any stocks mentioned, and no plans to initiate any positions within the next 72 hours.