When a company is focused on turning itself around and rebuilding its profitability, the time to buy it is not when that has already happened. The time to buy is before the turnaround, when you see signs that the turnaround can in fact succeed. We believe that such an opportunity can be found in shares of Micron Technology (NASDAQ:MU), and that the time to invest in this company is at hand.
Micron is the last American manufacturer of DRAM, and has lived through the bankruptcies of all of its American peers. It now competes in an industry dominated by Asian companies such as Samsung and Hynix. And the company's stock price has reflected this reality.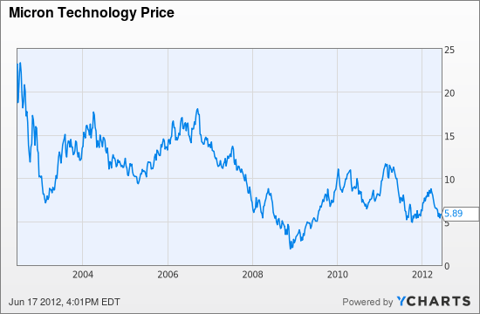 Click to enlarge
However, recent trends in the industry bode well for Micron, and we believe that investors are misunderstanding the story, and that Micron's shares are undervalued. We delve into our bullish thesis below.
Financials: More Than Meets the Eye
A good deal of Micron's fall over the past year or so has been due to the fact that the company has posted losses for 3 consecutive quarters. The company's posted a loss of 23 cents per share in its most recent quarter. The company is set to report Q3 2012 (Micron's fiscal year ends in September) results on Wednesday, June 20, and the consensus estimate calls for a loss of 19 cents per share.
Micron's results have been pressured by falling DRAM prices. However, the situation is not as bleak as the headline results make it seem. Although Micron has posted $469 million in GAAP losses in the first 2 quarters of fiscal 2012, it had operating cash flow of $978 million. For the second quarter alone, operating cash flow came in at $574 million. The vast majority of the discrepancy is due to $1.133 billion of depreciation and amortization expense. To be clear, we are not implying that such non-cash expenses should not be included in loss calculations. Rather, we are saying that Micron's finances are not as weak as many people would think.
In the past 2 quarters, Micron's cash & equivalents balance has declined by $66 million. However, this was due to a decision by Micron to boos its stake in Taiwanese DRAM firm Inotera. In February, Micron participated in a private placement that increased its stake to 40%. Nanya will own 26% of Inotera. Analysts were positive on this deal, saying that Micron will be able to boost its capacity as a result.
Micron's balance sheet, while certainly not the strongest in technology, is adequate, and we have no concerns about the company's ability to stay in business.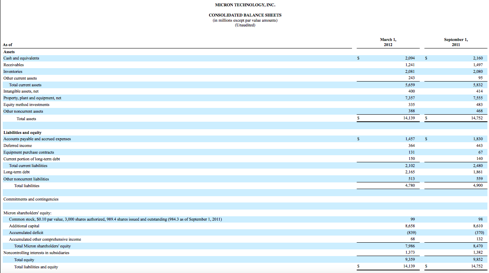 Click to enlargeMicron has $2.094 billion in cash & equivalents, and debt of $2.165 billion. However, much of that debt has been refinanced during the first quarter of fiscal 2012 (resulting in a GAAP loss of $111 million). Micron refinanced its convertible 2014 notes into convertible 2027 notes, bought back a portion of its 2014 notes, and repurchased a portion of its convertible 2013 notes.
Micron's financial strength, while far from ideal, is enough to carry the company through its turnaround. And analysts are projecting a turnaround to materialize in the next few quarters.

Click to enlargeThough Micron is set to post a loss of 64 cents per share in 2012, results are set to rebound in 2013, to a profit of 58 cents per share. Based on those estimates, Micron will be trading at a P/E ratio of just 10.155x 2013 earnings. We believe that Micron is undervalued at these levels.
A return to profitability is not the only reason that we are bullish on Micron at these levels. A changing industry landscape is also set to benefit Micron.
Elpida and the Road Ahead: Consolidation and Recovery
As Elpida works its way through bankruptcy, rumors have swirled as to who will buy the bankrupt Japanese company and its assets. While Micron has confirmed that it is in discussions with Elpida's trustees, there has been no comment from Micron since then. Elpida will likely be a major topic of discussion on Wednesday's earnings call.
A deal to buy Elpida would dramatically transform Micron, and analysts are upbeat about such a deal. We break down their opinions about an Elpida deal, as well as overall trends affecting Micron, below.
Credit Suisse: The firm is positive about Micron's long-term prospects, and has an outperform rating at $12 price target on Micron. Credit Suisse believes that a buyout of Elpida will close sometime in August, given that multiple sources within Japan have said that Micron has been selected as the winning bidder for Elpida's business. The firm says that while an exact financial model to assess the impact of the deal is not yet possible, given a lack of clarity on cost/funding sources, the supposed $2.5 billion price tag represents a 70-80% discount to capacity replacement cost. This deal would provide for a more level DRAM market, with Samsung holding 45% share, Hynix holding 24% share, and Micron's share rising to 24% as well. An analysis done by the firm of past consolidation events shows that DRAM prices improved by as much as 45% after such events, which bodes well for Micron.
Merrill Lynch: In its earnings preview, Merrill Lynch reiterated its buy rating and $10 price target, arguing that a miss has already been priced into the stock. The firm thinks that price will be the biggest factor in determining whether or not the Elpida deal is a positive one; a price tag of $3 billion+ will be a burden for Micron, while anything below $2 billion will be a coup. Merrill Lynch sees a solid recovery by the fourth quarter of 2012 and through 2013 as pricing improves due to supply constraints.
RBC: RBC has reiterated its $11 price target on Micron, citing supply constraints and improving NAND pricing. Furthermore, RBC sees improving demand in the second half of the year, driven by smartphone growth, as well as increasing SSD (solid state drive) shipments.
UBS: In its Q3 "preview," UBS has maintained its buy rating at $12 price target. The firm is encouraged by Micron's updated line of DDR3 chips for the graphics and networking sectors, and believes that trends in Micron's end businesses are improving.
Jefferies: The firm reiterated its buy rating and $11 price target on shares of Micron. Jefferies believes that investors are ignoring several tailwinds that will benefit Micron in coming quarters. While the firm did cut is estimates for fiscal 2012 revenue and EPS (from $8.16 billion in revenue to $8.11 billion, and and from 66 cents in losses to 75 cents). Jefferies believes a Q2 miss is already priced into the stock, but that the potential for higher gross margins is not. Contract DRAM prices, which influence 80-90% of Micron's revenue, have risen 33% from December through May, while spot DRAM prices have rise just 14%. Thus, Micron is likely to see higher gross margins. Jefferies also believes that investors are ignoring the potential for Elpida to be highly accretive to Micron's server business, preferring to focus only on Elpida's mobile business, something that the firm believes leads to increased upside potential in the shares.
In the coming months, we are likely to see Micron dramatically transform itself with a buyout of Elpida, and analysts are upbeat on the potential of this deal. That enthusiasm has not translated to gains in the stock, which has left Micron trading at historically low valuations, which form the another pillar of our bullish thesis on the stock.
Valuations: Approaching Historic Lows
Micron is undervalued by a variety of metrics, including book value. The company's book value currently stands at $9.359 billion. Based on Micron's 989,627,195 outstanding shares (per its latest 10-Q), Micron's book value per share is $9.45. As of this writing, Micron is at $5.89 per share, giving it a price-to-book ratio of just 0.623. Micron is trading at valuations approaching the lows seen during the financial crisis, despite the fact that the company's business has improved dramatically since 2008-2009 (YCharts calculates a slightly different P/B ratio based on the fact that it automatically generates the results, which can occasionally lead to slight mathematical inconsistencies).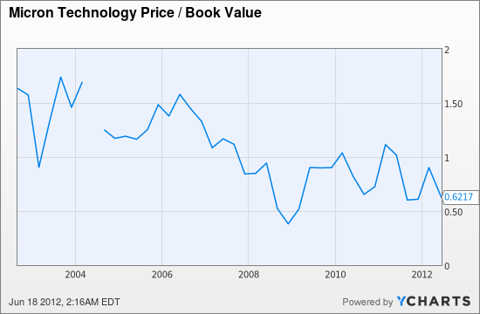 Click to enlarge
We see no reason for Micron to be trading at such valuations. The company is trading as if it has a bleak future, while the reality is far different. The Reuters average price target for Micron stands at $10.29, representing upside of 747.7% from current levels.
Conclusions
We are fully confident that Micron can and will turn itself around. The company will return to profitability in 2013, and is in an adequate financial position to continue doing business until that time. The company is cash flow positive, and its debt has been refinanced. A buyout of Elpida will transform Micron, and yet its stock has not risen to reflect this. That has created an opportunity, in our opinion. Investors are misunderstanding the story, and are undervaluing the stock. The time to buy a company is not when it has already turned itself around, but before. We believe that now is the time to invest in this company, and that investors who add to or initiate positions in Micron Technology at this point in time will rewarded for their belief in a company that far too many market participants and commentators have written off.
Disclosure: I am long MU.