If you want exposure to silver without taking physical possession of the metal, there are three ways this can be accomplished, each with its own pros and cons. As the chart below demonstrates, silver has increased in price significantly, especially since 2008.
Click to enlarge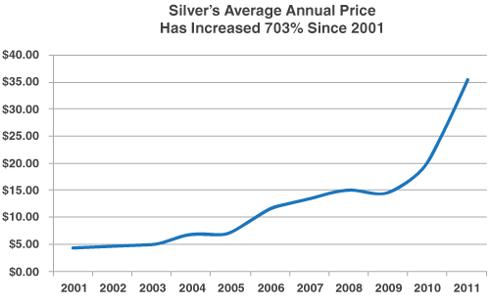 Click to enlarge
First, some thoughts on an investment in silver. Gold gets a lot of press coverage. When investors flee the market, they often turn to gold. Silver is something of a redheaded stepchild,. Unlike gold, silver has a host of crucial industrial uses. Silver is in most of our electronic devices and has important medical applications. Silver is needed in just about every electronic device made. TVs, cell phones, computers, digital cameras and iPads. It is also important in batteries, disinfectants, solar energy, and water purification.
The list of products that need silver is enormous and constantly growing. Perhaps it is the utilitarian uses for silver, coupled with its intrinsic value as a precious metal, that is attracting many investors. Today, I will hone in on 5 silver stocks and see which meets your acceptable level of risk.
Silver Wheaton (NYSE:SLW) trades at about $28 per share, with a market cap approaching $10 billion and is a bit unique in that it is a silver streaming company. According to Vuru, "The company has 14 long-term silver purchase agreements and 2 long-term precious metal purchase agreements whereby it acquires silver and gold production from the counter parties located in Mexico, the United States, Greece, Sweden, Per, Chile, Argentina, and Portugal." Silver Wheaton's fundamentals are also quite impressive.
The stock trades at 17 times trailing twelve month earnings, has a price to earnings growth ratio of 0.66 and a price to book of 3.47. Return on equity stands at 22.3% and quarterly year-over-year revenue and earnings growth are fairly robust at 26.2% and 20.5% respectively. Silver Wheaton is rock solid financially with a debt to equity ratio of 2.59 and a current ratio of 5.03.
A silver streaming company is one play you can make in silver. Silver streaming companies are not burdened with the capital outlay required to explore, mine and process silver ore. They have pre-arranged contracts with existing mining operations, paying an agreed upon price for the silver. Usually around $4 per ounce. Mining companies do these contracts because the silver they recover is a by-product of core mining operations. Contracts are funded up front, giving the mining partner working capital for equipment, exploration and expansion. The streamer benefits by avoiding these costs.
A comparison to iShares Silver Trust (NYSEARCA:SLV), an exchange traded fund, would be useful. This EFT is trading at around $28 per share with a net asset value of about $10 billion; 100% of its assets are physical silver bullion. The chart below shows its performance relative to Silver Wheaton over the past 12 months. The EFT differs from the streamer in several ways, but the most significant difference is the EFT has no control over the acquisition price of the commodity on which it is based.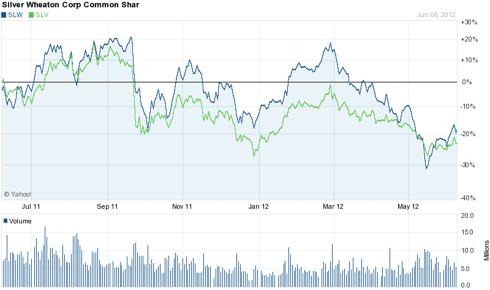 Click to enlarge
As you can see, the performance of the two investments mirror one another almost perfectly, although the business models are different. Silver Wheaton and iShares Silver share prices are consistently within a small percentage of the actual spot price of silver, per ounce.
Now I want to go over the fundamentals associated with Coeur d'Alene Mines (NYSE:CDE), Pan American Silver (NASDAQ:PAAS), Mag Silver (NYSEMKT:MVG). These three companies are pure play mining companies and engage in the exploration, acquisition, development, and operation of silver properties.
Coeur d'Alene Mines has a market cap approaching $2 billion and trades at around $19 per share, which is around 20 times earnings. The price to earnings growth ratio is 0.23 and price to book is 0.79. Return on equity is unimpressive at 4.05%. Quarterly year-over-year revenue and earnings growth report in at 2.% and -68.1%, respectively. Coeur d'Alene has solid financial indicators, reporting a debt to equity ratio of 6.76 and a current ratio of 1.77. The stock offers no dividend.
Pan American trades at about $18 per share and has a market cap of just over $6 billion. It has an attractive price to earnings ratio of 6.28 and an equally attractive price to earnings growth ratio of 1.11. The stock has a price to book of 1.03 and a return on equity of 14.87% quarterly year over-year revenue and earnings growth are reported at 20.1% and -45.9%, respectively. Well, Pan American is on a sound footings, financially speaking, with a debt to equity of 3.81 and a current ratio of 5.49. Shareholders are taunted with a tiny dividend yielding 0.75% against a payout ratio of 4%.
Mag Silver has a market cap of about $492 million and trades at around $9. Yahoo! finance does not report a price to earnings or a price to earnings growth ratio. Price to book is 4.85 and return on equity is -7.31. No figures available for quarterly year-over-year revenue and earnings growth either. It's the same for the debt to equity, but the current ratio is 6.64. The stock pays no dividend. None of this is surprising, given the company hasn't turned a profit since at least 2008.
As you can see, the mining stocks have wide ranging share prices, greater volatility, and the burden of costs associated with mining operations and exploration. As a result, silver mining plays are inherently riskier investments than the EFT or the silver streamer. As always, for the investor willing to accept a higher risk, the rewards can be substantial.
Disclosure: I have no positions in any stocks mentioned, and no plans to initiate any positions within the next 72 hours.