Bank of America Corporation (NYSE:BAC), headquartered in Charlotte, North Carolina, is one of the world's leading financial services companies. Its banking and non-banking subsidiaries across the United States and in other international markets provide a diverse range of banking and non-banking financial services and products to individuals, small businesses and commercial, corporate and institutional clients.
Bank of America serves clients in more than 150 countries and has a relationship with 99% of the U.S. Fortune 500 companies and 83% of the Fortune Global 500. The share price of Bank of America is undergoing a strong and sustainable uptrend with an immediate potential upside of nearly 25% from the current level.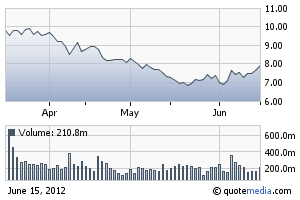 Fundamental Trigger
Bank of America is expected to be the largest contributor to earnings growth for the S&P 500 (SPDR S&P 500 Trust ETF: SPY) index at the company level, mainly due to an easy comparison to a large loss reported in the year-ago quarter. Excluding Bank of America, the projected Q2, 2012 earnings growth rate for the index falls to -1.1% from 3.6%. (Source: FACTSET)
Bank of America Earnings Estimates
This Quarter
06/2012
Next Quarter
09/2012
This Year
12/2012
Next Year
12/2013
Average Estimate
0.18
0.17
0.65
1.04
Number of Estimates
23
23
24
24
Low Estimates
0.10
0.08
0.38
0.49
High Estimates
0.24
0.28
0.85
1.56
Year Ago EPS
-0.90
0.28
-0.29
0.65
EPS Growth
119.95%
-39.44%
323.42%
60.96%
Technical View
In the past 52 weeks, Bank of America share prices registered a low of $4.92 and a high of $11.25. Last Friday's (June 15) closing price of $7.90 is a bullish sign for the near term because it was a close above the 50 DMA at $7.86. The shares are now trading consistently above the 200 DMA at $7.19.
The share price crossed the 20 DMA in early June and since then it is trading above it. In the past six months whenever this happened, the share price surged significantly. In the chart, I indicated this phenomenon with red circles. The Bollinger Bands indicator shows that the share price is just about to cross the upper band. The light blue line between the lower and upper bands indicates the 20 DMA.
Click to enlarge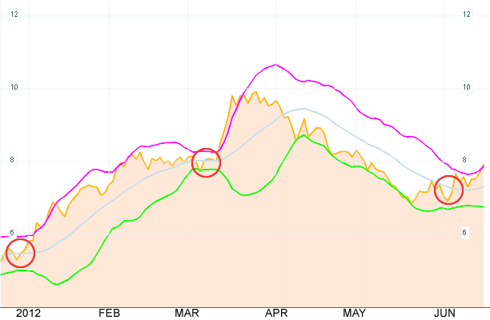 Click to enlarge
The RSI, MACD and Stochastics also confirm this up-move. I expect the share price to trade above $10 shortly and remain above the psychological level of $10 on a sustainable basis. Since S&P 500 is also in a strong uptrend and probably heading towards a new high, the possibility is very strong.
S&P 500 and Bank of America
The current year consensus earnings estimate for the S&P 500 stands at $104 per share and 2013 consensus estimated earnings for the index is $117. Given that analysts see no recession on the horizon, they are still comfortable with their record earnings predictions for this year and next year. As we get towards the end of the current year, more investors will be focused on 2013 estimates. By that scale, the S&P 500 is only trading at a PE of 11.5, which is very attractive compared to the historical PE of 14-15.
The possibility that S&P 500 will create a new high in the next 12 to 18 months is very high. Taking on the all-time high of 1565 may be just on the cards. If that happens, the share price of Bank of America may even double from current levels. This may be the last chance to buy the shares of the company below $10.
Disclosure: I have no positions in any stocks mentioned, but may initiate a long position in BAC over the next 72 hours.