Kids will always be attracted to the allure and captivation of the Disney (NYSE:DIS) theme parks, Disney movies, and shows on the company's various channels. Parents will continue to spend money to experience these joys with their kids. I remember the first time I saw the castle in Disney World - how my eyes misted up with the excitement of the Disney atmosphere (and that was just 2 years ago).
The excitement of Disney is experienced every day. Recently, the Avengers movie surpassed $1 billion in sales in only 19 days. Brave hits theatres on June 22 and is also expected to do well. Avengers should contribute positively to Disney's Q3 results for its Studio Entertainment segment which had a drop of 12% in revenue for Q2. However, this drop merely shows that the movies from Q2 2011 sold better than the movies during Q2 2012. This can easily be overcome with more successful present and future films.
The other four segments all increased revenue and earnings for Q2:
| | | |
| --- | --- | --- |
| Segment | Revenue | Earnings |
| Media Networks | + 9% | +13% |
| Parks and Resorts | +10% | +53% |
| Consumer Products | +8% | +4% |
| Interactive Media | +13% | +39% |
Disney looks fairly valued on the low end with a forward PE ratio of 13.64, a PEG of 1.2, and a price to book ratio of 2.21. However, the stock does look temporarily overbought. So, I would expect a possible pullback before the price moves significantly higher.
The financials look solid as revenue increased 6.1% and earnings increased 21.3% for Q2 2012. Disney has a nice profit margin of 12.46% and an operating margin of 20%. The company pulls in $7.47 billion in operating cash flow and $3.3 billion in free cash flow. Disney gives back a portion of its cash flow in the form of a modest annual dividend of 1.3%.
Disney has seven upward earnings revisions for 2012 and eight for 2013. Although the company only grew earnings at about 6% annually for the past five years, the future looks much brighter. For the next five years, Disney is expected to grow earnings annually at 12.84%. If dividends are reinvested, a $1000 investment in DIS should grow to be worth about $1900 in five years.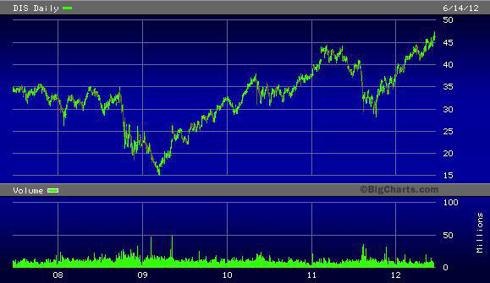 The company's brands (Disney, ABC, ESPN, Pixar, and Marvel) are a strong combination that will continue to grow revenue and earnings in the future. Disney always had a great ability to create high quality family oriented content. Many Disney films have become classics that are shared for generations.
Expansion into emerging markets continues to create opportunity for the company. China provides Disney with a population of 1.3 billion potential customers. Toy Story Land at Hong Kong Disneyland has created some new excitement. The Shanghai Disney Resort in China will give Disney a strong presence in that region with a new theme park and resort.
Disney is poised to perform better than the average company in the S&P 500 in the next five years. The company's strong ability to attract kids and adults to its brands will continue its success into the future. It's a great company to consider owning as a long-term investment.
Disclosure: I have no positions in any stocks mentioned, and no plans to initiate any positions within the next 72 hours.