To kick off the new year, we added 26 new funds to our PowerShares Momentum Tracker universe. After a month in our Momentum Table rankings, the commodity funds have become a dominant force, holding the top seven spots as of last week. Three of the top five are new metals ETFs, while a fourth metals ETF is rising up the table quickly.
That's not a surprise. These four funds—PowerShares DB Base Metals Fund (NYSEARCA:DBB), DB Gold Fund (NYSEARCA:DGL), DB Silver Fund (NYSEARCA:DBS) and DB Precious Metals Fund (NYSEARCA:DBP)—have been on a roll. They've posted an average one-month gain of 7.8%, vs. a 3.3% gain for the S&P 500 and 1.1% for the MSCI EAFE (Europe, Australasia and the Far East) Index. Step out a little further and the fund's year-to-date average return is 15.6%, compared with -6.3% for the S&P and -8.5% for the MSCI EAFE. Go back a year, and the four funds' 22.9% average compares with a loss of 4.9% for the S&P and a 3.0% dip for the MSCI EAFE.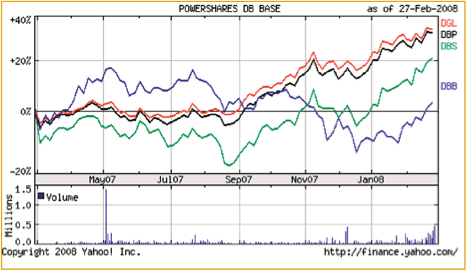 It's also no surprise that commodities funds are among the top-performing ETFs. Commodities, in the midst of their longest bull market in a generation, have been a key source of "excitement and relief from an otherwise gloomy financial market," according to a story this week by Dow Jones. Prices are skyrocketing, pushed by global demand—particularly in the developing world, led by China and India—supply shortfalls, a weakening dollar, fears of inflation and even U.S. interest rate cuts, all of which tend to be good news for commodity investors.
Further, with the economy on the brink of recession, wary investors turn to commodities as a hedge against inflation. Most important, commodities tend to zig when the market zags: They represent one of the few asset classes with a negative correlation to stocks and bonds.
As a result, the Dow Jones-AIG Commodity Index has posted a 36.6% return over the last year, compared with a loss of nearly 5% for the S&P 500. Metals have helped lead the commodities rally of late—though the undisputed leader at the moment is DB Agriculture (NYSEARCA:DBA), which is up 39.2% in the last three months. Like DBA, the four new metals ETFs (inception: Jan. 5, 2007) track the Deutsche Bank Liquid Commodity—Optimum Yield indices for their underlying metals. The model invests in futures—exchange-traded contracts promising the delivery of a commodity on a future date.
The Optimum Yield indices attempt to maximize returns not just through gains in commodity prices, but through "roll yield," that is, taking advantage of price differences when rolling over futures contracts.
DGL invests in gold futures, which have been one of the best-performing assets in the world of late. DBS focuses on silver, which has actually seen prices rise faster than gold's over the last seven years—290% since 2001. DBP invests in gold (80%) and silver futures, while DBB splits its assets into thirds, for aluminum, zinc and copper. Though DBB hasn't kept up with its PowerShares DB brethren, it has rallied after a tough first year. DBB shot up our Sector Momentum Tracker by 20 spots in just four weeks, from 47th to last week's 27th.
Metals prices are rallying. Funds connected to gold—such as DGL, DBP, and to a lesser extent DBS and DBC—have ridden the back of skyrocketing gold prices to new heights. Gold futures hit a new all-time high of $952 last week, up about 13% since the start of the year. The drivers? Worries about the economy, for one. But demand has sky-rocketed in places such as China and India, where the emerging middle class wants more and more jewelry (making China and India the world's largest gold consumers).
Developing countries also have voracious appetites for raw materials, keeping demand for base metals high.
Closer to home, inflation is a big concern, as overall consumer inflation data keeps topping 4%, including a 4.3% rise in January, according to the Bureau of Labor Statistics. That, combined with fears of a recession and even stagflation, has driven up speculative investment in many commodities, including metals, and especially precious metals. Another fund that should be included on a list of gold- and metal-related ETFs is the DB Commodity Index Tracking Fund (NYSEARCA:DBC), which includes gold and aluminum along with four other commodities. DBC has been part of our PowerShares Momentum Tracker portfolio since Nov. 1, 2007. Since then (through Feb. 26), the fund's NAV return has been 20.2%.
All that having been said, it's important to note that commodity investing is a risky activity, suitable for only a small slice of most individual investors' portfolios. Though they will almost certainly provide a hedge against inflation and weak broad-market returns, these ETFs' performance relies heavily on commodity prices, which are notoriously volatile and unpredictable.
Metals do have a lot going for them these days, but as a Washington Post story said this week, "Metals prices are like the weather. There are plenty of forecasts and only a few accurate predictions."