For the better or worse, one of the most frequent criticisms that I get on Seeking Alpha is that I am too positive. I am supposedly too positive on too many stocks and too many sectors. My response to that is several fold.
First, my optimism has been substantiated by the fact that the S&P 500 has gained 16.3% since I first started contributing. Dividend hikes and global economic progress further aid my bullish outlook. I also became slightly more negative before the market started to decline a few months ago.
Second, I don't want to mislead investors into drinking the "expert stock picker" Kool-Aid. Jim Cramer has the right idea when he says to not trust the experts and to do your own research, since the so-called experts are often dead wrong. When experts are assigned to research individual stocks and make a recommendation to management, the results aren't pretty. Try as they may to defy the efficient market hypothesis, around 4 out of 5 mutual funds underperform the market -- you would expect at least 50% to outperform. Leading proponent of the efficient market hypothesis Burton Malkiel has shown that stock prices exhibit a random walk that, as the name suggests, is hard to predict. At the same time, the experts have shown to be no more accurate in picking winners than a dart. (Note: I am not asserting that investors cannot outperform the market. Hedge funds and experienced value investors can yield abnormal returns by investing around the edges and exploiting behavioral anomalies.)
Third, and as a corollary to my second point, being a long investor is by and large better than being a short investor. While it is hard to predict the specifics and what will outperform, the stock market is heading nowhere but up in the long-term. Growth, if not through value creation, occurs via procreation. Let's put it this way: earnings are either retained for growth or allocated back to shareholders in the form of dividend distributions. Even over the last 5 years (a period that included the financial collapse), earnings have grown annually by 3.2% in the S&P 500. For years 1925 - 1935 (a period that included the Wall Street Crash of 1929), the annualized return of the stock market (i.e. not average) was 8%. Put differently, a million dollar investment would have more than doubled if you held for the 10 years surrounding the greatest stock market crash in history. So, fundamentally, equities go up, not down.
Fourth, I believe in nuanced reporting. Since I take a bullish outlook on the stock market, I generally steer away from negative articles. With that said, I have taken bearish stances in the past. My prediction of a Kodak (EKDKQ.PK) bankruptcy proved accurate when the firm indeed filed for bankruptcy in addition to falling by 88.6% since then. But, in general, I do not take a black-and-white picture. I have tried to write more optimistic pieces for firms that I anticipated outperforming broader indices.
After making the four above points, I now want to analyze a few stocks where the bears have overstayed their welcome: Herbalife (NYSE:HLF), Green Mountain Coffee Roasters (NASDAQ:GMCR), and Sirius XM (NASDAQ:SIRI). All three have excellent fundamentals and are cheap relative to the market, or, as Buffett would say "value at an attractive price."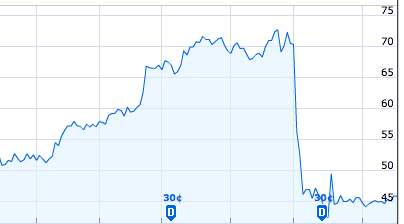 Source: Google Finance. Note: Depiction of HLF stock decline.
Herbalife has to be the most interesting case. In light of better-than-expected performance, it's decline was a little bit overdone, to say the least. Activist investor David Einhorn, whose work I highly respect, led the market to believe that this respected direct selling firm of personal care products was leading a Ponzi scheme. Aside from the hyperbole, the market reaction to skepticism has seldom been this extreme. In the last three quarters, Herbalife beat expectations by around 14.3% and 2011 earnings were 17.8% ahead of consensus.
But, it's not just the fact that Herbalife has delivered time and time again that makes it attractive. Much of Herbalife's come from the amount of free cash flow that is generating. In my model that assumes constant operating metrics, 14.5% per annum growth over the six years, a 2.5% perpetual growth rate, and a discount rate of 10%, the intrinsic value of the stock is $67.22. This figure is at a 46.5% premium to the current market value. Moreover, my calculation, if anything, understates the intrinsic value given that my projection of free cash flow starts at $367M in 2012 when the figure was clearly $419M in 2011.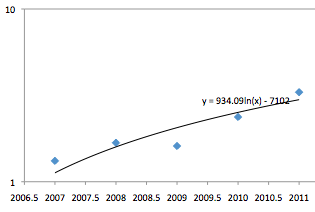 Source: Internal research. Note: EPS over the last 5 years.
The direct selling firm also has impressive growth despite trading at just 13.1x past earnings. If you take a logarithmic regression of EPS for the last 5 years, you extrapolate 2016 EPS as $4.91. Now, in order to make any meaning out of this number, we have to compare it to expectations (which have so far been low) and take an exit multiple calculation that is appreciative of peer levels. The market anticipates EPS growing 14.3% this year to $4.32 and anticipates an average of 15.2% over the next 5 years. Thus, my extrapolation is, again, low. When it comes to peer valuation, Herbalife's multiple is just 32% of its sector and 59% of its industry. So, I assume a still-conservative future 2016 PE multiple of 18x. Multiplying my 2016 PE multiple by my 2016 EPS figure, I project the future value to be $88.38. Discounting this backwards by 10%, the target stock price is $54.87 - a 22% margin of safety to the current price.
GMCR and Sirius also look cheap. GMCR is another stock that Einhorn was short, and it has fallen by 83% since the September 2011 high. With the company trading at only 9.5x, the reaction appears to have been overblown. The firm has a PE multiple less than half of the industry's and 28% of the sector's. The 5-year high PE is 88.5; the 5-year low PE is 11.1; and the 5-year average PE is 57.1.
Moreover, the company has generally beaten expectations. 1Q11 EPS beat expectations by 26.3%; 2Q11, by 36.1%; 4Q11, by 66.7%. 3Q11 EPS was just 2% below expectations and 1Q12 was in-line. Growth has also been in the high double-digits -- an average of 34.8% over the last three. Average annual EPS growth of 38.7% is expected over the next five years. Assuming just a 20% per annum EPS growth over the next five years at a PE multiple of 16x, I find the 2016 future stock price to be $52.16. Discounting backwards by a WACC of 10%, I find the target stock price to be $32.38, which is a 63% margin of safety to the current price - considerably more than the 20% that is recommended. It is incredible that this figure also assumes conservative inputs.
Sirius is also fundamentally cheap. The firm is led by excellent management, has a virtual monopoly in satellite radio, and, in my view, can be liquidated for a value above the current market cap. Performance has, again, been better than expected. Consensus now anticipates an average of 20.7% annual growth for EPS. Factoring in this EPS growth at a 2016 PE multiple of 22x, I find the 2016 future stock price to be $3.95. Discounting backwards by 10%, the target price is $2.45 for a 31% margin of safety.
Disclosure: I have no positions in any stocks mentioned, and no plans to initiate any positions within the next 72 hours.
Disclaimer: We seek IR business from all of the firms in our coverage, but research covered in this note is independent and for prospective clients. The distributor of this research report, Gould Partners, manages Takeover Analyst and is not a licensed investment adviser or broker dealer. Investors are cautioned to perform their own due diligence.