The Motley Fool released an article yesterday on how railroads will struggle against the threat of natural gas. The piece was interesting to me, because it highlighted three sectors that I have been bullish on for some time now: coal, natural gas, and railroads. In the article, the author argued that positive secular trends in natural gas (a view that I expressed several times) will undermine the strength of railroads that have built their business around coal. Rail is indeed, and by far, the cheapest form of freight transportation, and, as the author correctly noted, the industry will have to diversify away from coal -- hopefully into intermodal. Where I disagree with the author is his negative outlook on coal. The Dow Jones Coal Index is at a low and EPA regulations have already been aggressively factored into the stock price rail. Most of domestic natural gas will naturally first fuel U.S. companies before taking care of abroad ones; other energy sources, like coal, will mostly go to emerging markets that have placed a priority on economic growth. This gives railroads excellent exposure to international demand and high growth - an opportunity that the bears fail to appreciate. Moreover, losses in coal have not been commensurate with losses in carloads.
In light of my bullish stance on coal and emerging markets, I strongly recommend opening long positions in CSX (NYSE:CSX), Union Pacific (NYSE:UNP), and Norfolk Southern (NYSE:NSC). Let's start with an analysis on CSX, which has garnered the most attention.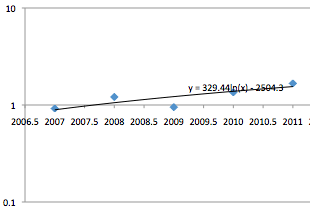 Source: Internal research. Note: CSX's EPS over the past 5 years.
If you take a logarithmic regression of EPS over the last half decade, you extrapolate 2016 EPS to be $2.37. This is a conservative estimate given the 9.6% annual 5-year EPS growth that is expected. But to make any meaning out of this bearish figure, we need to take an exit multiple calculation. Assuming a multiple of 16x and my 2016 EPS projection, the future value of the stock is $37.86. On top of a 2.5% dividend yield - risk/reward is very compelling. At the same time, I am attracted to the fact that the company beat expectations by 13.2% in 1Q12.
Union Pacific similar has attractive upside in the event of a bearish result. It is rated a 9 out of 10 on MSN Money's StockScouter. The Street is currently anticipating 15% annual 5-year EPS growth, which is backed by the railroad's excellent operating history. If we assume just 12.5% EPS growth and a multiple of 16x, the firm will hit a future value of nearly $193.75 for 68.7% growth - an average of 13.7% each year on top of a 2.1% dividend yield.
What sets Union Pacific apart from its peers is that it is the largest. In an industry with substantial barriers to entry, this advantage helps lock in sustainable streams of free cash flow and the ability to create economies of scale. The firm has seen growing volumes and done well boosting prices across its segments.
Norfolk Southern is also worth the price. It trades at a respective 11.9x and 10.5x past and forward earnings while providing a 2.7% dividend yield. EPS growth is expected to be slower than at Union Pacific and CSX with the 5-year average annual rate projected at 8.8%. No matter, the firm currently has a price target of $82.87, which is a 20.2% premium to the current value.
I find similar value. If the company is able to grow EPS at the 8.8% rate expected, the future value of the stock will be $133 at a 16x multiple. Discounting backwards by a WACC of 10%, I calculate the target price to be $82.6%. Put differently, there is a more than 20% margin of safety on the 21.3% combined dividend yield plus annual shareholder return over at least the next five years. That's value at an affordable price!
Disclosure: I have no positions in any stocks mentioned, and no plans to initiate any positions within the next 72 hours. We seek IR business from all of the firms in our coverage, but research covered in this note is independent and for prospective clients. The distributor of this research report, Gould Partners, manages Takeover Analyst and is not a licensed investment adviser or broker dealer.