When I started on the open source beat, in the middle of the last decade, it was pretty easy to tell friend from foe.
Your friends were companies like Google (NASDAQ:GOOG) and IBM (NYSE:IBM), that made and used open source tools. Your foes were companies like Apple (NASDAQ:AAPL) and Oracle (NASDAQ:ORCL), that were proprietary.
Over time this has become more ambiguous. Oracle took control of Sun's vast open source tool chest. Apple made open source contributions.
Microsoft (NASDAQ:MSFT) led the way toward this new view, creating an open source called CodePlex and an independent foundation now called Outercurve aimed at unlocking corporate code and bringing it to the open source light of day.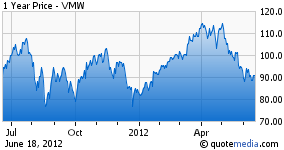 In this decade VMware (NYSE:VMW) is pioneering a new way of looking at open source. Coopitition.
VMware's ESX hypervisor is proprietary, and its vSphere operating system is equally proprietary. But these don't solve all of its customers' problems, and VMware lacks the resources to solve all these problems in a proprietary way.
So VMware has launched its own open source projects to fill in the gaps. Its latest is called Serengeti, and it aims to make the Hadoop "big data" system more virtual, able to run in other environments, like VMware's.
Hadoop's code base is managed by the Apache Foundation. Who would want to work with a proprietary vendor's version? Lots of people. Open source vendors who want more access to VMware customers and VMware systems, such as Cloudera, Greenplum, Hortonworks, IBM and MapR will assign people to it. So will many VMware customers, who want access to the open source mainstream and better use of Hadoop.
This isn't the only VMware effort to gain open source street cred. Its Cloud Foundry platform as a service is open source as well.
VMW stock has been on a downward trajectory since April, and now stands just 6% ahead of where it was at the start of the year. But thanks in part to this more enlightened view of open source, the company's results have been standing tall, with steady margins of about 20% and a sales run-rate of about $1 billion/quarter.
The problem has been one of earnings compression. Investors are only willing to pay 49 times earnings for the company's shares, as competition has increased and as growth has slowed to a crawl. EMC (EMC), which holds 80% of its shares, is now trading at a PE of 21. For a mainstream investor, that's approaching attractive levels.
It's a natural market progression, which I expect to continue, which means I don't expect either company's shares to rise even on better earnings news. Not in the short run. But the new attitude does make both VMW and EMC better long term investments than they were.
Disclosure: I am long AAPL, GOOG, MSFT, IBM.