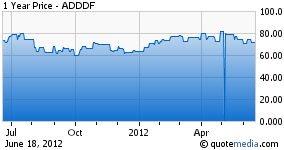 Bill Maher has called Fidel Castro "an old man in an Adidas track suit." Investors should pay attention when a communist leader buys a 'capitalist' brand. Being a German brand, Adidas (OTCQX:ADDDF) is far more acceptable to people living in countries where it is fashionable to denounce American "neoliberalism" (what in America is termed neoconservatism is called neoliberalism worldwide and judged the source of all ills in virtually all non English speaking countries), and since the majority of the economic growth expected in the years to come is to occur in countries such as China and Indonesia, this is a matter for serious consideration.
I currently live in Croatia, and being mildly pro-American as i am, i have tried to entice my co-workers in conversation to accept Nike (NYSE:NKE) as the brand of more quality than Adidas, although I myself am conditioned, perhaps by the local brand power structure, to think otherwise. My reasoning in convincing them was that Nike has more sales, it is the bigger company so it can invest more in R&D thereby creating footwear of better quality (in FY 2011 Nike sales were $20.9 billion to Adidas' $16.8 billion but in the last 10 years annualized sales growth was 7.6% for Nike and 8.3% for Adidas). I have received only negative comments on this -- people unanimously stated that Adidas is the brand of better quality. Indeed, all persons of means in my environs wear Adidas with pride, confirming that it is here considered the ultimate in sportswear quality. I myself am absolutely delighted by the quality, comfort and durability of the Adidas athletic shoes that I own. International soccer teams seem to think this too, here is the breakdown of national soccer teams according to which brand they wear:
Adidas

Nike

Soccer Teams

Argentina
Mexico
Slovakia
Germany
Nigeria
Japan
China
Russia
Canada
Spain
Greece
Scotland
Israel
Venezuela
South Africa

Brazil
USA
South Korea
France
Australia
Netherlands
England (Umbro, owned by Nike)
Portugal
Serbia
Slovenia
Turkey
Croatia
New Zealand
At the EURO 2012 soccer spectacle currently playing out in Poland and Ukraine the breakdown is as follows, Nike's pressure is quite discernible:
EURO 2012 national soccer team breakdown by brand:
Adidas (6)

Nike (8)

Puma (2)*

Soccer Teams

Germany
Russia
Spain
Greece
Ukraine
Denmark

France
Netherlands
England (Umbro, owned by Nike)
Portugal
Poland
Croatia
Sweden (Umbro, owned by Nike)
Ireland (Umbro, owned by Nike)
*Puma is owned by the French company PPR (OTC:PPRUF)
These two companies appear to be twins, I see no significant difference between them, all they do is slap their immensely strong brands onto clothes and shoes made in Southeast Asia thereby generating juicy profit margins:
Nike net profit margin: 9.68%
Adidas net profit margin: 5.40%
As I suspected, the company headquartered in Portland in 'neoliberal' America is more ruthless in squeezing out profits. Interestingly, both companies are enormously stingy with paying out dividends, as attested by the fact that FCF (cash flow from operations less cash expenditures on capital investment) is 2.5 times greater than total dividends paid for both companies. Not surprisingly Nike has practically no long term debt and Adidas can repay all of its debt within a year out of EBIT:
Nike long term debt: $276 million vs. Nike EBIT (earnings before interest and taxes) of $2.84 billion
Adidas long term debt: €995 million vs. Adidas EBIT of €927 million
I always like to check are the companies repurchasing own shares:
Adidas number of shares compared to 2007: 102%
Nike number of shares compared to 2007: 94%
While the American company beats Adidas slightly on past long term EPS growth, Adidas is slightly better at total sales growth as mentioned above and it was spectacular in rising the dividend during the last 4 years:
Adidas EPS growth 10 years: 11%
Nike EPS growth 10 years: 13.7%
Adidas dividend growth 4 years: 19%
Nike dividend growth 4 years: 14%
Adidas current dividend yield: 1.73%
Nike current dividend yield: 1.42%
I wouldn't invest in any of these companies at the present time as net dividend yields below 3% do not seem attractive to me at this moment. However, if you're a very long term investor I would recommend Adidas. You should know that with a net yield of 1.25% for Adidas (you need to pay a 25% withholding tax to the German government) and the reasonable expectation of a 10% annual growth of dividend, you should recoup your whole monetary investment in 23 years and the capital sum invested should be approximately 9 times greater after that time (10% annual return compounded for 23 years - if dividend grows 10% annually it is reasonable to expect the same for the stock originating it).
Disclosure: I have no positions in any stocks mentioned, and no plans to initiate any positions within the next 72 hours.