The current pullback provides investors an opportunity to open up new positions at a decent price. Seadrill (NYSE:SDRL) continues to secure lucrative long-term contracts. Presently, it is in advanced discussions regarding a new five-year ultra deep water contract for the drill ship West Polaris with revenue Potential of $1.16 billion. The contract is expected to be finalized in July 2012.
Some Reasons to be bullish on Seadrill :
A great yield of 7.2%
Net income increased from $1.26 billion in 2009 to $1.48 billion in 2011
Cash flow increased from $3.95 in 2010 to $4.22 in 2011
Sales increased from $3.2 billion in 2009 to $4.19 billion in 2011
Year over year projected growth rates of 11.3% and 8.89% for 2012 and 2013 respectively.
Annual EPS before NRI increased from $2.60 in 2009 to $2.90 in 2011
EBITDA increased from $2.05 billion in 2009 to $2.3 billion in 2011
It has a high beta which makes it a good candidate for selling puts on and or covered writes.
It has a projected 3-5 EPS growth rate of 48%
First quarter highlights
It reported Net income of $439 million and earnings of $0.89 per share. If this rate is maintained, net income could soar well past the 1.75 billion mark for 2012.
It increased the quarterly cash dividend by 2 cents to $0.82. A onetime dividend of 15 cents per share will be paid related to cash distribution from its investment in Sapuracrest.
It secured additional new contracts with a projected revenue potential of $870 million
It ordered two ultra deep water harsh environment semi submersible rigs for a total cost of $1.3 billion.
It secured a 3 year contract for the ultra deepwater semi-submersible rig West Leo with the potential to generate an additional $710 million in revenue.
It secured a 5 year contract for the tender rig T 18 with a revenue potential of $235 million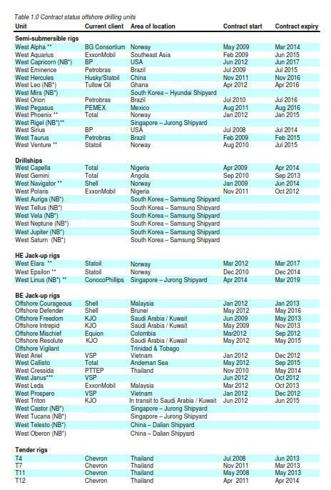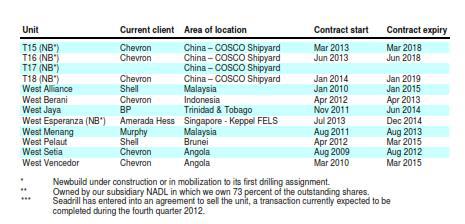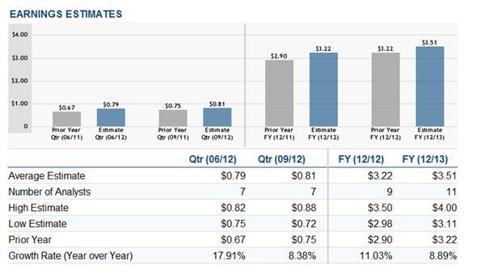 Suggested Strategy
This is a volatile stock as indicated by its high beta (1.99) and given that the markets are still in a corrective mode, there is a good chance that it could test its recent lows. Investors should consider waiting for a pullback to the 31-32 ranges before committing new capital to this play. Another alternative is to sell puts at strikes you would not mind owning the stock at. The benefit of this strategy is that it's possible to get in at much better price as you select the strike price you are going to sell the puts at. If the shares are not assigned to your account, you at least get to walk away with the premium, which could be applied towards future share purchases.
Company: Seadrill Ltd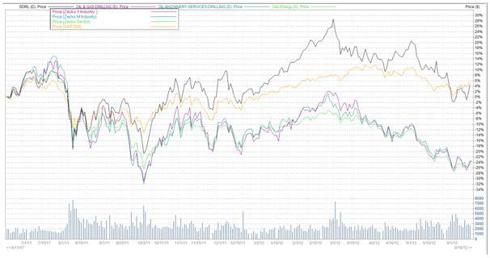 Levered Free Cash Flow = -722M
Brief Overview
1. Profit Margin = 23%
2. Operating Margin = 44%
3. Quarterly Revenue Growth = -52%
4. Quarterly Earnings Growth = -7.5%
5. Operating Cash Flow = 1.76 billion
6. Beta = 1.99
7. Percentage Held by Institutions = N/A
8. Short Percentage of Float = 2.00
Growth
1. Net Income ($mil) 12/2011 = 1482
2. Net Income ($mil) 12/2010 = 1172
3. Net Income ($mil) 12/2009 = 1261
4. Net Income Reported Quarterly ($mil) = 439
5. EBITDA ($mil) 12/2011 = 2310
6. EBITDA ($mil) 12/2010 = 2054
7. Cash Flow ($/share) 12/2011 = 4.22
8. Cash Flow ($/share) 12/2010 = 3.95
9. Sales ($mil) 12/2011 = 4192
10. Sales ($mil) 12/2010 = 4041
11. Sales ($mil) 12/2009 = 3254
12. Annual EPS before NRI 12/2009 = 2.6
13. Annual EPS before NRI 12/2010 = 2.69
14. Annual EPS before NRI 12/2011 = 2.9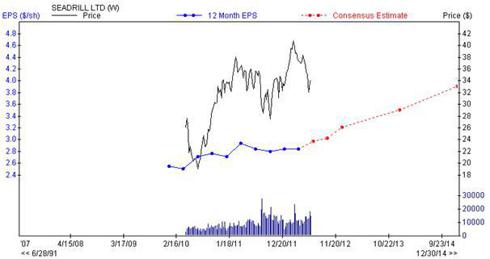 Dividend history
1. Dividend Yield = 7.20
Dividend sustainability
1. Payout Ratio = 1.55
Performance
1. Next 3-5 Year Estimate EPS Growth rate = 48.32
2. Return on Investment = 8.75
3. Current Ratio = 0.73
4. Quick Ratio = 0.73
5. Cash Ratio = 0.46
6. Interest Coverage Quarterly = 7.99
Conclusion
In general, a great way to get into a stock at a price of your choosing is to sell puts at strikes you would not mind owning the stock at. Investors looking for other ideas might find this article to be of interest Turbo-Charge Your Position In American Capital Agency.
Disclaimer
It is imperative that you do your due diligence and then determine if the above play meet with your risk tolerance levels. The Latin maxim caveat emptor applies-let the buyer beware
Disclosure: I have no positions in any stocks mentioned, and no plans to initiate any positions within the next 72 hours.
Additional disclosure: EPS and Price Vs industry charts obtained from zacks.com. A major portion of the historical data used in this article was obtained from zacks.com. Contract status of offshore drilling units table sourced from seadrill.com. Earnings and growth estimates sourced from dailyfinance.com