Analysts at RBC Capital Markets and Citigroup Global Markets are among those who say there's still upside in Magna International Inc. (MGA) stock after the company reported fourth quarter earnings that were about $C0.20 per share short of what the market had been expecting.
Despite the trouble hitting the auto industry, Magna shares represent an attractive valuation, trading at 3.7 times 2008 estimated EBITDA, RBC analyst Nick Morton said in a note to clients Thursday. By comparison, its industry rivals at trading at about 5.7 times earnings. Magna's net cash stash of C$2.2-billion or C$19 per share, and available credit of another C$1.8-billion puts the company "in an excellent position as competitors struggle through difficult industry restructuring," Mr. Morton said.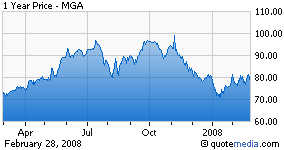 Unlike some rivals, Magna has the power to buy back stock and make acquisitions, the analyst noted. The one significant risk is Chrysler (DCX), which represents an estimated 12% of Magna's overall sales. In the first two weeks of February, Chrysler sales fell 27.5% overall and sales of its minivans, for which Magna supplies a high content of parts, fell 50%. Add to that the possibility that the automaker could cut some vehicle models and it spells trouble for Magna. Mr. Morton rates Magna "outperform," and has a price target of C$105 on the stock, down from C$108 previously.
Itay Michaeli, who researches Magna for Citigroup, agrees that Magna's financial position will allow it to thrive where others fail. In a note she said:
Its solid balance sheet and leading industry position should allow it to opportunistically acquire at low multiples and conquest existing business from competitors that fall into distress.
She rates Magna a "buy" with a price target of $98, down from a previous target of $103.