Farmer Mac, or Federal Agricultural Mortgage (NYSE:AGM), is a government-sponsored enterprise chartered to create a secondary market in agricultural loans. After its near-death experience during the 2008 financial crisis, that for most effects wiped out the shareholders of two other famous GSEs, Fannie Mae (OTCQB:FNMA) and Freddie Mac (OTCQB:FMCC), Farmer Mac has been on the mend. Farmer Mac was helped by the intense monetary stimulus, which by favoring commodities ended up helping farmers through better pricing for their wares. The resulting lower default rates have been leading to increased earnings for Farmer Mac ever since.
Fundamentals
The stock, too, saw a considerable rally, recovering the entire 2008 crash. But the fundamentals recovered as well. This resulted in the stock being available today at multiples that are lower than before the financial crisis, namely a Price/Book of just 0.56 (including the preferred stock). The chart below illustrates how EPS and Price/Book evolved (the chart does not consider the preferred stock).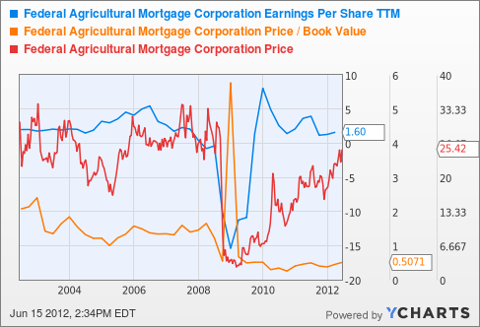 AGM Earnings Per Share TTM data by YCharts
Dividend
The improvement has also led to Farmer Mac recently increasing its dividend from $0.05 per quarter to $0.10. This equates to a present dividend yield of just 1.6%, but on the other hand there's a good likelihood that the dividend will be increased further. Helping this feeling is the fact that the stock is trading at a measly forward 2012 P/E of just 5.75 and is showing strong earnings growth, as per its Q1 2012 report (core EPS grew 27%).
Conclusion
For those interested in taking a long wager on the performance of Agriculture in the U.S., or perhaps the performance of Agricultural commodities, Farmer Mac seems a nice investment candidate. It provides exposure to the sector at a low valuation and with a good likelihood of seeing increased yield over time if the sector performs.
Disclosure: I have no positions in any stocks mentioned, but may initiate a long position in AGM over the next 72 hours.