The premier issue this June of MetalMiner's new monthly index, "MMI" (Metal Miner Index), conveyed dismal news for metal miners. It is a strong comment on the difficult state of the world economy.
This article speaks of the implications of the sharply lower metal prices and how the new MMI Report is useful to not only the primary audience, those charged with sourcing metals, but to investors as well.
A Monthly Report - June Copper
MetalMiner is a large online metals publication geared toward industrial metal procurement professionals. In addition, they have attracted a wide audience in the finance community.
The prices of all metals covered by the index were down in June. Of the metals reported by the index, copper had the largest May-June price drop. This is significant not only because copper is the second largest metal in industrial usage, after steel, but because copper demand is widely considered to be a leading economic indicator. Below is the MMI June 2012 copper report:
The June 2012 Copper MMI® - Falls 16.4% To 92

The monthly Copper MMI® registered a value of 92 in June, a decrease of 16.4 percent from 110 in May. This represents the single largest percentage decline of any of the June monthly reports published by MetalMiner.

The Copper MMI® baseline began on January 1, 2012, at a value of 100. This report serves as the first public release of that data.

"Copper has historically served as the economic bellwether commodity," said Lisa Reisman, MetalMiner's Managing Editor, "Certainly, a few alarm bells go off when we see these types of sharp declines on a month to month basis", she said "However, the Copper MMI® even at 92 remains only 8 percentage points under the January. "The European debt problems continue to place strain on the global economy."

Drivers of this Month's Change in the Copper MMI®---The cash price of primary Japanese copper suffered a 9.7 percent drop on the month. On the LME, the primary copper cash price fell 9.6 percent to $7,516 per metric ton. Also on the LME, the 3-month price of copper closed the month at $7,498 per metric ton after dropping 9.2" percent. Chinese copper wire fell 4.8 percent, and the Chinese copper cash price underwent a 4.7 percent decline. Korean copper strip held pat last month at under $10 per kilogram.

The Copper MMI® collects and weights 12 global copper metal price points to provide a unique view into copper price trends over a 30-day period. MetalMiner will publish the report monthly.
Unpacking the Report, Investment Implications
I find the section on drivers of this month's change in copper prices to be most interesting. The fact that Japanese copper prices softened implies that neither the Japanese auto industry nor the electronics manufacturers are expanding. Things seem a little better in China and that is the great hope of the copper miners. Can we assume that Hyundai Industries is prospering in Korea?
Of course we could investigate production and sales information for any of these, but copper has a tendency to be a leading indicator. From my investor point of view, more information of this type would be useful. While the LME is somewhat representative of US and European prices and future prices, additional specific information here, such as the Shanghai price and perhaps smelter statistics, could be helpful.
These monthly reports are free. In addition, there is an extensive software package available which utilizes the MMI Database. The information in the reports alone should be useful to miners, anyone involved in the metals manufacturing supply chain, and investors in these commodities or investors in the companies that mine them. Those charged with sourcing metals will certainly want to evaluate the software.
In the area of mining, widely held companies include BHP Billiton, Ltd. (NYSE:BHP) the Australian registered version, and its dual listed UK counterpart (NYSE:BBL), Rio Tinto (NYSE:RIO), Vale Mining (NYSE:VALE), Freeport-McMoRan Copper and Gold (NYSE:FCX), Canada's Teck Mining (NYSE:TCK) and Barrick Gold (NYSE:ABX).
Trends for Miners
The Basic Materials sector was second to last in sector rank in 2011; only Financials were worse. In 2012, things are not much better. Within the past year, the low for miners came on October 3, 2011. They rose from that 30% decline over 9 months, and gained 20% of it back by the first of February 2012. Then a slow slide began until the first of May; by mid-May, they tumbled back to their former one year lows at -30%.
Of the 7 miners I have charted below, only Southern Copper (NYSE:SCCO) and Barrick Gold are not -30% to -40% down in the past year; they are down nearer -10%. As the data table shows, most of the stocks are near their 1-year lows, and far from their highs.
Of course, the problem is not that there is something wrong with mining or the mining companies. Their problem is the sluggish global economy and lack of demand from manufacturing and construction. I am among those who saw October 3rd as the absolute low for miners and told all who would listen to buy at those bargain prices.
For a while, the economic promise seemed to be getting better. As it turns out, the world has not moved to boom times, and there seems to be an obstacle around every corner. Europe has but muddled along, and that is not a sustainable strategy. Will Sunday's Greek election results move things forward?
The US is in weak recovery, but the deficit is moving us nearer to a post-election economic cliff of mandatory budget cuts and increased taxes. This would kill the recovery. The Washington lemmings rush on, noisily posturing for position. While I am glad to see the miners stop their decent off the bottom of the chart, there is little news to drive them upward. I am currently fully invested, heavily weighted in Basic Materials.
A Strategy
My choice is to hold. If I was not invested in the Basic Materials sector I might selectively add the strongest companies at today's low prices. Southern Copper, Freeport-McMoRan, BHP Billiton and Rio Tinto are good candidates for further evaluation and are all listed on the NYSE. While there is no immediate brightening on the horizon, longer term still looks good for the basic materials sector and for copper. It certainly makes no sense to sell at what may be a bottom.
I am confident that in the long term, positioning in metals and miners will pay off. There will be a tremendous build-out in the emerging nations, and demand for all kinds of goods will only grow. Fortunately, my strategy is to invest primarily in dividend growth stocks, and the income stream is my key measurement. An example of these is BHP Billiton, which has a stated policy of maintaining and increasing dividends each year. None of my holdings has cut their dividends this year and my portfolio is yielding well over 4.0%; I am very thankful for that.
Click to enlarge.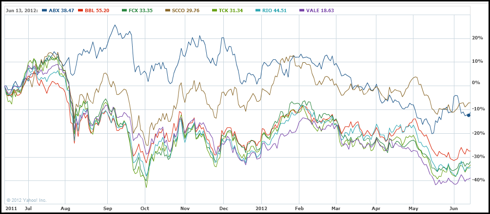 Click to enlarge

Click to enlarge
Going forward, I now have another tool in my kit, and that is the monthly MMI Report, which complements the information I get from other sources. Timely information enables decisions, including my decision to "hold" concerning my mining investments. As I wrote in an earlier article, "There's A Time To Buy, A Time To Sell And A Time To Hold." This is a time to hold.