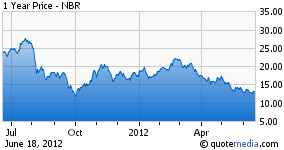 The shares of Nabors Industries, Ltd. (NYSE:NBR) have dropped to levels not seen since the lows of October 2011. It has been a near perfect-storm with everything from falling oil prices, concerns over new fracking regulations, and a stock market correction. All of this has contributed to what now appears to be a bargain basement level stock price. Long-term investors should consider averaging into a position in Nabors for the following reasons:
1) The recent and possibly excessive drop in Nabors' shares seems to be related to an announcement from Halliburton (NYSE:HAL) that stated second quarter results would be weaker than expected. Guar beans are used in hydraulic drilling, and a shortage has caused the price to surge, resulting in lower profit margins. Since Nabors is also involved in hydraulic drilling, investors became concerned that it might also see lower profit margins. However, not all companies have the same exposure to rising input costs as Halliburton, and so investors might have overreacted.
2) Nabors' shares are just plain cheap when considering a number of valuation metrics. The stock trades for just about 5.5 times earnings, while the average stock in the S&P 500 trades for around 13 times. Nabors is also trading below book value, which is $20.02 per share. The company also has a solid balance sheet with about $494 million in cash and $4.77 billion in debt.
3) The company has been reporting solid financial results. For the first quarter of 2012, Nabors earned profits of $134.1 million, or 46 cents a share. That compares very favorably with profits of $82.8 million, or 28 cents a share, in the prior-year period. Financial results might even be stronger in the future, if natural gas prices rebound this Winter.
Nabors shares were dumped by investors in October 2011, which is when oil prices and stocks in general were in correction mode. The stock hit a 52-week low then, at just $11.05 per share. But that turned out to be a tremendous buying opportunity for investors because the stock ended up going over $22 just a few months later, in February, 2012. Analysts at Guggenheim recently upgraded the stock and set a price target of $22 per share. The analysts believe the strong cash flow and net asset value will be recognized by investors and cause the stock to nearly double in value.
Here are some key points for NBR:
Current share price: $12.70
The 52 week range is $11.05 to $27.63
Earnings estimates for 2012: $2.20 per share
Earnings estimates for 2013: $2.51 per share
Annual dividend: none
Here are some key points for HAL:
Current share price: $28.68
The 52 week range is $27.21 to $57.77
Earnings estimates for 2012: $3.31 per share
Earnings estimates for 2013: $3.73 per share
Annual dividend: 36 cents per share which yields 1.3%
Disclosure: I have no positions in any stocks mentioned, and no plans to initiate any positions within the next 72 hours.
Disclaimer: Data is sourced from Yahoo Finance. No guarantees or representations are made. Hawkinvest is not a registered investment advisor and does not provide specific investment advice. The information is for informational purposes only. You should always consult a financial advisor.