Shares of Patriot Coal Corporation (PCX) are trading sharply higher on Monday despite any real news.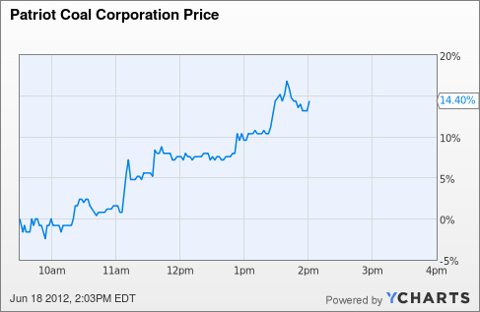 Click to enlargePCX data by YCharts
Oversold
Part of the reason for the bounce in PCX is that prior to Monday, it was very oversold. PCX traded down to a new 52 week low of $1.14 last week despite an improvement in macroeconomic outlook. Monday's move is likely nothing more than a relief rally from the lows last week.
Natural Gas Rally
Another reason for the move higher in PCX is the rally in natural gas (NYSEARCA:UNG). Over the past week, natural gas prices are up more than 17%. The rally in natural gas prices in widely bullish for the coal sector as low natural gas prices have led to lower coal prices as utilities switch from coal to natural gas in an attempt to take advantage of lower prices.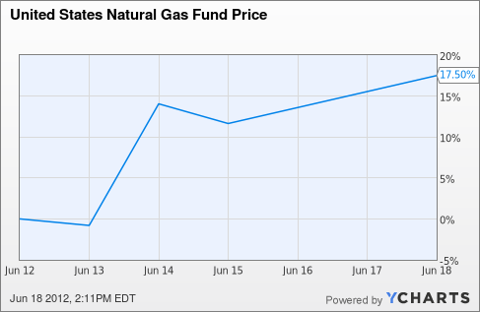 Click to enlargeUNG data by YCharts
Short Interest
Short interest in PCX currently stands at roughly 23.58 million or 25.9% of the float. It is possible that some shorts are starting to lock in gains at these levels. However, it should be noted that the high short interest does create the potential for a short squeeze should any positive news on PCX surface.
My Take
My view on PCX remains unchanged from my last comment on the company. As discussed in my previous piece, the financing questions for PCX make it a risky bet. For this reason, I would rather buy other coal stocks such as Peabody Energy (BTU), Arch Coal (ACI), or Alpha Natural Resources (ANR).
Disclosure: I have no positions in any stocks mentioned, and no plans to initiate any positions within the next 72 hours.