U.S. Silica Holdings (NYSE:SLCA) announced today it will partner with Berkshire Hathaway (NYSE:BRK.B) owned BNSF Railway Co to build a silica sand storage facility in Texas to cater to the rapidly growing oil and gas activity in the Eagle Ford shale formation. The company itself is an interesting back door play into the rapidly expanding fracking industry.
7 reasons SCLA is a solid growth play at just $12 a share:
The company has a forward PE of under 6, a huge discount to its five year average (14.7).
Three insiders bought $130k in new shares in May.
The company managed to triple operating cash flow from FY2009 to FY2011.
Silica Holdings is experiencing rapid revenue growth. Analysts expect over 40% sales growth in FY2012 and north of 25% growth in FY2013.
EPS is also going up exponentially as well. The company made 88 cents in FY2011 but is expected to make $1.40 in FY2012 and over $2 a share in FY2013.
The stock is significantly below the median analysts' price target of $26.50. The low price target by the four analysts that cover the stock is $24 a share.
The stock looks like it is bottoming at current price levels (see chart).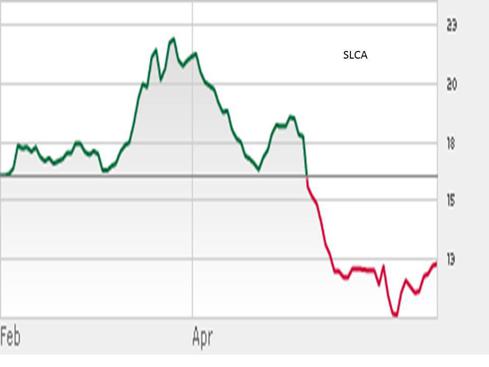 Click to enlarge
(Click to enlarge)
Disclosure: I am long SLCA.