By: Todd McDonald
Adobe Systems (NASDAQ:ADBE) is slated to release 2Q2012 earnings after the close of trading on Tuesday, June 19, 2012. The results are typically released 4:05pm EST with a conference call to follow at 5:00pm EST.

Outliers & Strategy
Key Measures:
Non-GAAP Earnings Per Share: Adobe typically reports a Non-GAAP EPS figure that is comparable to analyst estimates. In its previous release, the company gave second quarter guidance of $0.57 - $0.61, bracketing the consensus estimate of $0.59. (Source: Yahoo! Finance)
Revenues: In its previous 1Q2012 earnings release, Adobe said it anticipates 2Q2012 revenues in the range of $1.09 bln - $1.14 bln. The current consensus is $1.11bln.
Historically, Adobe shares have been more reactive to the quarterly guidance versus the reported actual results.
Adjusted Earnings Per Share Guidance (3Q 2012): Analysts are anticipating Adobe to announce adjusted earnings guidance of approximately $0.61. If the low end of the guidance range is above the $0.61 consensus, Adobe could move higher, while a weak outlook could prompt a re-test of low near $30 earlier this month.
Revenues Guidance (3Q 2012): Analyst estimates are expecting Adobe to guide for revenue of $1.14 bln.
According to Bloomberg.com, the implied stock-price move (via option pricing) for ADBE's earnings is 3.90%.
Keep a close eye on Adobe's earnings for clues ahead of Oracle's (NASDAQ:ORCL) upcoming earnings release on June 21, 2012.
Recent News
06/14: Adobe announced the release of Captivate 6 with HTML5 support, its eLearning software that provides online course accessible for teachers and students.
06/14: According to Forbes, Jefferies downgraded Adobe from Buy to Hold, and cut the price target from $38 to $32. The firm cited concerns with Adobe's Creative Suite of products and the effects of promotional pricing.
06/12: Adobe announced the release of Connect 9, the company's latest version of its web conferencing software.
04/21: ValueAct Capital, a San Francisco based hedge fund, increased its stake in Adobe from 5% to 6.1%.
Technical Review
Adobe shares are down almost 10% from the high of $34.78 set on April 2nd. Since bottoming out at support near $30 (just above the 200-day SMA), shares have shown signs of strength headed into the 2Q2012 earnings release. More recently, Adobe has fluctuated in a narrow trading range, setting up for a potential breakout. Should earnings disappoint, look for strong support at the aforementioned $30 level. Conversely, if there is an upside surprise, look for resistance at $34, followed by the 52-week high of $34.78. (Chart courtesy of StockCharts.com)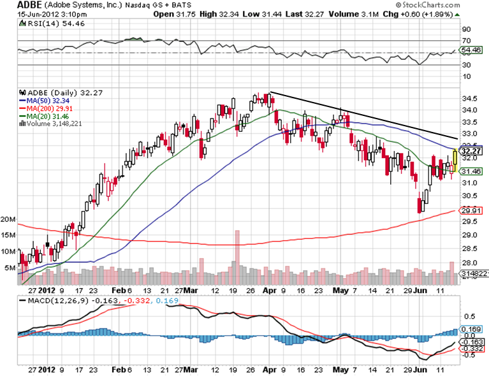 Click to enlarge
Summary
Adobe shares are slipping ahead of 1Q 2012 earnings, amid concerns over the macro outlook, coupled with reports of heavy promotional pricing for the new Creative Suite product line. Skepticism over other recent product launches has also contributed to the recent pullback, prompting analysts to adjust top-line figures to reflect a more cautious view. Against this backdrop, Adobe could break out of this narrow trading channel, so long as Non-GAAP EPS, revenues and the next quarter's guidance are at or above expectations. Alternatively, a tepid outlook for the third quarter in combination with mixed results for the recent second quarter could trigger a move downward and potential retest of the lows near $30.
DISCLAIMER: By using this report, you acknowledge that Selerity, Inc. is in no way liable for losses or gains arising out of commentary, analysis, and or data in this report. Your investment decisions and recommendations are made entirely at your discretion. Selerity does not own securities in companies that they write about, is not an investment adviser, and the content contained herein is not an endorsement to buy or sell any securities. No content published as part of this report constitutes a recommendation that any particular investment, security, portfolio of securities, transaction or investment strategy is suitable for any specific person.
Disclosure: I have no positions in any stocks mentioned, and no plans to initiate any positions within the next 72 hours.