On Friday, R.H. DONNELLEY Corp (RHD) made the most substantial decline by per cent in price on the New York Stock Exchange [NYSE]. Forbes said that:
Shares of R.H. Donnelley Corp. dropped sharply Thursday after the phonebook publisher and search engine operator posted fourth-quarter results and a first-quarter outlook below Wall Street's expectations, and said a key executive is leaving.
By looking at the chart below, it is clear to see that short investors increased their positions in the U.S "Yellow Pages" giant late last year.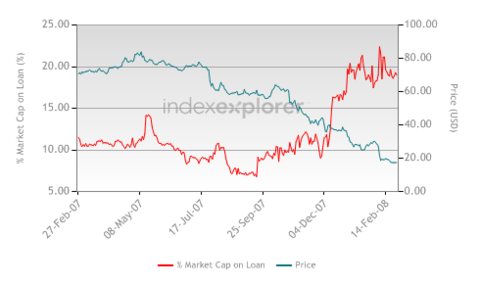 In early December RHD's percentage of Market Cap on Loan (%MCOL) was 12%, and by early January it had climbed up to 15%. Since then it has ebbed around the 20% mark, and stood Friday at 18%.
Utilisation, however, was still relatively low at 30% Friday, up from up from 20% in late December. It reached 36% on February 3rd. This low percentage means that there is still plenty left to borrow should investors wish to increase positions. The average Utilisation for the rest of the US Equity (Others) is 19%, and for the rest of the North America Media Sector it is 16%. For those investors wishing to buy back shares there are 10.21 Days to Cover.
Other stocks with a high %MCOL include Idearc (IAR), another Yellow Pages distributor. Idearc's %MCOL stood Friday at 13%, but this is down from 18.5% a week ago. However Idearc's shares have plunged from $16 in early February to $7 Friday and it is the fifth biggest decliner on NYSE. Utilisation also stood at 30%, down from 40% a week ago.
The %MCOL in Harte-Hanks (NYSE:HHS), the U.S marketing company, has also decreased, from 6.8% in mid-January, to 4.8% Friday. The price has risen from $14 on January 24th to $17 Friday.
Disclosure: none