Ray Kurzweil's 2005 book The Singularity is Near theorizes a not-too-distant future where technology, feeding exponentially on its own progress, advances so rapidly that it exceeds human intelligence into an infinitely complex singularity beyond which events cannot be predicted. If this sounds a bit "out there," consider the advent of IPv6 last week, a system that expands the internet's connect-ability by 340 undecillion IP addresses. That's 340 trillion trillion trillion, each address allowing for one device to plug into the web, which, more and more, is beginning to resemble a massive global homunculus brain of sorts.
Taking this a step down into the more mundane world of telecom, the message of IPv6 is clear. The stage is set for the expansion of virtually any piece of hardware to be plugged into the internet. The ground is laid. The only question is who makes the hardware.
Two recent acquisitions provide two distinct examples that confirm where the money is. The first is Sprint's (NYSE:S) acquisition of Clearwire (CLWR) last August. Clearwire announced plans last year to build a 4G LTE wireless network, and Sprint jumped at it with a $600MM investment. CLWR jumped as much as 165% that month from $1.32 to a high of $3.50 (see chart below), but the excitement subsided, with the stock going as low as $1.00 last month, an all-time low. As of Monday, June 11, Sprint announced that they no longer hold a majority stake in the company. This, in order to protect itself against Clearwire's own loan defaults.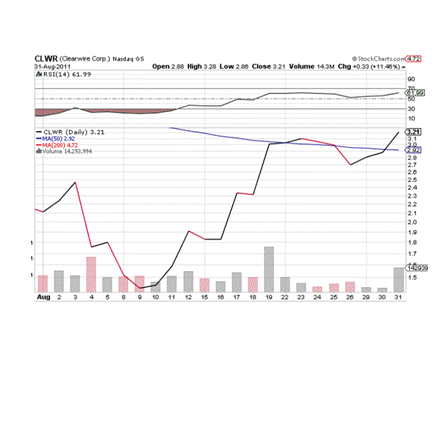 The problem is that the wireless connectivity market is already saturated and quite capital-intensive. Companies will be hard pressed to find growth opportunities there. The real potential is in the hardware itself. What actual devices will be plugged into those 340 undecillion ports, and who will build them?
Verizon (NYSE:VZ) took a stake in this market on June 1st, in a bid to acquire Hughes Telematics (OTC:HUTC) for $612MM. Hughes provides automotive and fleet wireless connectivity products and machine to machine service applications. As a result of the deal, Verizon can now provide hardware services to Mercedes-Benz and Volkswagen Group, expanding from their current partnership with General Motors. Upon the acquisition, HUTC shot up 172% overnight. Verizon is up 4.3% since the deal.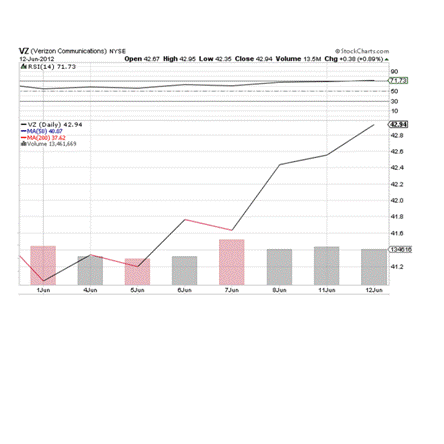 What can be accomplished with this new partnership? Say sensors in a Volkswagen detect a problem with the brakes. That information is transferred immediately to a central dispatch for repair. The same can be done for mobile health monitoring, something which Verizon Enterprise Solutions President John Stratton thinks has serious potential.
"It's believed that [wireless health monitoring] is one of the great market-expansion opportunities that we're likely to see this decade, so with this acquisition, Verizon is going to try and establish itself as a lead player in this undoubtedly very lucrative market," he said in a statement.
Some small caps are taking the cue and following suit. One example is Teletouch (OTC:TLLE), which is now shifting focus away from lower margin wireless services, to hardware sales, having just recently forged a distribution agreement with Cell Phone Mate. The company also settled a lawsuit with AT&T last November for $18.5MM while securing their partnership with the telecom giant. The sum is almost triple their quarterly revenue, and should keep the company liquid while they shift their focus to hardware.
Clearly Sprint had it right, but with the wrong partner. Verizon's (VZ) acquisition of HUTC coupled by its nation wide network, placed them in an enviable position of acquiring major position in outfitting every car in America with its hardware. On the investment side however, I do not see the stock going much higher. My bet would be on smaller more versatile companies such as Teletouch, as they tend to innovate much more quickly then the larger companies and are more prone to being the subject of an acquisition. Additionally, I would not rule out Sprint coming out with a surprise in the near term as the stakes are just too high.
Disclosure: I have no positions in any stocks mentioned, and no plans to initiate any positions within the next 72 hours.