Question: Which country's economic growth blew away estimates provided by the International Monetary Fund in 2006? Doubled it, in fact. Hint: It wasn't even a country two weeks ago. And, it has a lot of investors scratching their heads.
Two years ago, hanging in legal limbo under the watch of the United Nations, the majority-Albanian ethnic enclave of Kosovo achieved 5% yearly GDP growth. The Austrian-based Economic Initiative for Kosova says that total came entirely from the private sector.
Led by retail and wholesale businesses selling wares to war-weary Kosovars, small and medium-sized enterprises make up about half of Kosovo's economy, with the transport and communications industries coming in second.
Stores, bridges, and phone lines all share a common bond: the need for financing.
That's where my Balkan Peninsula super-play comes in...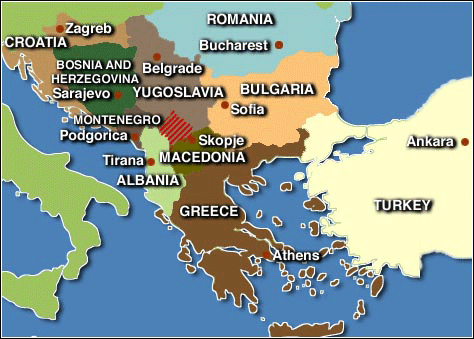 National Bank of Greece (NYSE:NBG), the most established bank in the Balkans, trades on Wall Street, and subscribers to my Orbus Investor and Global Growth Stocks international stock recommendation services have already seen double-digit gains in this play on the Balkan boom.
With Greece less than 100 miles from Kosovo's southern border (Kosovo is the shaded red area in the above map), NBG is ready to pounce on yet another opportunity in this region in transition by opening banks in Kosovo.
You see, southeastern Europe went from Cold War tug-o-war between NATO and the Warsaw Pact straight into one of the most horrific civil wars in recent memory.
Yet in 2008 we see Greece, Slovenia, Romania, and Bulgaria all as full members of the European Union, with every other country in the vicinity on track to accede to the continental body, once they meet certain economic and political goals.
In the case of Serbia, which claims Kosovo as an inseparable part of its territory, failure to bring fugitive war criminals to the International Court of Justice has hampered the country's hopes of joining the EU.
Setting fire to the US embassy and burning EU flags in the Serbian capital of Belgrade in the past week surely doesn't help matters.
NBG Looks Towards the Future
As the prime minister of Bulgaria, Sergei Stanishev, said last week, "Serbs have to decide between looking towards the past... and looking towards the future and the European perspective."
National Bank of Greece has sure benefited from taking a European perspective, acquiring majority stakes in regional banks like United Bulgarian Bank that give NBG first dibs on finance-hungry young economies in what used to be Europe's boondocks.
NBG has been around since 1841, spinning off from the Greek government into private profitability and aggressive foreign development.
How to Cash in on New Balkan Banks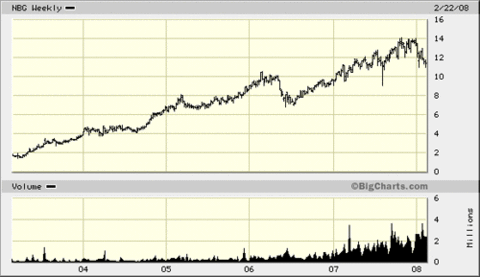 As you can see in the chart above, NBG stock has delivered dynamite performance over the past five years, benefiting from Greece's membership in the euro currency zone and the Athens Olympics to the tune of 523% gains.
That's enough to make you shout, "Opa!" (and maybe even break a plate or two).
If you thought the ruckus in Serbia after Kosovo's declaration of independence would drag regional stocks down, think again.
Greek shares of NBG led the Athens Stock Exchange ASE index up sharply on Monday, leading with a 4% one-day jump!
Carrying a dividend of just below 30 cents per share and perfect position to benefit from greater prosperity in Greece and neighboring countries, NBG is a safe European stock in a region that is often misunderstood.
Play this sleeper now for an angle on Kosovo's independence and the emergence of the entire Balkan region from a dark past into a bright future.
Disclosure: none