Steelcase Inc. (NYSE:SCS) designs, manufactures, and distributes furniture systems and seating products, user-centered technologies, and interior architectural products primarily in North America, Europe, and Asia. Its furniture systems portfolio consists of panel-based and freestanding furniture systems, and complementary products, such as storage, tables, and ergonomic worktools.
It is scheduled to report its Q1 2013 results on June 21, 2012, after the bell.
Technical Overview
Key Metrics
Market Cap: 1.06B
52-week trading range: 5.40 - 11.94
Trailing P/E: 19.56
Forward P/E: 8.49
Price/Sales: 0.38
Price/Book: 1.47
PEG Ratio: 1.01
Total Debt: 291.50M
Annual dividend yield: 3.30%
Return on Equity: 7.95%
Return on Assets: 4.31%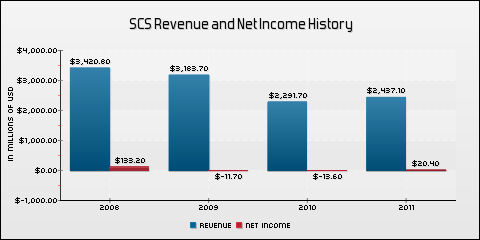 Recent EPS Actuals vs. Estimates
The company has failed to meet analysts' estimates in the last quarters. In the last quarter it reported $0.14 EPS, failing to meet analyst estimates of $0.16.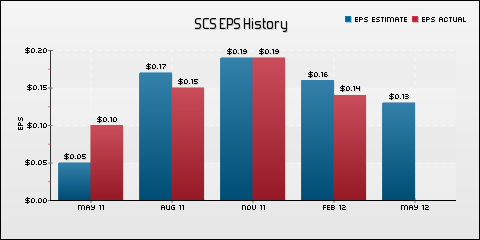 The consensus EPS is $0.13 based on 4 analysts' estimates, up from $0.10 a year ago. Revenue estimates are $681.10M, up from $639.40M a year ago. The median target price by analysts for the stock is $13.50.
Average recommendation: Overweight
Source: Marketwatch
Latest Developments
On March 22, 2012, Steelcase Inc. announced that the Board of Directors have declared a cash dividend of $0.09 per share, which is an increase of $0.03 per share or 50% compared to the dividend for the prior quarter, to be paid on or before April 11, 2012 to shareholders of record as of April 2, 2012.
On January 18, 2012, Dow Jones reported that Steelcase Inc. has agreed to a voluntary recall of about 11,000 'Amia' desk chairs due to a fall hazard, the U.S. Consumer Product Safety Commission said.
On December 21, 2011, Steelcase Inc. announced that the Board of Directors declared a quarterly cash dividend of $0.06 per share to be paid on or before January 13, 2012 to shareholders of record as of January 3, 2012.
Competitors
Steelcase Inc. operates in Business Equipment industry. The company could be compared to HNI Corp. (NYSE:HNI), Knoll Inc. (NYSE:KNL), La-Z-Boy Inc. (NYSE:LZB), and Herman Miller Inc. (NASDAQ:MLHR). Below is the table comparison of the most important ratios between these companies and the industry.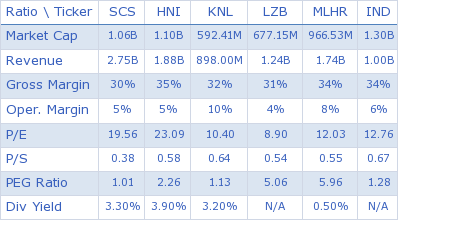 Below is the chart comparison with the stock price changes as a percentage for the selected companies and S&P 500 index for the last one year period.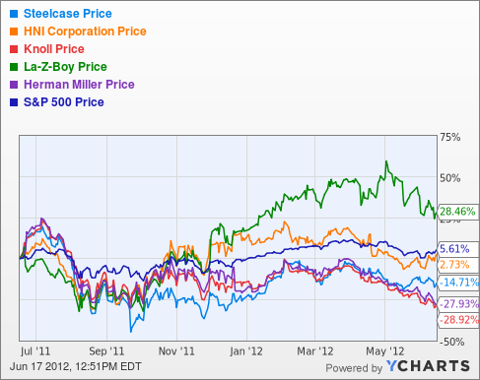 Competitors' Latest Development
Sources: Yahoo Finance, Google Finance, Marketwatch, Finviz, Reuters.
Disclosure: I have no positions in any stocks mentioned, and no plans to initiate any positions within the next 72 hours.